At the start, Steven Ploog and Nathan Stuart of Paso Robles were just looking for their next adventure to take as friends. In the process, they found a new career calling.
Ploog and Stuart got the initial idea two years ago to find and fix up two old Toyota Landcruisers and drive them all the way to Panama together on vegetable oil.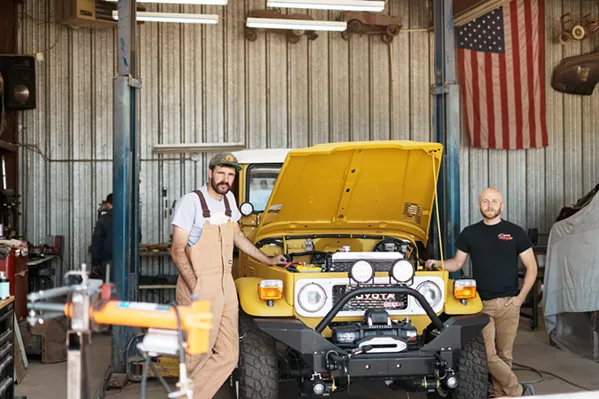 Photo Courtesy Of Steve Ploog
CREATED FOR CONSERVATION Nathan Stuart (left) and Steven Ploog (right) rebuilt two Toyota Landcruisers to run on biodiesel fuel. They plan to drive them through Central America in May for a film series that will document conservation projects in the region.
"We decided, let's try to do the entire trip carbon neutral," Ploog told New Times. "We thought we'd do it by using vegetable oil at first. But that's a huge pain in the ass, so we decided to use biodiesel."
Ploog and Stuart scoured the market for a specific diesel model of the Landcruiser—a 40 Series that was never sold in the U.S. They got lucky and found one for sale in Cayucos. The other required a train ride up to Oregon to fetch.
"They were rust buckets, man," Ploog said of the old cars.
With cruisers in hand, the creative partners (who previously played in a band together) decided to start filming their progress working with them in the shop, which included installing new biodiesel engines.
That sparked a much bigger idea for the trip.
"We wanted to just document the restoration process of the vehicles, for ourselves mainly," Ploog explained. "But then we started realizing we could use it as a tool to reach more people and influence them to be a little bit more conscious of the environment and promote conservation efforts all around the world."
With that, the Clean Cruiser Project—now an official nonprofit organization—was born. Ploog and Stuart's vision is to produce a film series this May that will chronicle their road trip to Panama while showcasing eight conservation projects in Central America. Included among those is a reforestation project in northern Guatemala managed by the Rainforest Alliance and a tree planting and regenerative agriculture venture near Leon, Nicaragua.
"Each episode will focus on a conservation effort," Ploog said. "We'll just go there and interview and let the site tell its story, let the people who work that site tell its story, and hopefully draw some attention to some good works being done. ... We'll inject a little bit of comedy here and there, and the vehicles will be the entities that get us there."
Once Ploog and Stuart got the ball rolling on the idea, they started receiving some much-needed sponsorship support. They connected with the National Biodiesel Board, Tread Lightly, C.F. Martin Guitar, and Cummins Engines, which donated the two biodiesel engines for the Landcruisers.
"They're super efficient," Ploog said. "We're using 80 percent renewable biodiesel and 20 percent straight biodiesel. It brings our carbon footprint down 80 percent. We're basically as clean as a Prius."
In order to completely offset their carbon footprint for the trip, they'll need to plant about 200 trees in Central America. The duo plans to go even further and plant 10,000 by trip's end.
Ploog and Stuart have gone all-in on the Clean Cruiser Project, investing tens of thousands of dollars out of pocket to get it off the ground. They'll need the financial support of the San Luis Obispo County community to help carry it to the finish line.
"We are in this deep," Ploog said. "We're hoping to turn this into a full-time job for us, where we are constantly going out and promoting conservation efforts."
For the two friends, the project represents a creative way to combine cars, adventure, and conservation.
"Of course, we have to get past the combustion engine, but it's not here yet," Ploog said. "Even when you look at electric [cars], we still have issues. For now we all can figure out how to do our parts to offset our carbon emissions."
Fast fact
• The Mary Kay Foundation awarded a $20,000 grant to RISE on Feb. 6 as part of its $3 million campaign to support domestic violence shelters across the country. RISE—a local nonprofit providing crisis intervention and treatment to victims of domestic violence—plans to use the grant to support and expand individual and group counseling services in its two shelters. Δ
Assistant Editor Peter Johnson wrote this week's Strokes and Plugs. Send tidbits to strokes@newtimesslo.com.