By the time I walked through the gate and into the Paso Robles Event Center on Saturday, June 4, the temperature was already nearing 100 degrees. I'd been out of the air-conditioned sanctuary of my car for less than five minutes and could already feel myself cultivating my first official sunburn of the summer.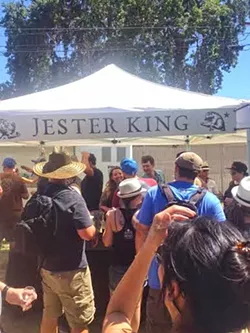 PHOTO BY CHRIS MCGUINNESS
FAR AND WIDE: The festival featured more than 50 brewers, including the Texas-based Jester King, which uses wild yeast in its beer-brewing process.
It was the perfect kind of weather for cracking open a cold beer, which is exactly what I'd come to the center to do with more than 1,000 others at the Firestone Walker Invitational Beer Festival. At this festival, merely popping the top on a can of watery Coors just wouldn't do. The festival is a celebration of the cultish, eclectic world of craft beer. At the behest of the Firestone Walker Brewing Company, itself a giant in the craft beer industry, 50 breweries from all over the world gathered to show off their best beer, and I came bound and determined to try as many of them as I could.
Craft beer is a booming industry right now. Last year, craft brewers produced more than 24 million barrels of tasty concoctions, snagging a 21 percent market share worth $22.3 billion dollars. With that kind of cash up for grabs, it's no surprise that would-be brewers can't start their own ventures fast enough. According to a report by the Brewers Association, the number of new breweries grew by 15 percent in 2015. That kind of growth has drawn the interest of large corporations looking to cash in. Firestone Walker is one such benefactor. Last year it announced a sort-of mutual partnership with Belgian beer giant Duvel Moortgat with a rumored price tag of $250 million that will help Firestone Walker's plan to expand its brewing operation.
PHOTO BY DAVID MINSKY
BEATING THE HEAT: Beer lovers braved near 100-degree temperatures to attend cold and wild brews poured during the 2016 invitational beer festival hosted by Firestone Walker.
Just why the industry is growing so fast was readily apparent at the festival. It was packed wall-to-wall with an army of die-hard men and women who are more than happy to call themselves "beer nerds." They stood in long lines, for up to an hour in some cases, for the chance to fill up their small tasting glasses with one-of-a-kind beers from the nation's best craft brewers like Russian River and Cigar City. These people wore their love for craft beer on their sleeves, sporting T-shirts from their favorite breweries like rock band groupies.
And that's exactly what the festival felt like, a rock concert. It was raucous, good humored, and didn't take itself too seriously. The tone was a fitting throwback to the roots of the craft beer industry. Long before it raked in billions in profits and caught the eye of corporate macro-brew companies, craft beer was born in backyards and garages by a group of homebrewers who loved beer and wanted an alternative to the much derided and mass-produced "fizzy yellow stuff" that dominated the market. It was a DYI, against-the-grain, punk-rock attitude, and it was heartening to see that spirit is still alive and well, even as craft breweries court more business, investments, and a more professionalized industry.
PHOTO BY DAVID MINSKY
CRAFTY: Firestone Walker Brewing Company held its annual invitational beer festival June 4, in Paso Robles, and brewers such as Wicked Weed Brewing out of Asheville, N.C., brought beers you can't find on the Central Coast.
The temptation to wring one's hands over the corporatization of craft beer evaporates at a place like the invitational, which showcased the off-the-cuff creativity that beer nerds have long adored. All I had to do was try out the wild, "spontaneously fermented" beer from the Austin, Texas, based Jester King brewery to get a real taste of the crazy and amazing things that these places do. Jester King uses wild yeast to brew farmhouse-style beers with flavor profiles ranging from sour to one with notes of the odd-but-accurate descriptor "horse blanket."
At its best, craft beer reminds us that the top brewers fall somewhere in between science and art. Part meticulous attention and care to brewing process and part devilish curiosity at how far one can push the envelope. While the result might not be something that millions of people will rush out to snag off the shelves at Walmart, it will be something special, maybe even so unique that you only bring it out once a year at a place like the invitational, creating a small, rare moment to share with others. It's this kind of magic that I think is the reason for craft beer's popularity. It's exciting, and no matter how big it gets, the beer, as well as many of those who make it, remain accessible and even inviting to newcomers.
PHOTO BY DAVID MINSKY
IT'S GO TIME: Of course, there's more to do than just drink beer—you could drink beer and challenge fellow drinkers to a giant game of Connect Four, like this guy did.
Aside from being a chance to sample some fantastic beer and awesome food, the invitational was a reminder that the craft beer industry is a big tent, and its only getting bigger. That growth, as well as the creativity and diversity of that tent likely means we will continue to reap the tasty rewards of a vibrant craft beer industry for quite a long time.
Staff Writer Chris McGuinness highly recommends you try Cigar City's Hunahpu Imperial Stout. He can be reached at cmcguinness@newtimesslo.com, or on Twitter at @CWMcGuinnes.