On Oct. 11, 2011, Anyck Turgeon climbed onto the stage of the eighth annual International Business Awards held in Abu Dhabi. Dressed in a glimmering purple gown, Turgeon charmed the crowd comprised of hundreds of international executives and accepted her award. She was there on behalf of CoreClean Group, an agricultural chemical company headquartered on the other side of the planet in Arroyo Grande.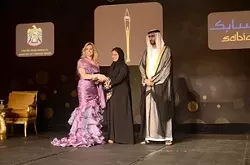 PHOTO COURTESY OF THE STEVIE AWARDS AND SIGHT AND SOUND EVENTS
GLITZ AND GLAMOR: Austin, Texas techie and businesswoman Anyck Turgeon received an award at the 2011 International Business Awards, held in Abu Dhabi last October.
"It's stimulating to come to a country where … businesses are fluctuating in a very positive manner," said Turgeon, who at the time was accepting the award as the freshman chief executive officer for CoreClean. "I'm honored to be here … and I look forward to putting businesses here and creating jobs."
Two months later, she sued CoreClean, each of its subsidiaries, and specifically its president, John Mark Moore, for wrongful termination, negligence, breach of contract, and sexual battery.
The most important thing you need to know about Turgeon and her former boss is why you probably don't know anything about them. It's hard to imagine a more unlikely pair: Turgeon, the vivacious French Canadian blonde, who came to work for Moore, an unassuming farm boy from Hanford, Calif.
The two met briefly, and later reconnected at an airport Cinnabon. Their relationship seemingly exploded, like Meg Ryan and Tom Hanks coming together to save a fertilizer business.
In September 2008, Moore wrote a gushing reference letter for Turgeon, who later shuffled the letter in with a dozen others on her website.
"Upon my first interactions with Ms. Turgeon—which lasted less than 10 minutes, I discovered a very sharp business executive with lots of common sense," Moore said of Turgeon in that letter. "I immediately connected with Ms. Turgeon and wished to discuss business opportunities with her."
CoreClean Group is the parent company to myriad other LLCs—CoreAgri, CoreSulphur, and CoreFluids, to name a few, along with ties to Moore's other companies such as American Microtech and Moore Agricultural Products—that produce a variety of agricultural products. But the company's bread and butter lies in making chemicals for fertilizers and its latest proud pink corporate baby, NOxBLUE diesel exhaust fluid. The business includes manufacturing plants in Hanford, Calif.; Cactus, Texas; and Humboldt, Tenn. But CoreClean has other fingers stretching into the United Arab Emirates and Bogotá, Colombia, through its CoreSulphur subsidiary.
All of this runs out of a nondescript building outside the village of Arroyo Grande, and all of this belongs to Moore. Yet many locals have never heard of the business, and few know anything about the man.
John Mark Moore usually goes by the name Mark Moore, unless it's in a court setting. Locally his biggest claim to fame is being the son-in-law of prominent farmer and property owner Michael Cavaletto. The Cavaletto family business C & M Nursery in Nipomo—named after Cavaletto and his partner Gene Mehlschau, a former county planning commissioner—sits on a back road in northern Nipomo, just down the road from Moore's home, a $1.4 million house nestled among more than 70 acres of citrus groves, according to the SLO County Assessor.
From September 2007 through September 2009, Moore also served as president of the San Luis Obispo County Farm Bureau.
Farm Bureau Executive Director Jackie Crabb had little to say about Moore or CoreClean, but called his in-laws one of the "really well-established families in the area."
Moore grew up in Hanford, a two-hour drive from San Luis Obispo, where he purchased Moore Agricultural Products from his late father, Gordon. Before Turgeon came along, Moore's businesses were scattered, with several disparately named LLCs operating under Moore Agricultural Products and Moore's startup companies, Omni Agri Resources and Omni Agri Trade Group, to name a few. The company employs between 75 and 100 people, according to former employees.
It was Turgeon who consolidated the businesses—most of them anyway—under the overarching Core title.
But the man behind CoreClean is a virtual anomaly to locals. Local bureaucrats and agriculturalists interviewed for this story either had never heard of Moore, or only knew him by association with Cavaletto. Almost no one had heard of CoreClean.
By most accounts, Moore keeps a low profile. He's made just a few public appearances at local government meetings back when he represented the Farm Bureau. He doesn't pump large amounts of money into local political campaigns. And he has a modest 56 Facebook friends.
Turgeon, on the other hand, has a website boasting her name in the URL. She has a small treasure trove of business awards, and she flaunts them proudly. A Canadian immigrant, Turgeon now lives in Austin, Texas, and boasts an almost abnormally long résumé listing such companies as Oracle and Austin-based Crossroads Systems.
In addition to the 2011 International Business Awards, she also touts other acknowledgements from the business world, like when she was a finalist for the 2010 International Stevie Award for IT Executive of the Year, which was announced to various business-media outlets in a 455-word press release.
But there was always something odd about Turgeon, said Christopher Calnan, a staff writer for the Austin Business Journal.
PHOTO COURTESY OF SLO COUNTY FARM BUREAU
AT ITS CORE : CoreClean president and former SLO County Farm Bureau president John Mark Moore is being sued by his company's former CEO.
"She seemed to be really into these honors, awards, and all that," said Calnan, who profiled Turgeon in October 2010.
He said most people in the tech industry aren't concerned with awards and accolades, but Turgeon didn't fit the techie archetype.
Others, however, are positively gaga for Turgeon.
Tom Lorentzen, who worked under both Bush administrations and served as regional director for the U.S. Department of Health and Human Services in San Francisco until 2008, met Turgeon on a plane bound for Las Vegas about six years ago, and the two have been friends ever since.
"I found her to be a very generous, kind-hearted, thoughtful person," he said.
A retired Air Force colonel who learned of this story told New Times "she's one hell of an executive," adding, "one hell of a woman."
Turgeon declined to comment for this story. Moore, company representatives, and the San Diego attorney representing him, Jim McNeill, didn't return repeated requests for comment.
Without their first-hand accounts, however, there's at least one public account describing how the pair came to work together—and how they came to part.
No means no
On Dec. 28, 2011, Turgeon filed a civil complaint in Los Angeles County Superior Court against Moore—as well as his seven aliases—and CoreClean, along with every other company to which Moore has ever tied his name.
The complaint lists 30 causes of action stemming from Turgeon's termination from CoreClean. And it details how Turgeon worked her way up the company ladder from a casual business consultant—where she counseled Moore on regular business, sales meetings, and even a deal to build a sulfur plant in the Sultanate of Oman—to CoreClean's chief executive officer and chief of information strategy and security in November 2010.
According to the complaint, Moore secured Turgeon fulltime with promises of a five- to 10-year contract, initial salary of $25,000 per month, comped expenses, and a one-third equity in the company worth $5.2 million at the time. She signed on under a two-year contract that included an impressive list of perks including a $1,000 car allowance, $1,000 home office allowance, and her own personal assistant.
But she alleges she wasn't paid "as described" and filed to terminate her employment "for good reason" in April 2011. What it all amounted to was a legal pissing match between Turgeon and CoreClean that ultimately ended in her being fired on May 11, 2011, according to the complaint.
Turgeon claims the termination was retaliatory, in part because she raised a stink over worker conditions at CoreClean plants in Hanford, Calif.; Cactus, Texas; and Humboldt, Tenn.; but mostly because, as she claims, "Defendant Moore had sex with Ms. Turgeon without her consent."
In one instance, Turgeon claims Moore had her meet him for dinner to talk business. At that dinner, she "suddenly began feeling woozy, nauseous, dizzy, and slurring her words after consuming part of a drink that she suspected Defendant Moore tainted with a date rape drug when she briefly left the table."
Moore walked Turgeon to her hotel room where she collapsed on the bed still in her clothes, according to the complaint. She alleges Moore climbed into bed with her naked and grabbed her breast; Turgeon pushed him away, said "no," and told him to get out of the room. The complaint doesn't say what happened next, only that Turgeon believes she was date raped.
"Upon waking up, Ms. Turgeon felt awful. She was very nauseous, very depressed, felt very drowsy and disoriented," Turgeon's complaint reads. "… Ms. Turgeon confronted Moore about the rape and expressed her outrage and disgust. Defendant Moore admitted to the rape."
But Turgeon never filed a police report. Instead, as a devout Catholic, she opted to consult her religious leaders who she says told her "to forgive Defendant Moore."
Asked if Turgeon plans to pursue criminal charges, her attorney Roxanne Davis responded in an e-mail, "Not at this time."
Turgeon claims Moore, who is married, continued to make sexual advances toward her, some linked to business deals.
READ FOR YOURSELF: A full copy of Anyck Turgeon's Dec. 28, 2011, original complaint against John Mark Moore can be found

here.
Though these allegations haven't yet been tried in a court of law—and remember that Turgeon never contacted police—a former business associate and CoreClean employee who asked not to be named said there are "boxes of evidence," including handwritten letters from Moore on company letterhead.
Moore didn't return calls made to his cell phone or business. As of press time, McNeill hadn't filed a legal response. McNeill didn't return repeated calls and e-mails for comment.
'Squalor' and skepticism
At the same time Turgeon claims she was fleeing Moore's sexual advances, she was also making reports of hazardous conditions at CoreClean chemical plants.
She traveled to Humboldt, Tenn.—a town of about 8,500 people, located an hour and a half outside Memphis—to tour the plant there, which Moore Agricultural Products purchased from Tiger-Sunbelt Industries (T-Tech) in 2003. According to Turgeon's complaint, "she saw the squalor in which black employees had to work, and learned of inadequate facilities for the black employees, including segregated facilities for black employees, lack of ventilation in the work area of the fertilizer plant among other humiliating conditions."
A local representative from the Tennessee branch of the National Association for the Advancement of Colored People said he was unaware of worker complaints there, as did an editor from the local newspaper.
There was no record of any other lawsuit brought by an employee against the company, according to a clerk with the Gibson County court.
However, a former CoreClean employee told New Times there are photos of the plant depicting hazardous chemicals stored in the employee kitchen, and other hazardous conditions. The employee said lower-level employees, who are mostly black, are subjected to poor working conditions as opposed to management, who are mostly white. Turgeon claims she reported the issues to Moore, who became "upset at her and never fixed the various problems."
Plant representatives didn't return multiple requests for comment. A current employee also declined to comment and said he was "not authorized" to speak about the plant or CoreClean. He referred New Times to Moore.
T-Tech was sued once in September 2005 by a supplier, which alleged T-Tech hadn't paid for products it received (Moore Agricultural Products owned the plant at the time). The lawsuit was settled out of court and the settlement terms were sealed under a confidentiality clause.
Roughly 800 miles due west, Turgeon found what she believed to be more problems in Cactus, Texas.
In her lawsuit, Turgeon accuses Moore and other higher-ups in CoreClean's subsidiary CoreAgri—formerly known as Omni Agri Trade Group—of ignoring a number of safety issues at the company's sulfur plant in Cactus, Texas. The allegations include a lack of ventilation, unsafe working conditions, and inoperable fire extinguishers—in one case leading to an employee being severely burned. The plant also had a large broken door, Turgeon claims, making the plant cold and drafty, and contributing to the theft of dangerous chemicals, some of which could be used to make explosives.
A former employee told New Times the plant had been losing product at the time.
In June 2009, the Occupational Safety and Health Administration (OSHA) hit Omni Agri with two citations at its Cactus plant; one listing several serious violations of workplace safety regulations, totaling fines of $4,750. Documents show OSHA cited the company for failing to provide necessary protective equipment—gloves and face shields—to employees assigned to replace filters for the plant's sulfur blending tanks. Inspections also revealed a lack of first aid supplies and inadequate respirator training for employees.
According to U.S. Department of Labor's regional public affairs director Elizabeth Todd, Omni Agri paid the fines in full and the case was closed in 2009. No other safety issues involving the company were reported to OSHA prior or since, Todd said via e-mail.
(On Jan. 6, 2005, the California Environmental Protection Agency announced it reached a settlement with Moore Agricultural Products, which shares an address with CoreAgri in Hanford, for $150,000 pertaining to hazardous waste violations at that plant.)
Turgeon contends employees reported their safety concerns to Moore and Don Davies, CoreAgri's senior vice president of operations for the Cactus and Humboldt plants, and claims both men instructed the employees making the complaints to not talk about the issues with upper management or they'd be fired.
When contacted for comment, Davies called the allegations "ludicrous" and said Turgeon lacked the background to make judgments about safety, due to her lack of experience in agriculture and the sulfur-production industry.
"Employees are too valuable," Davies said. "I've never had anybody disfigured or hurt to the point that they couldn't work. It's just crazy.
"I've made it this far in life without hurting anybody, and I would never do anything or ask somebody to do something that's unsafe," he continued. "I have a conscience, and I'm proud of how far I've gotten. You don't do it by having unsafe plants and doing stupid things."
Asked about his working relationship with Turgeon, Davies said he had concerns about the former CEO's transition from the tech industry to agriculture from the start, and that he and other senior management threatened to quit if Moore didn't get rid of her. He characterized Turgeon as difficult to work with and unprepared for the job, speculating the lawsuit is the result of Turgeon having an "axe to grind" by her eventual termination from the company.
"This is really a PR game with her," Davies said. "She has nothing but a great deal of time to screw with us. She's got the moxie to do it, and the talent to do it."
Additionally, Davies said CoreAgri's customers and suppliers had received calls he attributed to a publicist working for Turgeon, informing them Moore was being sued.
"A lawsuit and wrongdoing is one thing; running somebody into the ground on unfounded facts is something else," Davies said. "For whatever reason, she's pissed, so that's what she's doing. If you look, she had a pretty good compensation package, and she's probably mad that she's not making that money anymore."
Davies isn't alone in his criticism. New Times contacted others who worked with Turgeon in the past who, although refusing to be identified in this story, described her work performance in less than glowing terms.
When it comes to CoreClean, however, Moore has problems that go beyond Turgeon.
Sacked
On Aug. 16, 2011, Moore wrote a letter on behalf of his corporate controller—now former corporate controller—Lisa Sackie, whom he hired on Oct. 1, 2010.
"Your Honor, given the charges and verdict in this matter, it could have been an easy decision on my part to terminate Ms. Sackie given her financial role in my company, and her relatively short tenure here," Moore wrote in a letter addressed to United States District Court Judge George H. Wu. "It is my belief that had I done so, it would have been a huge set-back for my company."
Moore wrote the letter because Sackie, of Solvang, was then facing felony charges of embezzlement. It became a bigger setback for him on Feb. 13 of this year when Sackie was sentenced to 30 months in prison for embezzling more than $1 million from her former employer, Santa Barbara Bay Foods.
Sackie was arrested after an investigation by the Federal Bureau of Investigation. She pleaded guilty to two counts of mail fraud in August 2011 after admitting that she wrote herself company checks for personal expenses, according to the United States Attorney's Office Central District of California.
Before her gig at CoreClean, she worked for Santa Barbara Bay Foods from 2004 to 2010, where she served as its vice president and controller. The court ordered Sackie to pay $1.1 million in restitution.
While Moore's praise of Sackie in a federal embezzlement case may be the strangest financial hiccup for CoreClean, it's not the only one.
Less than a month after Turgeon filed her lawsuit, Moore's mother, Gail D. Moore, filed for bankruptcy with the Eastern District of California U.S. Bankruptcy Court.
Federal bankruptcy filings showed Gail Moore was a guarantor for Moore Agricultural Products. She also listed herself as a codebtor alongside Michael Cavaletto for at least one loan. Her income—which she listed to be about $27,000 per month—came from a variety of sources, including Moore Agricultural Products and Omni Agri Trade Group.
Mark Moore, on the other hand, has told potential investors he's worth more than $18 million, according to several people who asked to remain anonymous, one of whom was approached to invest in CoreClean.
CoreClean is a private company and therefore much of its financial information is unavailable to anyone but private shareholders. However, a LexisNexis search provided a snapshot for the company's sales as of Feb. 14; it said CoreClean Group had just $2.1 million in net sales for the previous year. A similar snapshot said Moore Agricultural Products pulled in $5.9 million in annual net sales.
Whatever the financial girth of CoreClean and Moore, some banks say he's not paying.
Wells Fargo sued Moore in 2002 on charges that he failed to repay a $600,000 line of credit. The case was privately resolved, according to court documents.
Moore was sued again by another bank last May, this time by Heritage Oaks for breach of contract. The bank alleged he defaulted on a loan. At the time, Heritage Oaks asked for repayment of a $553,357 principal amount plus interest, as well as another $1.32 million principal amount plus interest.
Following the lawsuit, Moore and CoreClean resumed payments of the loan. Then the loan expired, and he was once again on the hook. Heritage Oaks re-opened the lawsuit (which listed Moore, his wife Laurie, American Micro Tech, Omni Agri Trade Group, CoreClean, and Omni Agri Resources) on Jan. 23, this time claiming Moore owes between $1.8 million and $2 million.
That lawsuit, however, seems to be the least of Moore's troubles.
According to CoreClean's attorney in that case, Los Angeles-based restructuring and bankruptcy counsel to CoreClean Aram Ordubegian, the company is working with Heritage Oaks and its other creditors in hopes of restructuring its debt to avoid drastic measures like appointing a receiver or declaring bankruptcy.
"The company's trying to reposition its assets and its debts so that it can maximize repayment to its creditors," Ordubegian said.
Multiple sources reported or alluded to an FBI loan-fraud investigation involving Moore. Ordubegian confirmed that the FBI is looking into Moore.
The bureau's official response is that it will neither confirm nor deny any ongoing investigation, but by several accounts, Moore is working with investigators.
"Mark's been very cooperative," Ordubegian said.
As of press time, neither the FBI nor any law enforcement agency had brought charges against Moore or CoreClean.
Colin Rigley is news editor of New Times. Contact him at crigley@newtimesslo.com.
Jeremy Thomas is a staff writer at the Santa Maria Sun. Contact him at jthomas@santamariasun.com.