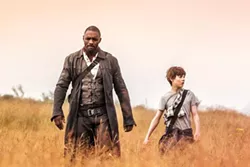 Photos Courtesy Of Sony Pictures Entertainment
THE GOOD GUYS Gunslinger Roland (Irdris Elba, left) and Jake Chambers (Tom Taylor) join forces to save the Dark Tower, which protects the universe.
What's it rated? PG-13
What's it worth? Matinee
Where's it showing? Stadium 10, Park, Galaxy
Pick
Danish writer-director Nikolaj Arcel (A Royal Affair) helms this adventure-fantasy based on Stephen King's novel series about the last Gunslinger, Roland Deschain (Irdris Elba), who in an alternate dimension is locked in an eternal battle with Walter O'Dim (Matthew McConaughey), also known as the Man in Black, who's trying to destroy the Dark Tower, a structure that holds the universe together—both their dimension and our own. Meanwhile in our world, young Jake Chambers (Tom Taylor) dreams about this alternate dimension and the raging battle between good and evil, discovers a portal between the worlds, and allows the battle to spill into ours.
Like his books, films based off King's material are easy targets for critics and often are not nearly as terrible as they claim. Formulaic? Sure, but also highly creative. If you think you're the right demographic, go see this one the big screen. I was entertained, and at 95 minutes, it's a brisk, energetic ride. (95 min.)
—Glen Starkey