After the final fireworks have gone off and the last hot dog and 'smore get scraped off the grill from the Fourth of July celebrations, consider extending that patriotic feeling by stopping by a local art show.
In 1941, President Franklin Roosevelt gave his famous State of the Union address on the "four freedoms," in which he outlined liberties that everyone should ideally enjoy, including freedom of speech, freedom of worship, freedom from want, and freedom from fear.
Image Courtesy Of The Paso Robles Art Association
DIVIDED Paso Robles artist Janice Pluma's piece Dark Times is an emotional depiction of our nation's current political climate.
Looking to dig a little deeper than the stars and stripes, the Paso Robles Art Association took Roosevelt's speech as inspiration for its latest art show, American Spirit, currently on display at Studios on the Park.
Ruta Saliklis, curator at the San Luis Obispo Museum of Art, stepped in to act as juror for the show.
"We should do more than have barbecues and watch fireworks," Saliklis said of Independence Day. "It [the art show] takes it a little more seriously. If it just makes them think just for a second ... . Art has the power to make us respect one another."
While artists tackled different aspects and interpretations of the "four freedoms," two pieces in particular, by Lin Mercer and Janice Pluma, are different sides of the same coin when it comes to freedom from fear. In a post 2016 election world, fear is rampant. Fear of what the current administration will do. Fear of how those opposed to the political party in power might react to what they do. Fear of saying who you voted for or what God you pray to, out loud. The fear is palpable.
But Mercer's piece, Free, No Fear imagines a different world, a lighter world. Her acrylic painting shows several young girls laughing as they all attempt to do cartwheels and generally goof off and have fun in a field. The sun is shining, and these kids have nary a care in the world. It's a feeling Mercer wishes everyone could experience right now.
"I was trying to find something that felt a little more loose," Mercer said. She recounted some of the final words her father, who lived to be more than 100 years old, told her during his last days: "It's most important to be happy."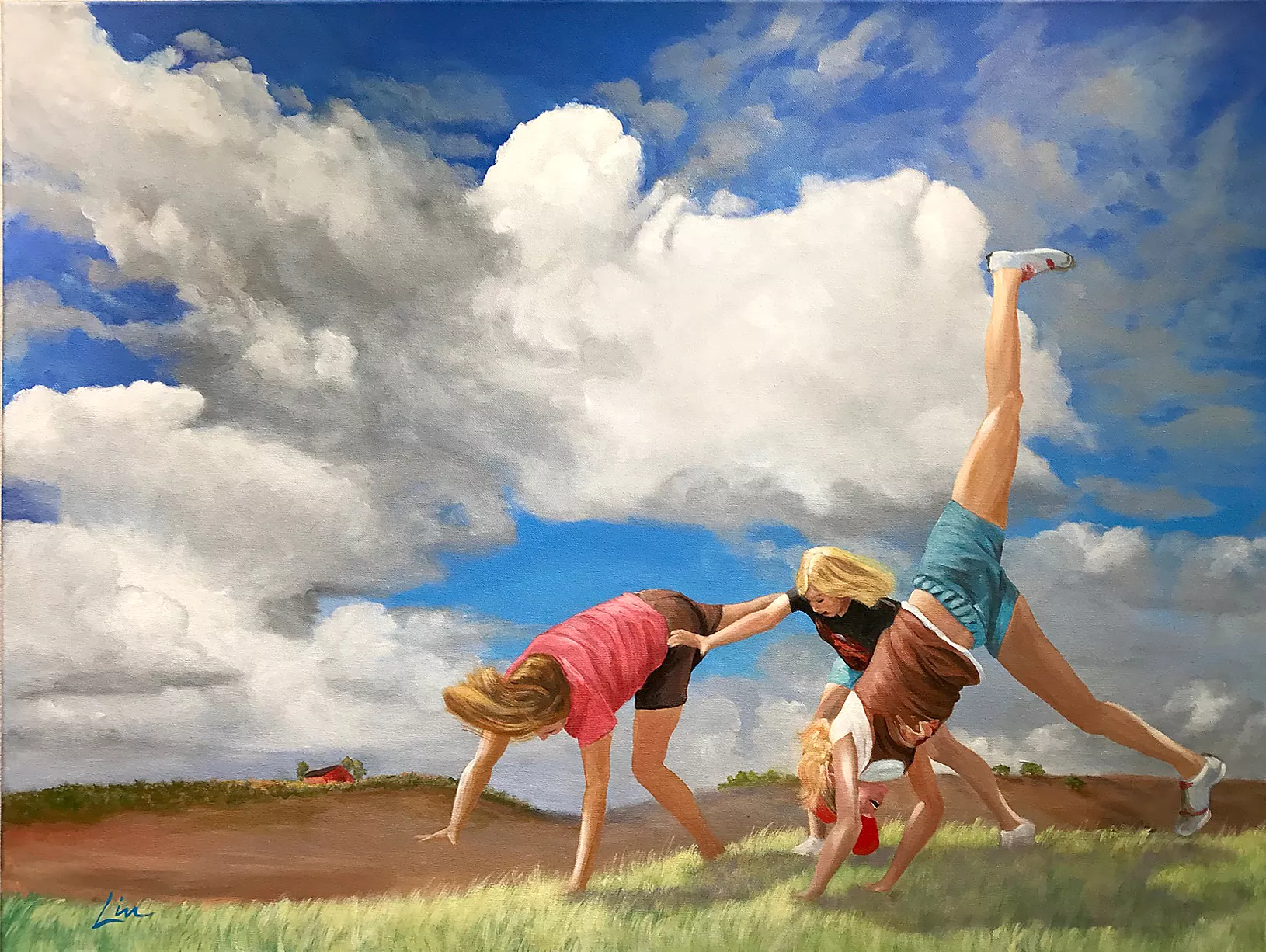 Image Courtesy Of The Paso Robles Art Association
INNOCENCE Free, No Fears is artist Lin Mercer's aspirational take on how everyone should feel that carefree feeling of being a child in America.
If Mercer's piece shows us where we want to be, then Pluma's is a stark, spellbinding representation of exactly where we are. The abstract acrylic painting Dark Times melds shades of black, white, and gray with hints of red. In the middle there's a swirling collision, a struggle. You feel that if you only squinted a little harder, then maybe you could make out the different players and the casualties of this crash. At the top are words painted to mimic letters that look like they've been cut out from a magazine, saying simply, "Love One Another." It feels uncomfortable, biblical, and apocalyptic all at once.
With everything going on right now in the country and the world, Pluma said she's been trying to be a good citizen and keep up with current events. This effort began to take a toll on her, with each day seeming to bring something worse than before.
"I really started to get depressed," Pluma said. "This piece was cathartic for me. It seemed ironic to me that we're supposed to be caring for each other, but we manage to hurt other people."
Pluma thinks of Dark Times as an emotional depiction of war, conflict, or the clashing of ideas that just can't be reconciled. But aside from the confrontation in that piece, there's also a quiet whisper to love one another as well.
"So much of the troubles come from people who are different," Pluma said. "They are the 'other.' That becomes an excuse for so much violence that happens. I hope they [viewers of the art] reach out to other people and try to understand others on a personal level who are different from themselves." Δ
Ryah Cooley once memorized the First Amendment at rcooley@newtimesslo.com.