It's Friday, Jan. 30, and Joe Pug is already on stage playing to a massive crowd at the Alex Madonna Expo Center. As soon as I walk in the door, I see a shit-housed woman clinging to a wall as some guy tries to talk a security guard out of throwing both of their drunken asses out. This should be interesting.
PHOTOS BY GLEN STARKEY
TDM3!: (Left to right) Cooper McBean, Pete Bernhard, and Lucia Turino lay down the law on Jan. 30 at the Alex Madonna Expo Center.
It's a veritable sea of people from all walks of life—old crusty cowboys; young tattooed, bearded, and pierced hipsters; peppy Poly dollies; bare-chested surfers; aging rockers; misguided women stretching the engineering limits of push-up bras; and kids with that vacant "rolling on molly" look.
We decide the first order of business is getting a beer, so we get in an amorphous "line," which is really just a disorganized throng of desperation. There are only four booze stations to serve more than 2,000 people, which explains why it took 15 minutes to get a $6, 12-oz. Firestone 805. What a mess! Get it together, Madonna Inn!
While in line, I witness no fewer than three women crashing to the ground; 
each fall-down drunk! They clearly pre-gamed because, with these lines, it would take hours to get enough alcohol to even get a buzz.
Joe Pug finishes, and the lights are up as stagehands prepare the stage for the main attraction, The Devil Makes Three.
We head outside to get some fresh air, but since the entire outdoor area is filled with people chain smoking like they're stacks in Pittsburgh's industrial section, we quickly head back in.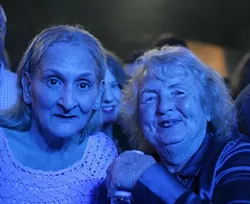 PHOTO BY GLEN STARKEY
DOWN OFF THE MOUNTAIN: Linda and Muriel may not have been the youngest people at the show, but they were the most ambitious—they had front row center stage position at the concert.
TDM3 is about to take the stage, so I use my photo pass to get backstage and position myself between the barricade and the stage. I look over the crowd that stands shoulder-to-shoulder all the way to the back of the room. Pressed right up front, center stage, are two charming old gals, Linda and Muriel, who came down from the Sierras to see the band. Muriel tells me she works part time at Atascadero Mental Hospital as a psych tech. I guess if she can handle the criminally insane, she can handle 
this crowd.
Soon, there's a throbbing hum from the stage and the band—singer-songwriter-guitarist Pete Bernhard, standup bassist Lucia Turino, and guitarist-banjoist Cooper McBean—launches into their hooky, percussive mélange of Americana, bluegrass, old timey, country, folk, blues, jazz, ragtime, and rockabilly music. I look back at the crowd and watch as people sing along, word for word, clearly hardcore fans.
After my three-song photography limit is up, I head back into the crowd and line up for another beer, this one taking 20 minutes to secure. It's really getting hot in here, and the wild-eyed mass of humanity seems to pulsate with energy. Soon, a violin and cello join the trio on stage.
We're standing near the back of the room, and after a beer is spilled, we watch as a maintenance person mops up and puts one of those "caution: wet floor" signs on the spot. Then, we watch as one after another person trips over the sign.
"Irony," my wife, Anna, says. "The caution sign is more of a danger than the wet floor."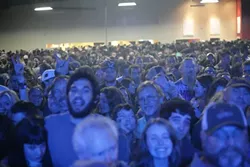 PHOTO BY GLEN STARKEY
OH THE HUMANITY!: People from all walks of life and in all levels of sobriety packed the room.
The show is one great song after another, but it's clear the concert is drawing to a close. As we move toward the exit, I see my friend Dixie.
"I think I just smelled the worst smell I've ever smelled," she says. "It's right up there by the left side of the stage, a mix of barbecue, body odor, motor oil, patchouli, and weed. And you know how at every concert there's that weird guy in overalls and no shirt? He's here!"
We're on our bikes, so we figure we better hightail it off the mountain before all these cars start driving down, but as we're leaving, we watch as first a fire truck, then an ambulance, and then another fire truck arrive.
This concert is better than a three-alarm fire!
Glen Starkey takes a beating and keeps on bleating. Keep up with him via twitter at twitter.com/glenstarkey, friend him at facebook.com/glenstarkey, or contact him at gstarkey@newtimesslo.com.