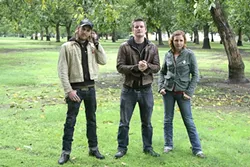 PHOTO COURTESY OF THE DEVIL MAKES THREE
DEVILISHLY GOOD : Blues, bluegrass, country, Gypsy, rockabilly, swing trio the Devil Makes Three plays two shows at Downtown Brew: a 21-and-older show on May 10, and an all-ages show on May 11.
Holy crap, is Devil Makes Three good! Telling you their new album Do Wrong Right is number one on Billboard's Bluegrass Charts will probably give you the wrong idea about this band, because bluegrass is only one small element of their Gypsy jazz, Piedmont blues, country rock-a-swing-abilly sound. Every time I see them I lose my freakin' mind, they're so awesome! And every time they play Downtown Brew it's packed to the gills, which is why the club has them booked for two nights in a row.

On Sunday, May 10, there's a 21-and-older show, and on Monday, May 11, there's an all-ages show. Doors for each open at 7 p.m., with opening act Steve Soto and the Twisted Hearts opening at 7:30 p.m. Each show costs $12 presale or $13 at the door. New Times spoke to chief songwriter and lead vocalist Pete Bernhard.
New Times What do you listen to to inspire your writing?
Pete Bernhard I don't know. I listen to all different types of stuff. It depends on my mood. Lately I've been listening to Talking Heads and Velvet Underground, some old ska stuff like Desmond Decker, the Maytals, Skip James, and some old blues stuff. This isn't what necessarily puts me in the frame of mind to write our music. Usually, to write a song for the band, I don't listen to something for inspiration—I just start doing it and hope what's coming out is good.
New Times Why no drummer?
Pete Bernhard You know, we had a drummer, but in our band it's just unnecessary. We get people dancing and get our point across without drums. I don't know if you've ever been in a band, but drums are a pain in the ass.
New Times Just like drummers!
Pete Bernhard Ha! Actually, our old drummer was great, but we don't need it. We're influenced by old swing stuff, and they never had any. If they can get away with it, we can too. It's easier to travel, to play different kinds of venues, and one of things that makes us who we are is because we don't have drums.
New Times You started playing punk rock. How did that experience inform what you're doing now?
Pete Bernhard I'd been in a couple of punk bands, but Cooper [guitar, banjo, voice] definitely did. Punk and rock and country music have things in common, the whole Johnny Cash thing. There's a line between the two of them, and some part of our band wanted to connect those two. Also, punk shows are really fun, and we wanted to bring the energy of a punk show to an acoustic show because acoustic shows sometimes aren't fun.
New Times You brought in stand-up bassist Lucia Turino even though she had no experience. What was it about her that made you think she was the last piece of the puzzle?
Pete Bernhard Honestly, it wasn't like that. We weren't as calculating as it seems. There was no next part of the puzzle; we just needed a bass player, and Lucia's enthusiasm, her willingness to do it and to learn was enough. In country music, the bass is simple and we wanted it to be simple. Lucia was a good thing because most people we knew were jazz bassists, the kinds of people who wanted to do all sorts of runs and show off. But she was such a fast learner, by the time we taught her what we knew she could play the bass better than us.
New Times You and Cooper McBean have known each other since the 8th grade. Do you finish each other's sentences?
Pete Bernhard Ha! Yeah, we know each other awfully well; he's kind of like my brother. I know his family and everything.
New Times Is that a good thing, or do you, like a lot of brothers, fight?
Pete Bernhard Bands fight, but I think it helps to have known each other that long because it's easier to fight hard and still be helpful.
New Times Despite how raucous your shows can get, there's something really intimate about them that I can't quite put my finger on. Theories?
Pete Bernhard I really don't know but I agree with you about that! People like coming to our shows because of the style of music, because of the behavior of crowd. I think it feels more like a house show, but I'm not sure where that comes from.
New Times Well, Downtown Brew is pretty small—350 people—which you guys fill it every time you come, which is why they've booked you two nights in a row this time. Do the shows elsewhere feel as intimate as the ones here?
Pete Bernhard That really depends on how many people come. The Catalyst can feel like Downtown Brew if there're 1,300 people in there. A big venue is as good as a small one if people turn out. Of course there's a limitation of how big a show we can play.
New Times You guys aren't exactly a stadium band.
Pete Bernhard I think a 1,000-person venue is big enough. We've played bigger shows, but those were outdoor festivals.
New Times I think a lot of the under-21 crowd is excited that your Monday show is going to be all ages.
Pete Bernhard That's been a big complaint: "We came to see you but we're too young to get in." I'm really excited [Downtown Brew] agreed to do that.
New Times Speaking of the young kids, your fan base is incredibly eclectic, from punks to bluegrass grandmas. Why do you appeal to such a wide demographic?
Pete Bernhard Well, I think it's partially due to the songwriting. It's also the styles of music, which can be pretty far reaching, from country to bluegrass to blues. People can relate, even though they're not necessarily from the same backgrounds, because the songs are lyrically driven. Beyond that hypothesis, I have to admit I'm sometimes surprised by the people who come out. I've even had people come up to me and say, "I don't like this kind of music but I do like you." That part perplexes me!
New Times Are you surprised to find that your new album is number one on Billboard's Bluegrass Chart?
Pete Bernhard Last year we got to number 16 or something, or 8 maybe. I can't remember, but yes, I'm surprised we're in there. I mean, the Bluegrass Chart is not the Pop Chart. We're swimming in a smaller pool, but there're still a lot of people in there! I'm sort of surprised, too, because I don't really consider what we do as traditional bluegrass. Maybe bluegrass is the new catchall.
New Times One more question. You're something of a musicologist. If you could play with anyone, living or dead, who would it be?
Pete Bernhard Wow. That's a tough one. There're tons of dead people I'd love to play with. Oh my God, that's really tough. I think I'd like to be in Django Reinhardt's band. That's a style I'd like to learn more about. But there're guys like people like Rev. Gary Davis; I'd love to take a guitar lesson with that guy! As far as someone living, Steve Earle; I'd love to play with him. Townes Van Zandt—he's great and definitely a big songwriting influence.
PHOTO COURTESY OF CHUCK MEAD
YEE HAW! : Head to San Miguel's The Ranch to see former BR549 member Chuck Mead and the Grassy Knoll Boys when they play on May 8.
Revenge of Chuck

If you're a fan of the legendary Nashville band BR549 (or even if you're not), you're gonna want to saddle up your Ford Bronco (or Prius—I don't know what you drive!) and head to San Miguel's The Ranch to see former BR549 member Chuck Mead and the Grassy Knoll Boys when they play on Friday, May 8 (tickets are $10; call 467-5047).

Mead will release his solo debut Journeyman's Wager on May 12, so get a taste before it hits the streets. The album was produced by Grammy Award-winning producer Ray Kennedy and combines country, pop, pub rock, and honky-tonk music.

"What sets Chuck apart from so many artists is that he's a genuine hard-working, blue-collar performer. I hate the word 'old-school,' but we didn't want this album to sound like a lot of modern records where everything is over-tweaked and perfect. We knew we had to make it intimate and real," said Kennedy.

Since leaving BR549, Mead's been busy! He founded the touring collective the Hillbilly All-Stars featuring members of the Mavericks, co-produced tribute albums to Johnny Cash and Waylon Jennings, and became a staff writer at one of Nashville's top song publishers.

In 2007, he was named musical director of Million Dollar Quartet, the new stage musical based on the night in 1956 that Johnny Cash, Jerry Lee Lewis, Carl Perkins, and Elvis Presley came together for an impromptu jam session.

"It's been incredibly liberating to do all these things I've never done before," said Mead. "But most of all, I wanted to call my own shots and make a record that mattered."

Hear the results on Friday, cowpokes.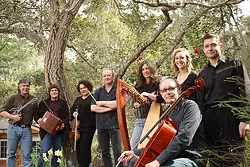 PHOTO COURTESY OF JILL POULOS
CENTRAL COAST ALL STARS! : On May 9, Steynberg Gallery will host the CD release of Beneath a Jeweled Sky, a new collection of Celtic songs by the Jill Poulos Band, filled with some of the country's best musicians.
Second chance
On
Saturday, May 9
(7:30 p.m.; $18 at Boo Boo's or the venue), Steynberg Gallery will host the CD release of
Beneath a Jeweled Sky
, a new collection of Celtic songs by the
Jill Poulos Band
.
"We had a sold-out concert at Painted Sky Studios on March 13 a week before the event, so we booked the Steynberg Gallery so those who couldn't get in could have another opportunity to attend," said Poulos. "What makes this concert unique is the gathering together of some of the best musicians on the Central Coast."
In addition to Poulos (Celtic harp, wire harp, button accordions) , you'll hear
Brynn
Albanese
(violinist) who played for the Boston Pops and in symphonies all over Europe before returning to the Central Coast and joining Café Musique. You'll also hear
Bob Liepman
(cellist) of Bob and Wendy,
Eric Williams
(guitarist) who's toured with Taj Mahal and Tori Amos,
Tim Novoa
(world percussionist) who's played with the Noodles,
Scott Wright
(pennywhistle) who's known around SLO County for his blues saxophone and his band the Mighty Croon Dogs,
Kellie Crabtree
(vocals), and
Ron Poulos
(mandolin).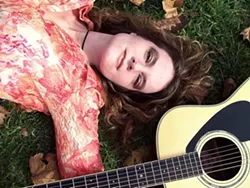 PHOTO COURTESY OF ANGELO LEO
LYRICIST LOVE : Angela Leo will perform her literary-minded songs from her soon-to-be-released debut album Cognitive Dissonance on May 9 at Linnaea's Café.
Sounds like a party!
English majors unite!
Angela Leo
has a master's degree in English, which is plainly obvious when you listen to her literary-minded lyrics on her debut album
Cognitive Dissonance
, a collection of hooky folk rock songs.
On
Saturday, May 9
, the Cal Poly grad—now residing in Hollywood—plays Linnaea's Café at 8 p.m. in anticipation of the June 1 release of her record.
Many of songs are informed by her crazy life: She's walked across fire, parachuted from airplanes, and made camp in the heart of the Costa Rican rainforest, which is when she picked up a guitar for the first time after her professor loaned her one during a torrential five-day downpour.
"I played it for six hours," she recalled, "until my fingers were raw. The music just kept coming."
As a 10-year-old she'd been given a guitar, and she studied piano intermittently, but her newfound foray into songwriting is an offshoot of her love for words and the intensity of their message.
"I write to explore truth. In this age, we've inherited all of these ills from the Victorian era, and poetry no longer heals our world as it once did, but I still write poetry to stay sane."
Check out her lilting voice and penchant for ethereal tunes on Saturday
More music…

Don't forget that The Vespa Experiment (Jason Reeves, Brendan James, and Amber Rubarth)—who are in the middle of a two-week tour of the California coastline during which they hope to raise awareness about global warming while riding three Vespa scooters—plays Downtown Brew on Thursday, May 7, at 6 p.m. This all-ages show costs $6 presale or $8 at the door.



PHOTO COURTESY OF TROPO

TROPO HEAT : TROPO brings its electro-edged rock that travels through a myriad of emotionally-charged dance tunes when they play a free show on May 7 during Farmers Market at the corner of Nipomo and Higuera streets.
TROPO
sounds exotic, and it's meant to be. According to the band, its name is meant to evoke "going back to the origin ... the wild." Originally envisioned as an artistic outlet beginning in early 2006, violinist Tyson Leonard (Rain Fur Rent) commenced writing the music for TROPO. Jam sessions led to a full-on collaboration between Tyson Leonard, Grant Leonard, and Ryan Johnson—all formerly of the group Glider. Then hard-hitting drummer Jeff Schneider of Minneapolis and percussionist Trevor Mahin joined in the fun. Expect electro-edged rock that travels through a myriad of emotionally-charged dance tunes when they play a free show on
Thursday, May 7
from 7 to 8:30 p.m. during Farmers Market at the corner of Nipomo and Higuera streets.
It's Numbskull Productions dude Damien Montoya's birthday (32, I think?), and that means there's going to be a rager at Downtown Brew on Friday, May 8 with Turbo Negro tribute act
Sexy Time Explosion
. Feel the fear, my friends. FEEL IT! This 21-and-older, 7:30 p.m. show will be opened by PK. Tickets are $7 at the door.
The SLO County Jazz Federation presents its 26th annual Piano Showcase on
Friday, May 8
, at Unity Concert Hall (1490 Southwood in SLO) beginning at 7:30 p.m. You'll hear seven of our area's finest jazz pianists including veterans
Paul Rinzler
,
Bob Harway
,
David Manion
,
Steve Carlton
,
Larry Arone
,
Jim Barnett
, and
Mark Bocchicchio
. The all-star rhythm section includes
Gary Drysdale
on bass and
Darrell Voss
on drums. Tickets are $15 at the door; $5 for students. As always, the proceeds benefit the Jazz Federation Scholarship Program, and the pianists donate their time and incredible talents for this event.
Eclectic acoustic band
The Paisanos
continue their concert blitz on
Saturday, May 9
from 7 to 9:30 p.m. at the Porch in Santa Margarita. If you like your rock'n'roll, blues, and ballads played with infectious enthusiasm, then be there to hear Joe DiVincenzo, the band's founder; Americana musicologist extraordinaire Nancy Ross on Martin guitar, moving freely between songs from the '20s to the present; Dave Wilson singing and playing lead acoustic guitar like James Burton one minute and Jimmy Page the next; and the band's country and blues harp virtuoso, Roy Ross, making you think you're at the "Crossroads."
Damon Castillo
,
Chase McBride
, and
Andrew Heringer
? Sounds like a night of great original songs by three of our most talented local songwriters. Check it out on
Saturday, May 9
at Downtown Brew. It starts at 8 p.m., is 21-and-older, and costs $8 presale or $10 at the door.
The inaugural Pacific Breeze Concert Series continues on
Sunday, May 10
, at Dinosaur Caves Park in Pismo Beach, with a special Mothers' Day concert featuring the
Royal Garden Swing Orchestra
. Known for its swinging sounds of the big band era, the group is celebrating its 23rd year performing. What's better than an afternoon at the beach with great music and your mother?
The
Pat Cormick Group
will be joined by L.A. jazz stars vocalist
Jack Wood
and guitarist
Doug MacDonald
when they play Mother's Day,
Sunday, May 10
, from 1 to 4 p.m. at the Jack House in downtown SLO. If you miss it, see them at the Nipomo Presbyterian Church on Thompson Rd. at the Mothers' Day vespers beginning at 6:30 p.m. Both events are free and open to the public.
Experimental indie prog-rock act
I Was A Lover Delorean Was A Dealer
plays Frog and Peach this
Sunday, May 10
for a 10 p.m. show. Visit myspace.com/iwasaloverband to hear some of their crazy-ass songs.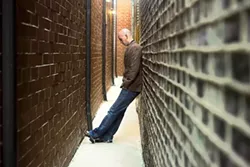 PHOTO BY MEGAN BAKER
SOUL MAN : Soaring vocalist Tyrone Wells plays Downtown Brew on May 12, deliver songs from his fine new album Remain.
Rock, pop, soul artist
Tyrone Wells
, whose new album
Remain
has the critics gushing, plays
Tuesday, May 12
at Downtown Brew (7:30 p.m., all-ages, $8 presale or $10 at the door;
Avanti
opens the show). His emotive voice will get under your skin, people. "With constant touring, it's important to believe in what you're singing every night," said Wells about his new album. "I'm excited about this new material and believe in these songs. I like where I'm going."
Since last year's release of
Meandertha
l, Torche has risen to the top of the heavy but accessible hard rock underground heap, even sealing the spot as
Decibel Magazine
's Number 1 Album in 2008. Prepare to have your ears assaulted (in a good way!) on
Wednesday, May 13
, when Torche opens for alternative prog-rock act
Dredg
during a 7 p.m., 16-and-older show ($15 presale or $17 at the door.) ∆
Glen Starkey loves his mother. Send him flowers so he can re-gift them to her at gstarkey@newtimesslo.com.
CD Reviews


Black Moth Super Rainbow—Eating Us
Previously a jumble of lo-fi wiring and bedroom electronics rolled in a shaggy rug of kaleidoscopic pop, Black Moth Super Rainbow may be in the act of growing up. Entering a modern recording studio for the first time, they are now under the wing of star indie-producer Dave Fridmann, who combed out the Flaming Lips' acid frizz for
Soft Bulletin
and unearthed the textual beauty on Mercury Rev's
Deserter's Songs
. On
Eating Us
, sharp edges have been polished down to reveal chrome smooth harmonies and melodies gentle enough to rock baby androids to sleep. On first listen, you may wonder if you've mistakenly put in Air's
Moon Safari
, as you're flooded with gorgeous, hypnotic ambient pop; BMSR have never sounded so restrained. But soak in its headphone delight—the twinkling vocoder daydream of "Twin Of Myself" and the exploding symphonic neon of "Dark Bubbles"—and its the same old BMSR, just in a better tailored suit. A complete aural thrill!
El Michels Affair—Enter The 37th Chamber
Consider this a reclamation of all that hip-hop looted from funk's greatest beats. Organist and drummer Leon Michels has slowly worked his way from being a member of the Meter-inspired outfit the Mighty Imperials to taking over wayward Brooklyn funk label Soul Fire, and reviving into its current dynamite status as Truth & Soul Records. Building his original band from session musicians moonlighting from the Dap-Kings, Budos Band, and Antibalas, El Michels Affair's reputation eventually led to an invitation to accompany Wu-Tang Clan's Raekwon for a promotional concert. Every fire needs a spark, and that collaboration has spawned
Enter The 37th Chamber
—an instrumental soul examination of the RZA's gritty production. As moodily ominous as it is skillfully funky, El Michels Affair shades the strings and keys of "Duel of the Iron Mic" in minor notes, the drums on "Cherchez La Ghost" crisply replicate the sampled original, and the blaring horns and children choral singing on "Shimmy Shimmy" is pure genius—a must-have for any respectable, true Wu fan. Throw up your double-Us.
—Malik Miko Thorne, of Boo Boo Records and mikovision.blogspot.com, where you'll find archived reviews and soundclips.