Sit back, relax, and let Don Gould of Wine Tours VIP be your guide to everything the Central Coast wine industry has to offer--on land and sea.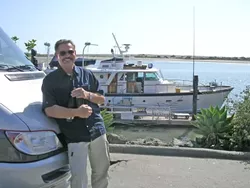 PHOTO BY LARS NESHIME
ROADS AND WAVES : Don Gould is prepared to take you on a tasty trip, by land or by sea.
# Gould, a retired land developer, has combined his passion for entertaining with a sense of luxury and convenience. The result is elegant, but not overwhelming.
"I love people, and I love keeping them entertained," Gould said. "My goal is to help people have the best time. I take pride in that."
With a rare Mercedes Benz limousine, a 72-foot-long classic motor yacht, and a fleet of other high-quality vehicles in his collection, it's obvious that Gould has surpassed his goal, and, in the process, taken wine tours of San Luis Obispo County vineyards to the next level of luxury.
On the road, riders are treated to the 22-foot Mercedes limo that comfortably accommodates a half dozen people and offers a top-notch sound system, comfortable leather seats, a dining table, and an onboard bathroom.
Stocking the limo with an unlimited supply of wine, beer, bottled water, chilled coffee drinks, and delicious snacks, Gould makes sure that every potential desire is well taken care of.
On the sea, Gould has partnered with executive chef Leonard Gentieu to create yet another experience. Docked in the Morro Bay estuary, the Papagallo II is a classic motor yacht intimate enough for a romantic dinner for two, but spacious enough to comfortably accommodate 38. The vessel comes equipped with a surround-sound stereo, Jacuzzi tub, full bar, and spectacular deck.
On board, people can enjoy a wonderful luncheon or five-course sunset dinner with meals prepared exclusively by chef Gentieu, a graduate of the Culinary Institute of America in New York. In addition to the gourmet grub, Gould also offers professional wine pairing.
With its luxurious accommodations and breathtaking views, the yacht has become a favorite for weddings.
"What I offer is completely different from anything else," Gould said. "We want you to have a great time."
For more information, contact Wine Tours VIP at 239-5920 or visit www.winetoursvip.com.
---
Staff Writer Kai Beech compiled this week's Strokes and Plugs. He can be reached at kbeech@newtimesslo.com.