So much in the life of Theodor Seuss Geisel can be attributed to chance. His famous nom de plume, for instance, might never have caught on if a young Geisel hadn't been caught drinking gin in his college dorm in 1925. (Funny but true: Geisel had been editor of Dartmouth's humor magazine, the Jack-O-Lantern. Stripped of his editorship for violating the laws of Prohibition, Geisel began submitting cartoons under assumed names, a habit he continued until lighting upon the ridiculous "Dr. Theophrastus Seuss," which he shortened and kept.)
ARTWORK BY THEODOR GEISEL, COURTESY OF DR. SEUSS ENTERPRISES
THE RATHER ODD MYOPIC WOMAN RIDING PIGGYBACK ON ONE OF HELEN'S CATS:
Geisel's decision to pen children's books, too, was the unexpected result of a day job in advertising: Contractually barred from doing many other kinds of creative work, Geisel found children's books were allowed by his contract.
Even the publication of the artist and author's first book, And to Think That I Saw It on Mulberry Street, was something of a random event. Glumly walking down Madison Avenue, a much-rejected manuscript in hand, Geisel happened to bump into an old friend from college, writes Philip Nel in his introduction to The Annotated Cat. Asked what was he was carrying, the artist replied, "A book of mine that no one will publish. I'm lugging it home to burn."
The friend, as it turned out, had just been hired that morning as juvenile editor of Vanguard Press, and the two men just happened to be standing outside of the door to his office. Within 30 minutes, Nel writes, Geisel was signing contracts. ("If I'd been going down the other side of Madison Avenue," he said, "I would be in the dry-cleaning business today.")
So it's easy to imagine that the life and art of the man called Dr. Seuss, but for the whimsy of fate, might have taken a far different path. Geisel, so well known for the absurd situations and minimalist verse of works like The Cat in the Hat and Green Eggs and Ham, also explored surrealism, abstract expressionism, and aspects of cubism in a little-seen collection of paintings and drawings that became known as his "secret art."
Late last fall, Greg Wilkins opened A Muse Gallery in downtown San Luis Obispo, one of a very few authorized Dr. Seuss Galleries in California (Cambria's Vault Gallery is the only other in the county). At A Muse, a rotating display of Geisel's lesser-known works (limited-edition prints, that is, many priced in the thousands) alongside reproductions of his earlier drawings and sketches and his "unorthodox taxidermy" collection, has become part of the reeducation of Seuss fans: adults who grew up with Hop on Pop and now return to find there's a more sophisticated chapter to the story.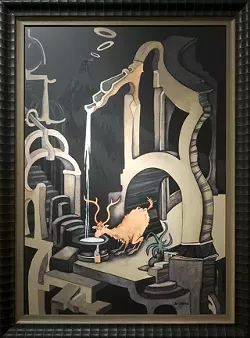 ARTWORK BY THEODOR GEISEL, COURTESY OF DR. SEUSS ENTERPRISES
THE STAG AT EVE: The Vault Gallery is at 2289 Main St. in Cambria. A Muse Gallery is at 845 Higuera St. in San Luis Obispo. For more on the art of Dr. Seuss, visit drseussart.com.
Like Picasso, Seuss too, went through distinct periods in his after-hours painting habit. According to the official website of the book The Art of Dr. Seuss (also sold at A Muse), Seuss' "Deco Period" spanned 1930 to 1940 and is noted for the black backgrounds, art deco designs, and slightly muted browns and beiges of The Stag at Eve, Pink-Tufted Small Beast in a Night Landscape, Tower of Babel, and Elephant Presenting a Flower to a Bird, most of which are sold out from Seuss' publisher.
An homage to cubism, a movement that began to flourish when Seuss was just a young boy, can be found in his pencil and watercolor illustration The Rather Odd Myopic Woman Riding Piggyback on One of Helen's Many Cats, in which the furry head of a grinning bipedal cat mercifully shields the crotch of the nude Myopic Woman. Seuss' nod toward the surrealist and Dada movements, albeit with a uniquely Seussian spin, can be found in pieces like his explosively colorful The Joyous Leaping of Uncanned Salmon, while more abstract expressionist pieces like Every Girl Should Have a Unicorn contain echoes of Wassily Kandinsky.
Throughout all of these explorations into the art movements of the day, however, Seuss maintained his signature sense of warped humor. A cartoonist at heart, it seems as though he never could take himself or the art world too seriously. A particular 1968 ink and watercolor illustration seems to confirm this: a diminutive, fat footed bird-creature walks seriously down a grassy hill. On its knobby little head rests an elaborate false head and torso of a much more imposing beast. It's apt title? Fooling Nobody.
Arts Editor Anna Weltner writes in the park. Arts Editor Anna Weltner writes in the dark. Contact her at aweltner@newtimesslo.com.