LA's The Dustbowl Revival has, over the past decade, made a name for themselves as purveyors of vintage Americana sounds. New Orleans, Tin Pan Alley, bluegrass, pre-war blues—they explored a lot of genres—but on their new eponymous album, the octet finds itself traversing the same terrain as contemporary blue-eyed soul and R&B acts as Nathaniel Rateliff and the Night Sweats, and St. Paul and the Broken Bones. We're talking about brassy, horn-driven soul and funk numbers that are dance floor ready.
Photo Courtesy Of Talley Media
FROM VINTAGE AMERICANA TO SOULFUL FUNK The Dustbowl Revival plays Morro Bay's The Siren on Sept. 22, showcasing their evolved style.
Previous albums and EPs have included The Atomic Mushroom Cloud of Love, You Can't Go Back to the Garden of Eden, Holy Ghost, Carry Me Home, and With a Lampshade On. Why self-title this one? According to founding member Zach Lupetin (guitar/vocals), it's because the band has finally found its signature sound.
"We batted around various titles but it came down to us feeling like we finally realized our sound. This album was a really collaborative effort where in the past we'd bring together a lot of different sounds, you know? We'd give traditional jazz our interpretation or whatever, but this was us saying, 'Screw it,' we're going to make our own genre. There often seems to be a time in a band's career where they finally define themselves, and this is it for us."
For fans of their early sound, don't fret. The band still delivers ballads and makes forays into genres beyond funk and soul, but this album is their most upbeat, danceable, funktastic record to date.
"I think of our sound as sort of an Americana soul folk funk, but honestly, I think genres are becoming obsolete," Lupetin continued. "We're writing songs that move people, and we're stripping away a lot of the extraneous directions on this album. We're focused on the song itself, being vulnerable about telling personal stories with more emotion while still creating fun. I mean, yes, some songs have sadness, but so much of this record is exuberant."
The band's been playing about 200 dates a year for the last four years, going as far as Norway's Bergenfest and Denmark's Tonderfest. When New Times phoned the band, they were on the road on the East Coast. They've been putting in the miles, reaching new fans, and tightening their sound, but they're looking forward to returning to the West and their Central Coast fans.
"Honesty, we've been surprised and very encouraged by the very warm audiences we have on the Central Coast," Lupetin admitted. "We always joke that people are happier there. In our hometown of LA, we're used to the ultracompetitive, always looking over your shoulder jadedness, while people in SLO and Paso always seem so relaxed. They just want to have a good time."
Yes we do and yes we will when The Dustbowl Revival plays Morro Bay's The Siren on Friday, Sept. 22 (7 p.m.; 21-and-older; $18 presale at ticketfly.com or $20 at the door). Joe Koenig will open the show.
Reggae, Latin pop, and indie rock at Vina Robles
You can still get tickets for Vina Robles Amphitheatre's four-band reggae extravaganza this Thursday, Sept. 21, when Pepper, Tribal Seeds, Fortunate Youth, and Aloha Radio play the outdoor Paso Robles venue (7 p.m.; all ages; $40 at vinaroblesamphitheatre.com). Alt-reggae juggernauts Pepper and Tribal Seeds co-headline, and both bands bring some impressive credentials to the proceedings.
Pepper's sold half a million records, appeared on national television, and placed their music in movies, TV shows, and video games. The band's charted two Top 20 "Alternative Songs": "FKARND" peaking at 19 and "No Control" peaking at No. 18.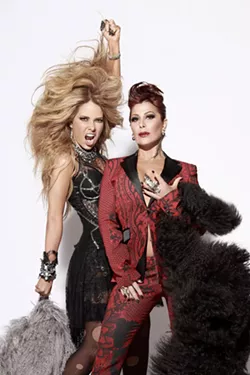 Photo Courtesy Of Gloria Trevi And Alejandra Guzmán
GUERRA DE MUJERES Mexican pop divas Gloria Trevi and Alejandra Guzmán face off in a special concert on Sept. 24, at Vina Robles Amphitheatre.
Tribal Seeds formed in 2005 and self-released their debut, Youth Rebellion, that same year, the first of many self-released albums, one of which—2014's Representing—cracked the Billboard 200 albums chart. In March 2017, they won the San Diego Music Award for Artist of the Year.
On Sunday, Sept. 24, Vina Robles hosts Latin pop sensations Gloria Trevi and Alejandra Guzmán going head-to-head (8 p.m.; all ages; $65 to $125 at vinaroblesamphitheatre.com). Billed as Gloria Trevi vs. Alejandra Guzmán, the event brings two legends of Spanish music who have had a sort of rivalry over the years, often exacerbated by their media coverage.
Combined, the two Mexican pop superstars have sold more than 60 million albums, enjoyed more than 100 international musical hits, and performed more than 5,000 concerts. This is going to be a battle royale!
And next Thursday, Sept. 28, Vina hosts The Shins with opener Day Wave (8 p.m.; all ages; $29 to $39.50 at vinaroblesaphitheatre.com). The Shins formed in 1997 as a side project but have since grown into an indie rock stalwart.
Swamp blues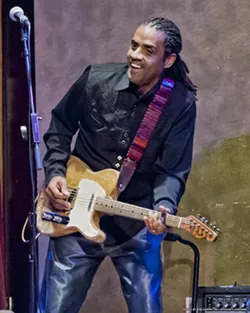 Photo Courtesy Of Kenny Neal
BAYOU BLUES Baton Rouge bluesman Kenny Neal plays the SLO Blues Society show on Sept. 23, at the SLO Vets Hall.
Baton Rouge guitarist-harmonica player Kenny Neal embodies the southern Louisiana swamp blues sound. The second-generation bluesman is the son of harpist Raful Neal, who was friends with Buddy Guy and Slim Harpo, who happened to give then 3-year-old Kenny his first harmonica. By age 13, Kenny was playing in his father's band. When he was 17, Kenny picked up the bass and played with Buddy Guy. He literally grew up in the blues.
In 1987, Kenny formed his own band and has released a steady stream of acclaimed Southern swamp blues—laid-back yet innovative, with one foot in tradition and the other looking toward the future. A bit of Cajun and zydeco, a splash of funk and soul, Kenny Neal delivers danceable, deep-fried sounds.
The SLO Blues Society presents the Kenny Neal Band this Saturday, Sept. 23, at the SLO Vets Hall (8 p.m.; 21-and-older; $25 at the door). Local blues act The Cinders will open the show.
Old timey duo deluxe
If you're a fan of Celtic music, you probably know Molly's Revenge, the Central Coast trio known for playing spirited traditional Irish and Scottish music. Well, think of Mason & Weed as Molly's Revenge without the bagpipes and with a repertoire that extends beyond Celtic sounds.
Photo Courtesy Of Mason & Weed
TRADITIONAL TWO Mason & Weed bring their traditional European and American folk sounds to Los Osos' South Bay Community Center on Sept. 24.
Featuring Molly members John Weed (fiddle) and Stuart Mason (guitar, bouzouki, mandola, banjo), they recently released Across the Pond, a stirring collection of songs they describe as "the traditions of Ireland, Scotland, France, Canada, and Louisiana meet[ing] in the American melting pot."
They perform everything from "early American ballads and songs newly composed by their peers, to beautiful melodies with Celtic and French roots. From the Irish jigs that open the record to the joyful reels that signal the end, they remain true to their love of American old timey music and Irish trad while expanding the repertoire to include traditional and new music from other eras and regions," according to their press materials.
The songs are a lot of fun, with some instrumentals as well as ballads featuring Mason's rustic and emotive tenor. The pair are also members of the old-time bluegrass group Little Black Train with mandolinist Kenny Blackwell.
Weed lived in Ireland and immersed himself in the regional styles of Clare and Donegal. Mason was born in the hills of West Virginia and won awards for traditional singing (Goleta Old-Time Fiddler's Convention), mandola (Topanga Banjo and Fiddle Contest), and songwriting (West Coast Songwriter's Association).
This Sunday, Sept. 24, Mason & Weed play Los Osos' South Bay Community Center (4 p.m.; all ages; $20 at brownpapertickets.com; free for kids 12 and under).
More music ...
Photo Courtesy Of City And Colour
O, CANADA Canadian singer-songwriter City and Colour (aka Dallas Green) plays the Fremont Theater on Sept. 22. It may be sold-out by the time you want tickets.
If you were living in Canada instead of California, City and Colour would be a household name. The acclaimed singer-songwriter also known as Dallas Green has won three Juno Awards (Canada's equivalent to our Grammy Awards), two for Songwriter of the Year. He also has seven Platinum-certified albums and three Gold-certified, which means he's sold a ton of records! With a soulful voice and amazing songs, he's gaining worldwide popularity. See him (maybe!) at the Fremont Theater this Friday, Sept. 22 (9 p.m.; all ages; $37 at ticketfly.com). This show is basically sold-out, but you can get on the waitlist at ticketfly.com. Seattle indie rock singer-songwriter David Bazan will open.
The annual three-day La Guitarra California Festival is upon us this Friday, Sept. 22, through Sunday, Sept. 24, and once again boasts an excellent lineup of talented guitarists hailing from the U.S., China, England, Argentina, France, Russia, Italy, Turkey, and Sweden. All told, expect "14 globally acclaimed artists in 10 concerts, five master classes, two free outdoor concerts, two guitar auctions, an exhibit of guitar-themed art, and a large cross-section of guitar makers displaying their instruments at an on-site Vendor Fair at Cal Poly's Performing Arts Center and Spanos Theatre. There's literally too much to list here, but visit laguitarracalifornia.com for a complete rundown on the events.
Photo Courtesy Of Mitchell Street
PET SOUNDS Vintage pop, rock, and blues act Mitchell Street (left to right John Letham, Hans Langfeldt, and Paul Pickering) play the Greener Pastures Farm Sanctuary fundraiser on Sept. 23 in SLO's Oddfellows Hall.
Do you love animals? Do you hate to think of them neglected or abused? So does Greener Pastures Farm Sanctuary! The new nonprofit organization in San Luis Obispo saves abused, neglected, and unwanted farm animals, restoring them to health with love and vet care. The animals then are part of the organization's program to teach children about compassion and heal from emotional traumas of their own. They're holding a fundraiser this Saturday, Sept. 23, in SLO's Oddfellows Hall (6 to 10 p.m.; all ages; $30 at eventbrite.com), that features live animals; a vegan dinner; music by vintage pop, rock, and blues act Mitchell Street; a silent auction; and beer and wine for sale. "Troubled youth who have been abused or special needs kids who may have been bullied or had to overcome a disability or illness start to shed their survival armor and begin to heal," according to Greener Pastures officials.
The Kristin Korb Trio and Cuesta's Voce vocal group join forces on Saturday, Sept. 23, for an evening of great jazz at the CPAC Experimental Theater (7:30 p.m.; all ages; $15 general or $10 for students and seniors at 546-3198). Korb, who's been living in Denmark for six years, is returning to the states to support her eighth album, Beyond the Moon, inspired by lyricist Johnny Mercer. She'll be joined by husband Ryan Korb (drums) and Andy Langham (piano). "I'm glad I'll be getting my sunshine again very soon!" she said.
Divided Heaven (aka Jeff Berman) will bring his rocking singer-songwriter sounds to Frog and Peach this Saturday, Sept. 23 (10 p.m.; 21-and-older; free). The LA-based troubadour writes great punk-infused narrative songs like an acoustic version of Green Day. He's touring in support of his sophomore album Young Blood, which is available on CD or hot pink vinyl. For locals who go way back, he'll remind you of Peter Will.
Photo Courtesy Of Borgore
RISQUE DJ Borgore will bring his Trap Music dance sounds to The Graduate on Sept. 27. Act fast; it's almost sold-out!
The last I checked it was almost sold-out, but producer and DJ Borgore is coming to The Graduate this Wednesday, Sept. 27 (doors at 8 p.m.; 18-and-older; $25 to $35 at ticketfly.com), as part of his Blasphemy Tour with Parker, ALT9, and TYE FYTER. Born and raised in Israel, Borgore now resides in LA and has become one of the biggest DJs in the Trap Music dance sub genre, where he blends bass, trance, hip-hop, and dub step with his classical music background. Be warned, kids! His subject matter is often risqué, and he recently teamed with an adult video streaming service to release his latest video.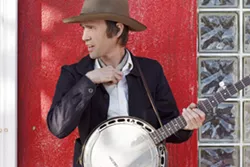 Photo Courtesy Of Willie Watson
OLD CROW SOLO SHOW Old Crow Medicine Show founder Willie Watson will do his solo thing at SLO Brew on Sept. 27.
As a contemporary interpreter of old timey sounds, Willie Watson fits right in there with Bob Dylan. A founding member of the Old Crow Medicine Show, he's proven himself an adept guitarist, banjoist, and singer, and on his debut album Folk Singer, Vol. 1, he demonstrated he can stand alone on a stage and completely captivate an audience with amazing songs. Folksinger, Vol. 2 is coming out this month, which is why you'll find Watson playing SLO Brew this Wednesday, Sept. 27 (10 p.m.; 18-and-older; $12 at ticketweb.com). Bedouine opens. Δ
Keep up with New Times Senior Staff Writer Glen Starkey via Twitter at twitter.com/glenstarkey, friend him at facebook.com/glenstarkey, or contact him at gstarkey@newtimesslo.com.