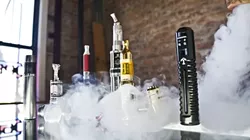 PHOTO BY JESSICA BURGER
AFTER THE SMOKE CLEARS: The V.I.P. Vapor Shop and Lounge brings a variety of options to Pismo Beach for smokers looking to go electronic.
The centuries-old pastime of smoking flavored tobacco from a water pipe, has a contemporary outlet in the new Pismo Beach, smoke-free smoke shop: the VIP Vapor Shop and Lounge.
Owner Elias Halak opened the doors to the new smokeless hookah lounge and vaporizer shop in early January, after seeing a demand for vaporizer products. He is also the owner of the GB Smoke Shop around the corner.
"There's no smoke here. It's all water vapor," Halak said. "I really felt like it required its own environment."
The upstairs venue is long and spacious, with neon-colored paintings on the walls and a dozen leather couches in the back where patrons smoke electronic hookahs. Amid the glow of black lights, the space is business in the front and a party in the back.
In the front is a full retail counter. Glass-encased rows of electronic cigarettes, "vape" pens, and multiple-unit vaporizers—sometimes referred to as "mods"—that come with a plethora of customizable accessories.
Friendly and knowledgeable staff member Joe Gutshall said being an electronic smoker has become a total hobby, which is where the mods come in.
"Basic pens are for people who are just getting started," said Gutshall. "The more advanced options, the mods, have rebuildable parts."
Gutshall said the mods allow you to change the parts, drill more holes, and change the wiring.
"The way the wiring wraps affects what type of vape cloud you get."
The most obvious difference about electronic smoking: It's smokeless. All vaporizing sets come with rechargeable batteries and a charger, which should last for 360 full charges, and cost only $8 to replace.
The basic pen-style is easiest compared to one of the better-known vaporizers available on the market, the "G Pen," a name brand that will set the shopper back about $80, but not at the VIP lounge. Halak said he does not carry them in his shop, because the parts are proprietary, forcing the shopper to buy only G Pen brand replacement parts. Halak said he thinks that they are overpriced.
From the understated pen-style to the ever-accessorizing modifier, getting set up at the VIP lounge with your vape set will cost you between $50 to $250, depending on how much customization you'd like.
E-liquid is the product used in e-cigarettes, vapor pens, vaporizers,
and e-hookahs. It comes in a variety 
of flavors, options of varying nicotine levels, or the option of nicotine-free. At about $10 a bottle, one of the biggest pros of going electronic as a smoker is that it's cost effective. One bottle will last an individual anywhere between 
five to 15 days.
"You can blow through a pack of cigarettes in a day," said Halak. "With a vapor pen or an e-cig—or even a e-hookah–that would be pretty hard to do."
Regular cigarettes can contain up to 699 legal additives, whereas the e-liquid sold at the shop is a mixture of seven ingredients, all of which are food-grade, Halak said.
Some of the shop's best selling flavors? Blue Mist, Pirates Cave, and Sex on the Beach.
To rent an e-hookah will cost you $13 to $15 for a 90-minute session. The shop is open every day, from noon to midnight on the weekends, and till 10 p.m. on weeknights.
"It's a different generation," Halak said. "There's a demand in this area for people aged 18 to 25 to have something to do.
"An e-hookah session lasts twice as long and is always at peak performance, and the flavor stays consistently premium."
VIP Vapor Shop and Lounge is located at 649 Dolliver St., Pismo Beach. Find them on Facebook or call 925-6650 for more information.
Fast fact
The Henry Miller Library is looking for entries for its ninth annual Big Sur International Short Film Screening Series. The submission deadline is April 15, and selected entries will screen between June and August at the Big Sur library. To enter, visit bigsurfilm.org/submit-your-film.
Intern Jessica Burger compiled this week's Strokes & Plugs. Send your business and nonprofit news to strokes@newtimesslo.com.