Director Antoine Fuqua (Training Day, Shooter, The Magnificent Seven 2016) returns to helm this sequel written by Richard Wenk (The Mechanic 2011, The Expendables 2, Jack Reacher: Never Go Back) that's based on the TV series by Michael Sloan and Richard Lindheim. Denzel Washington stars as vigilante Robert McCall, an unassuming man—and retired CIA black ops master—who metes out justice whenever he sees someone being exploited or oppressed. When he learns his old friend Susan Plummer (Melissa Leo) has been murdered, he's determined to find out who did it and why, and bring them to account. (121 min.)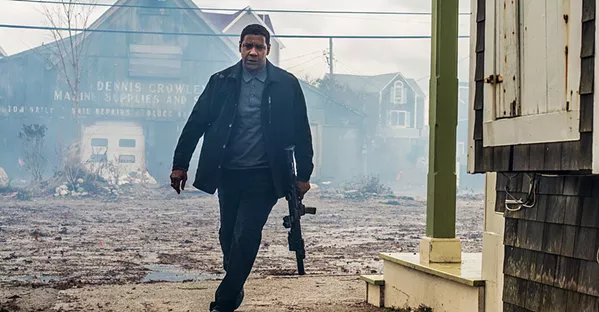 Photo Courtesy Of Faqua Films
DETERMINED Ex-CIA operative Robert McCall (Denzel Washington) uses his deadly skills to deliver justice for the downtrodden.
Glen McCall is a great character, a deeply righteous man with the skill set to hold bad guys accountable—a man with a sense of moral outrage. He uses his military and CIA training to protect the vulnerable and the weak. No wonder Washington chose McCall and The Equalizer 2 as the first sequel of his career. If my count is correct, this is also Washington's fourth go-around with director Antoine Fuqua. They're obviously comfortable working together. Like its predecessor, this film shows McCall kicking ass and saving those imperiled. It opens with McCall on a train bound for Istanbul, where he's after someone who kidnapped a little girl. McCall quietly confronts the kidnapper in the dining car. Close-quarter fighting ensues. It's a great opening set piece that quickly reminds us who McCall is—confident, determined, and unrelenting. It's that "looking out for the little guy" vibe that makes him so appealing. The bulk of the film revolves around him searching for the killers of his friend Susan, but there's also a side plot about Holocaust survivor Sam Rubinstein (Orson Bean) trying to get a stolen painting returned, a neighbor boy named Miles (Ashton Sanders) who's in danger of being recruited into a gang, and another neighbor—Fatima (Sakina Jaffrey)—whose garden and building are vandalized. Here's where McCall's character really shines and why he's so interesting—he's completely unassuming, wholly caring, but capable of mowing through anyone who stands in his way. Even though the film's been getting panned by critics, The Equalizer 2 delivers exactly what fans of the first film are looking for, meaning if you liked the first one, this is definitely worth a trip to the theater. Washington delivers!
Anna You definitely have to take critics' harsh words with a grain of salt; not every movie is meant to be Citizen Kane after all. Watching Washington kick bad dude ass as McCall is fun, but the layers he adds to the character are what really shine. Instead of a cookie-cutter justice warrior, McCall is a flawed and complex do-gooder, one haunted by never-ending loss. Naturally self-isolating, there are not many people who truly know him, so when Susan is killed he's more alone than ever. He reaches out to his old partner Dave (Pedro Pascal) to help uncover the truth behind her murder, but things are not the same as they were before McCall's CIA "retirement." Soon it's once again him against the world, fighting the good fight come hell or high water. I really enjoyed the reboot personally, and while I'd watch the first Equalizer film if I had to choose between them, I appreciate and welcome this addition to the storyline and character. It doesn't hurt that I will say yes to watching Washington anytime, most especially when he's in badass mode.
Glen His old partner Dave is a wildcard character. Like McCall, he's a CIA operative, but as we get to know him, it's clear that he and McCall have different moral codes. Being a trained killer is obviously ethically ambiguous. It comes down to how you use your training. Money doesn't drive McCall, who's more interested in getting through his list of 100 must-read books than lining his pockets. There's something monk-like about him and his lifestyle, almost as if he's paying penance for his past. His interaction with Miles is especially complicated, and he tries to teach Miles what's important but also let the kid make his own decisions. Does Miles want to be a drug dealer slinging crack on the corner or will he better himself and use his artistic talents even though they probably won't lead to a lucrative career? The film leaves open the possibility of yet another installment, and since the whole premise is based on a TV show and there's never any shortage of bad guys out to exploit the vulnerable, more may be on the way. But the law of diminishing returns is already at play in this sequel. If you've never seen Washington and Fuqua's first collaboration, Training Day, definitely watch it. It's Fuqua's best film and one of Washington's rare appearances as a bad guy. The Equalizer 2 doesn't hold a candle to it, but as a summer action flick, this one's better than most.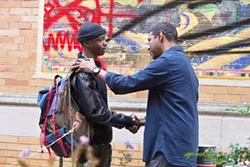 Photo Courtesy Of Faqua Films
MENTOR When he's not driving a Lyft or righting wrongs, McCall (Washington) guides neighbor kid Miles (Ashton Sanders) away from gang life.
Anna The team-up of Fuqua and Washington is a good one, and like you said, while it may not be cinematic genius, this installment carries its own, especially in the slog of summer releases. I'll take watching this over Skyscraper any day. (No, I haven't seen Skyscraper. Maybe it's great. Maybe not. I'm judging by the trailer that it isn't my jam.) The action in The Equalizer 2 starts early and pumps throughout, but one thing I appreciate about this movie is the moments of quiet as well. We sit with McCall and get a sense for the mundane details of his life. He drives for Lyft, lives a sparse life—the guy has one drinking glass, for the love of Pete—and genuinely gives a damn about the people around him, few and far between as they are. My favorite piece of his complicated puzzle is his relationship and mentoring of Miles. He certainly doesn't want Miles to fall onto the easy path of dealing drugs, nor does he want him to follow in his bloody footprints. When he forcefully pulls Miles away from a group of thugs trying to groom him, he shows Miles what it really takes to kill a man and what that does to your life. While I didn't see the details of the inevitable plot twist before it happened, it was predictable enough to be called unclever, but luckily the film had enough gusto to gloss over that in my overall opinion of it. I think this one's totally worth an afternoon at the theater, or at the very least a watch when it makes it to video. Δ
Split Screen is written by Senior Staff Writer Glen Starkey and his wife, Anna. Comment at gstarkey@newtimesslo.com.