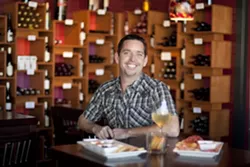 PHOTO BY STEVE E. MILLER
HOLD THE BUN : Giovanni DeGarimore considered opening a burger joint, but instead opened a classy new wine bar in Morro Bay.
A modern wine bar recently opened in Morro Bay, and it offers everything wine aficionados love, be it local artisan wines, fine Cristal Champagne, international white and red wines, or wine-friendly tapas. But rather than standing at a tasting room bar, you'll find tall bar tables with comfortable stools, and a VIP lounge with a leather couch and loveseat around low tables. This place is drawing a crowd on Friday and Saturday nights—even though it's only open until 8 p.m.—because people think of it as a night spot, according to its owner, SLO County local Giovanni "Gio" DeGarimore.
"The town would like it to be a nightclub, but our neighbors don't," he said honestly, noting the homes and apartments nearby. "We've only been open four weeks, and we're taking it a day at a time."
Amazingly, people are calling in to make reservations for the VIP lounge on Friday and Saturday nights: "You have to call to get reservations if you're hoping to sit there on the weekends," Gio laughed.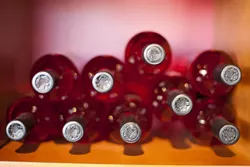 PHOTO BY STEVE E. MILLER
NECTAR OF THE GODS : At Stax Wine Bar, the servers are learning alongside the customers, fostering an atmosphere of camaraderie.
The wine bar is undergoing constant change as he tries new wines for his list and selects gift items to offer at the wine bar. He does the same with the cheeses, cured meats, and gourmet olives he features on the menu of small plates, which includes panini (all priced $9) and pommes frites ($7).
"We're trying to offer something for everyone. At first we didn't think we would offer food; we thought people would come in to buy wine or gifts," he recalled. "But they wanted to be able to sit down and enjoy nibbles with their drinks."
You can also get seafood from Giovanni's Fish Market, which is nearby, and enjoy it with fine wine. Gio recalled one couple who ordered a Dungeness crab at the market and brought it to Stax where they ordered a bottle of white wine to enjoy with it.
"If it's slow, we can have your order brought over from Giovanni's," Gio said, "so you can enjoy oyster or crab cocktails, or fish and chips with your wine."

Although you can find enough to satisfy your appetite on the Stax menu, know this: It's not a restaurant with a chef in the kitchen. Gio created a menu that his staff can quickly put together in the kitchen where they make pommes frites and toss them with extra virgin olive oil and Italian black truffle salt. They also make the grilled panini, and cheese or meat plates ($12 each), all of which are served with crostini. During the interview, Gio said he was ordering produce to make fresh salads and buying gelato to offer desserts. Like his wine selection, he wants the menu to offer international foods—hence the references to Italian (his heritage) and French food selections.
The contemporary wine bar is situated alongside the bay. You can see the trio of tall smoke stacks—for which he named the wine bar—through huge picture windows along the north-facing wall. There's also a stack of wine barrels near the front entrance, which makes it easy to spot Stax during the daytime. But the attractive wine bar has a warm glow at night when the room is filled with people socializing, and it attracts many who happen to be passing by.
The wine bar offers more than 120 wines that you can buy to take out or enjoy in the bar without being charged a corkage fee. His tasting list typically offers 10 wines at reasonable prices: One page offers five tastes for $5; the reserve list offers five tastes for $10. You can purchase by the taste, glass, or bottle. I enjoyed tastes of several excellent wines while there: M. Chapoutier Cotes du Rhone Belleruche, $6/glass; Edward Cellars Vertigo GMS, $8/glass; and the Margerum M5 Rhone blend, $9/glass. At this point, Stax is open daily, noon to 8 p.m. It can also be rented for private parties between 8 and 10 p.m. but Gio said he expects to be open later in the summertime.

Gio is well known in Morro Bay for his fish shop, where he began working as a young man. Mike DeGarimore, his father, founded the shop 25 years ago. In 2004, Gio bought the long strip of property along the Embarcadero, which included the fish market, from his dad. It's Morro Bay's only fish market along the historic waterfront.

PHOTO BY STEVE E. MILLER

NIBBLES : Rather than being prepared by a chef, the food at Stax consists of simple but delicious concoctions put together by the staff.
When Gio learned that the building at the corner of Morro Bay's Embarcadero and Beach streets would be vacated, he considered the possibilities for a new business in that great location. Once the building became available, Gio found himself suddenly awake at 3 a.m. and thinking about turning it into a burger joint. Fortuitously, that thought was accompanied by an epiphany that made him realize he should make it a place that promoted something he truly enjoyed: fine wine.
"Thirty-seven days later, it was a wine bar after $100,000 went into restoring it inside and outside," Gio recalled.
He spent $15,000 on the wine racks alone, which are impressive, and another $25K on stocking the shelves with wines.
The number of wines offered has grown weekly as more local wineries and international wine distributors visit, hoping he'll add their wines to the line-up.
"The feedback we're getting has been very good. It's nice to be able to buy wines the way I've always wanted, unlike at Giovanni's, where wine is purchased by customers on a whim," Gio said candidly. "Here, we give customers the opportunity to taste before they buy it. That's why the wine bar works so well."
HIT THE STAX: Stax Wine Bar is at 1099 Embarcadero in Morro Bay. For more information, call 772-5055 or visit staxwines.com.
There's one thing that's quite different about this wine bar: When Gio started, he hired servers with no experience. He explained: "I find people are less intimidated when the staff is learning with them. When you start rambling about nomenclature, you're scaring people off."
He planned on teaching them himself, but has been too busy, he admitted, so he hired a professional wine buyer to teach them.
"We're dynamic and always changing," he said. "One thing I've figured out in business is that you have to cater to your customers."
You can reach New Times' Cuisine columnist at khardesty@newtimesslo.com.