For some bands, the message is just as important as the music. Take The Fixx, a British new wave pop-rock band that's been pumping out thought-provoking tunes for decades.
With three No. 1 hits and millions of albums sold worldwide, The Fixx features the unforgettable vocals of Cy Curnin, haunting guitar by Jamie West-Oram, the expressive synth of Rupert Greenall, Dan K. Brown's pounding bass, and the steady beat of drummer Adam Woods.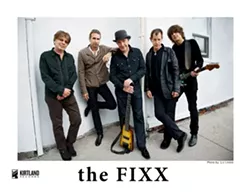 PHOTO COURTESY OF THE FIXX
BEYOND THE '80S : British new wave pop rockers The Fixx begin a national tour at SLO Brew on Dec. 28.
Some of their best-known songs: "One Thing Leads to Another," "Red Skies," "Stand or Fall."
The Fixx has just produced its 10th studio album, Beautiful Friction, and the band is going on tour to promote the new tunes. What better place than San Luis Obispo for the first stop in their Beautiful Friction tour?
Singer Curnin explains the story of Beautiful Friction: "There's a theme that traces through The Fixx. Our catalog is connected; our viewpoint as a collective has always been socially driven.
"The times we live in are tough, but there's a beauty in that. There's a hope. We ultimately see the album as positive, eager for the dawn of a new era, the possibility to change the way we see the world and to view it with more optimism.
"We speak to people who have woken up to the fact that while there was a period of easy money and easy credit, it's now come and bitten us on the backside. I think, as you get wiser, you begin to realize that less is more, and how happiness itself is your real currency."
Hmmm, could that be why The Fixx decided to start their tour in our happy little town?
PHOTO BY DOUG MOXNESS
PICKIN' AND SAWIN' : The Old Time Fiddle and Banjo Show takes over the Red Barn in Los Osos on New Year's Eve, Dec. 31.
Check out The Fixx at SLO Brewing Company's last show of the year, on Friday, Dec. 28 (7:30 p.m., 21 and older, $20 advance and 422 at the door). Listen closely for the silver lining behind the lyrics!
Old-fashioned fun
There's just nothing like the American music of the olden days, and nobody knows that better than the members of the Old Time Fiddle and Banjo Show, a loose collective of talented local musicians from a variety of bands.
This toe-tapping ensemble features Amber Cross on guitar, Gary Arcemont on fiddle and banjo, New Times' own Jerry James on banjo and bass, and Stuart Mason on mandola and guitar. With a repertoire including Appalachian fiddle tunes, early bluegrass, country blues, original compositions, and even Irish tunes, the Old Time Fiddle and Banjo Show honors old and new American roots traditions.
It's time for their annual New Year's Eve party, and you're invited! Join the fun and have an early night with the Old Time Fiddle and Banjo Show on Monday, Dec. 31, at the Red Barn at South Bay Community Park in Los Osos. Part of the Red Barn Community Music Series in cooperation with KCBX Public Radio and the Live Oak Music Festival, the show will feature special guests Jonas Richardson—founder of the series—and James Moore, among others.
Doors open at 4:30 p.m., with a potluck supper at 5 p.m. and the show at 6 p.m. Suggested donation to support the musicians and pay for expenses is $10 at the door.
Party at the Plough!
For a unique, nonstop New Year's Eve celebration, head on over to Cambria's Pewter Plough Playhouse. The evening starts with the final performance of September Song, a musical stage show featuring around 40 songs from the Great American Songbook—a tribute celebrating 100-year-old Jim Buckley, who's the founder and artistic director of the Plough.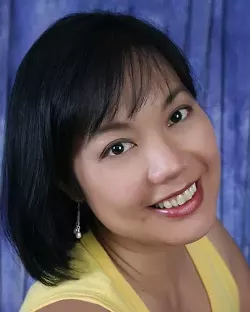 PHOTO COURTESY OF JAMES BUCKLEY
WHAT A LARK! : The New Year's Eve bash at Pewter Plough Playhouse includes a live cabaret starring Yoly Tolentino (pictured) and Dave Manion on Dec. 31.
After an elegant supper buffet and bottomless Opolo Champagne, get ready for live cabaret music starring singer Yoly Tolentino and piano man Dave Manion. Together, they'll perform jazz, Broadway, swing, and songbook classics.
Known for her versatile singing style, ranging from jazz to R&B and bossa nova, Yoly Tolentino has specialized in one-woman shows. She's performed on Broadway, and is now based in L.A., where she sings with her band Skylark.
The Pewter Plough Playhouse New Year's Eve Bash happens on Monday, Dec. 31, from 8 p.m. till past midnight. Tickets for this celebration are limited; call the box office for reservations ($125, 927-3877, pewterploughplayhouse.org).
The songs keep on coming
Gotta hand it to the Songwriters At Play—not even the holidays can slow them down! Next up is 19-year-old Mason Van Valin, who's already making waves on the Santa Barbara music scene with his high-energy pop-rock, soulful vocals, and innovative guitar work. Special guest Jean Butterfield joins the show on Thursday, Dec. 27, at the SLO Down Pub in Arroyo Grande (6:30 to 9:30 p.m., all ages, pass-the-hat).
PHOTO COURTESY OF JEAN BUTTERFIELD
SOARING SONGBIRD : Jean Butterfield performs songs from her new CD at the Songwriters At Play showcases Dec. 27 at SLO Down Pub and Dec. 30 at Sculpterra Winery.
Then listen up for "New Songs for the New Year," a pre-New Year's Eve afternoon celebration of songwriting. The lineup includes Lost Hills, Rob Kimball, Steve Key, and Jean Butterfield—who's sharing songs from her new CD, Brothers in Time. It all happens on Sunday, Dec. 30, from 1 to 4 p.m. at Sculpterra Winery in Paso Robles (all ages, pass-the-hat).
2012 saw more than 150 of these showcases, which have featured hundreds of musicians from all over the place. The Krush 92.5 FM broadcasts highlights twice a week, and the shows are also available as free podcasts on iTunes. Thanks, Steve Key!
Best-album backstory
One local music highlight of 2012 was the New Times Music Awards, where husband-and-wife duo Bob and Wendy's recording Your Beautiful Life won the Best Album of the Year. New Times asked singer and songwriter Wendy Liepman to share some stories about the album, which was produced by longtime local musician Jill Knight.
"Recording with Jill was like joining a mutual admiration society. She was so easy to work with, it was as comfortable as playing music in a living room. We went for a simple live sound, with not much extra adornment. (Although I couldn't have Jill in the next room and not have her singing harmony vocals, could I?)
"Jill also loves Bob's cello and really captured the sound. Recording at Jill's was like being in a cabin in the forest, lots of light streaming in the windows and a view of trees. It was really relaxing, and low pressure.
"Jill originally offered to record and produce a few of our songs, but we were all enjoying ourselves so much that we kept playing new songs for her, and she generously offered to keep recording.
"I can tell you something about the inspiration for some of the songs. 'Your Beautiful Life' was written after viewing pictures of Katrina and the devastation in Haiti. But I also remember a book called Material World, where people from all over the world had to put all of their possessions in their front yard to be photographed. That made a big impression on me, how we have so much and yet it could be gone in an instant.
"I was looking through Bob's mom's photo album and found a picture of her and her young family from the early 1950s. Bob is pushing his sister Joan in a stroller, brother Peter stands by, and Mom looks up, beaming. They are walking on a boardwalk near Gloucester, Mass. I remember Bob telling me the story about how the family used to spend summers there, until a hurricane washed it away. So from that time on, they started going to Maine, a place that really influenced Bob.
"I wrote the songs 'Maine' and 'Song for Myles' from my perception of Bob's point of view. Myles was his favorite cousin who also spent summers in Maine and ended up running the Maine Diner. Bob's mom passed away Sept. 26, so the cover photo of Your Beautiful Life ended up being sort of a tribute to her.
"'In My Song' is a love song to Bob (my favorite cello player besides Yo Yo Ma). He has always supported my music, even when I lose faith in myself."
More music …
The Paisanos are quickly gaining a reputation for delivering fun, danceable classic rock, R&B, and blues, featuring award-winning drummer Denny Carvalho on lead vocals and acoustic guitar, Joe DiVincenzo (guitar and vocals), Dave Wilson (guitar and vocals), Doug Blinkhorn (percussion), Rockin' Robin White (bass and vocals), and Stan Sine (harmonica and vocals). The Paisanos have unwrapped all their presents, and they found a new set of guitar strings! They're celebrating by playing in downtown SLO on Thursday, Dec. 27, first at Farmers Market and then at Frog and Peach. You can also catch their performance on Saturday, Dec. 29, at 1 p.m. at Laetitia Winery.
Dr. Danger blues band is taking a sabbatical to work on their second CD, so their usual last-Friday-of-the-month gig at SLO Down Pub is being taken over by a bunch of veteran South County musicians assembled by Brent Dannells. Comprised of Lorenzo Pace on sax, flute, and clarinet; Joey 5 & Dimes on blues harp; Mike Berger on guitar: Michael Hocking on bass; and Don Manzano on drums, as well as Brent Dannells, Brent & the Boogiemen will be playing plenty of danceable blues and R&B on Friday, Dec. 28, starting at 7:30 p.m. at SLO Down Pub. No cover charge!
Here's another idea for your New Year's Eve celebration: the '60s Rock'n'Roll New Year's Eve Bash at Pismo Beach Veterans Building. Music is by Unfinished Business on Monday, Dec. 31. "No host" cocktails begin at 6 p.m., benefiting the Arroyo Grande Knights of Columbus; a buffet dinner catered by Alphy's Broiler starts at 6:30 p.m.; and dancing goes from 8 p.m. till just after midnight. Tickets cost $65 (929-5211 for reservations).
A great year for live music
The end of the year is always a good time to look back at what happened during the last 365 days, and to look forward to good things to come. New Times asked a couple of local music promoters about some of their favorite live music events of 2012.
Bruce Howard of Otter Productions brought some big-name musicians to the lovely Avila Beach Golf Resort, including a show featuring Wilco and Jonathan Richman on what sure seemed like the most beautiful day of the year. No doubt he's already starting to book next year's shows; stay tuned!
The Pozo Saloon is another great place for outdoor concerts under the wide-open sky, featuring everything from reggae and rap to country and rock. You can look forward to springtime in the beautiful Pozo countryside, with an April concert already on the books.
The SLO Brewing Company is certainly a shining star for fans of amazing live music. We're so very fortunate to have a venue that takes advantage of SLO's location midway between S.F. and L.A., aren't we?
Todd Newman of SLO Brew lists some of his favorite performances from 2012. Guess he couldn't come up with the top 10; more like the top 40! His memorable shows of 2012, in order of appearance: Dick Dale, Citizen Cope, All American Rejects, David Lindley, Keller Williams, Zappa Plays Zappa, G Love and Special Sauce, Jackie Greene, Alkaline Trio, Mickey Hart of The Grateful Dead, Mason Jennings, Todd Snider, Henry Rollins, Mat Kearney, The Buzzcocks, Group Love, Lindsey Buckingham, Pennywise, Snoop Dogg, Still Time (final shows), Kix Brooks of Brooks and Dunn, Suicidal Tendencies, Lil Kim, Reverend Horton Heat, Paul Thorn, Antibalas, Jeff Bridges, Against Me, The Addicts, Iration with The Expendables, Randy Rogers, GZA, Collie Buddz, Lindsey Sterling, English Beat, Taj Mahal, Dan Hicks and The Hot Licks, The Mother Hips, Ozokidz and Ozomatli, NOFX, Never Shout Never, The Aquabats, and no doubt the Dec. 28 show by The Fixx. Whew! How many of those shows did you catch?
And here's what we have to look forward to at the Brew in 2013: Two Gallants on Jan. 25, Paul Thorn with Tommy Castro on Feb. 5, Dr. John on Feb. 8, The Green on Feb. 12, Shawn Mullins on Feb. 14, Cold War Kids on Feb. 16, Matt Costa on Feb. 22, and Toad the Wet Sprocket on April 11.
Good thing the world didn't end!

Kathy Johnston is filling in for Glen while he's on vacation. Send music stuff to gstarkey@newtimesslo.com.