"Tramp stamp" is something of a dirty word. It's often said with disdain or at best with mocking laughter. The term conjures up a sad cliché of a tattoo, likely a butterfly or a jumping dolphin, floating just above a butt crack, outlined with a trace of lacy panties.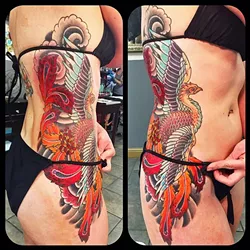 PHOTO COURTESY OF GARY ELLSWORTH
SUN'S OUT, TATTOOS OUT: This colorful bird tattoo by Gary Ellsworth on a client's side can easily be covered up for work and at the pool.
But being scandalous was never really the point of the lower back tattoo.
"It was really easy to conceal," said Gary Ellsworth, who was voted best tattoo artist in SLO County for New Times' annual Best Of issue this year. "That's why the idea became popular."
The tramp stamp's heyday was from the early '90s to the early 2000s, and during that time tattoos just weren't accepted on a mainstream level. Older folks associated tattoos with military men, circus freaks, and criminals, so their daughters got tattoos strategically placed somewhere that dear old mom and dad wouldn't see.
"It was thought of as very lowbrow," Ellsworth said. "People who didn't approve gave it a nickname [tramp stamp] to shame people for getting a tattoo."
Today, Ellsworth, who works at Sink or Swim Tattoo and Piercing in Grover Beach, rarely gets a request for a lower back placement. Instead tattoos are migrating toward the side torso and rib area. It's a spot especially popular with the ladies.
PHOTO COURTESY OF GARY ELLSWORTH
INK ARTIST: Gary Ellsworth tattoos a client.
"She can get a larger tattoo, but it's absolutely concealable," Ellsworth said.
Jake Schroeder, a tattoo artist (voted runner up in New Times' Best Of issue) at Ink Dynasty in Pismo Beach, also gets a lot of requests for tattoos on the side body, particularly among the Cal Poly and Cuesta crowds.
"Ribs is a big one because a lot of students are hiding tattoos from their parents because they don't want to get cut off," Schroeder said.
Still both Ellsworth and Schroeder agree that tattoos are enjoying a mainstream level of popularity. More people have them than not, and folks are less concerned about covering their ink up.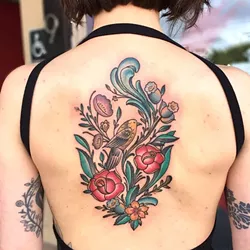 PHOTO COURTESY OF JAKE SCHROEDER
HIDDEN BEAUTY : The upper back is also a popular spot for tattoos, like this floral design by Jake Schroeder.
Designs like mandalas, nature landscapes, wildflowers, and owls (one of the trendy animal tattoos of the moment) are popular, but with the advent of Pinterest, the "it" tattoo of the season isn't what your forever design should be based on.
"Just go with what you want and don't be persuaded by friends," Schroeder said. "Tattoos typically outlive those friendships."
While many think of the end result, a design they love on their body, when getting a tattoo, Ellsworth urges potential ink devotees to consider the experience.

"Have a fundamental idea of what you want," Ellsworth said. "Once you find an artist that does the kind of work you want to get, sit down, talk, and find out if you like them. It's a very intimate transaction. If you get a tattoo from someone you don't like, you're going to have a really negative memory of that experience, but if you like them you'll have a really good memory of the entire process."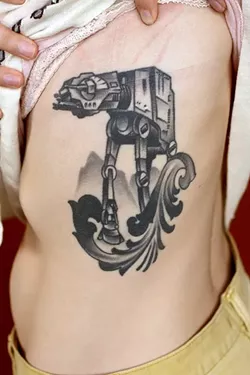 PHOTO COURTESY OF JAKE SCHROEDER
THAT TORSO THO: The side panel/rib area is a popular go-to spot for tattoos that can also be concealed. Star Wars AT-AT walker tattoo art by Jake Schroeder.
Get some (ink)
Ready for your first tattoo? Then head on over to Gary Ellsworth at Grover Beach Sink or Swim Tattoo and Piercing or Jake Schroeder at Ink Dynasty in Pismo Beach. Check out Sink or Swim's Facebook page and inkdynastytattoo.com, respectively.
Ryah Cooley has two tattoos and counting at rcooley@newtimesslo.com.