Food traditions aren't always warm-and-cozy Leave it to Beaver-style pot pies.
The culinary rituals that really stick to my ribs—and my mind—are as unique as the people in my life. They range from my mom's addictive Thanksgiving "Gobble"—a mix of ground turkey, gooey mozzarella, and tomato that mutates every year—to the naughty, crispy bits of hardened cheese that I scrape off the box from my favorite pizza place after a sweaty rock 'n' roll show.
PHOTO BY KAORI FUNAHASHI
MEMORIES IN THE MAKING: Flavor Columnist Hayley Thomas loves to recreate the food moments that have moved her in her own kitchen. Pictured, the writer's twist on Firestone Grill's tri-tip salad, a big favorite of her father, Darren Thomas.
Some are personal: Imagine a heartbroken teenage Hayley crying into her Carl's Jr. Double Bacon Western Cheeseburger (CrissCut fries still make me feel better). Others—like my dad's moist, herby dark meat chicken salad or sundried tomato hummus—are pure joy. They remind me of his bright Atascadero kitchen, where something is always simmering on the stove and it's impossible to leave without a Jenga-like stack of leftovers.
It's hard to know whether the context, or the food itself, make the moment. What I do know? Donut shop coffee tastes a hell of a lot better when it's 7 a.m. and you're on the way to the swap meet, and banana pancakes are extra comforting when my big sister is at the stove, humming a little tune under her breath.
Coming Home: Firestone Grill's 
Steak Cobb Salad
When you're a broke-ass kid, there is nothing more satisfying than walking into Firestone Grill, slamming down a few crumbled dollar bills, and congregating around a massive basket of heavily seasoned french fries. You could sit there for two hours—maybe three, just talking about bands, summer romances, and how you're ready to "get out and see the world." Most of my friends—including yours truly—returned to the SLO County area as an older, wiser adult. Still, I think back to those snack-happy moments of fry-scarfing, when every option in life felt infinitely possible. When I came back to my roots in 2009, I discovered that much had stayed the same and much had changed.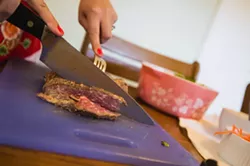 Firestone's Steak Cobb Salad, a big favorite of my Atascadero-dwelling father, became my new go-to whenever we met up in SLO. My dad and I are known to enjoy "strong flavors," including smoked herring eaten straight from the tin. With tri-tip, bacon, blue cheese, red onion, and balsamic vinaigrette, this salad reminds me of long father-daughter talks centering on life, love, and returning home. The onion breath is a necessary evil, and we choose to wear it like a badge of pride.
• Firestone Grill, 1001 Higuera St., SLO.
Fuel for rock 'n' roll: Klondike's Pepperoni-Pineapple Pizza
It's a well-known secret: Rocking out is a workout. After a show at Bill's Place with my punk band Magazine Dirty, I'm covered in sweat, my head is throbbing, and my arm is aching from multiple guitar solos.
I've probably consumed no less than three beers, as well as a few sips of other people's beers (it's hard to keep track of whose drink is whose). OK, let's be real, I am probably partially covered in beer.
Good thing our band has a longstanding pre-show pizza tradition that simultaneously sops up any excess alcohol while providing fuel for a frantic, over-the-top set. Our flavor of choice is always Klondike's sweet-and-salty pineapple and pepperoni, and we like to devour it with friends on the outdoor patio at Bill's Place, not far from the iconic pizza joint. There is much laughing and joking, and there is always some grumbling about who will procure (and pay) for said pizza. I personally don't mind the task.
Walking down the steps into Klondike's is like slipping through time. Peanut shells on the floors, arcade games beeping, and that intoxicating smell of truly handmade pizza has a way of transforming me into a teenager again. It's a time warp, and I suddenly remember what it feels like to wholeheartedly believe that every 
Friday night could be "the best Friday night" ever.
• Klondike's Pizza, 104 Bridge St., Arroyo Grande.
Falling in love: 
Jocko's Small Spencer
On our second date ever, my now-husband, Reid Cain, took me to Jocko's Steakhouse. I had never been to Jocko's. I had no idea what it entailed—or how much it would come to symbolize our love. So much of romance is about the little details, the steps it takes to get to the main course.
PHOTO BY KAORI FUNAHASHI
STAR SALAD: Tri-tip marinated in ginger, garlic, soy sauce, and olive oil is sliced over red-leaf butter lettuce, green leaf, and radicchio. A sprinkling of goat cheese, avocado, Kalamata olives, walnuts, balsamic vinaigrette, and a mighty crank of black pepper finish the simple dish.
Likewise, there is a sense of mystical tradition that surrounds every part of eating at the hole-in-the-wall Nipomo institution. First, you must make a reservation. When you arrive, you will wait no less than 30 minutes before a server will even begin to take you seriously. During this necessary waiting time, you must drink at their dimly lit bar while rubbing elbows with cowboys, L.A. city slickers, and beef-lovers of every ilk.
You will be seated in the dining area and it will be "nothing fancy." You will eat the strange fixings found in the "relish tray," including the celery, peppers, green onion, pickles, and raw carrots. In a moment of confusion, you might dunk one of the individually-plastic-wrapped breadsticks in some salsa (just to see how it tastes), but you will soon learn to never do that again. These steps are all just lead-up to the best meal of your life. In my case, it was splitting the not-very-small Small Spencer Steak that changed my world forever.
I fell instantly in love—both with the man sitting before me and with my food. The secret is out in the open: You can see the grill masters just outside the window, toiling over a smoky Santa Maria-style oak pit barbecue. This is what separates Jocko's steak from the pack and turns a meal into an ongoing love affair. Reid and I have even created our own little tradition, which includes me pretending to order "a carafe of wine" for myself, because that is exactly what I did on our second date.
Then, we split the Extra Cut Spencer (go big or go home), and order our own baked potato, beans, Texas toast, and salads. The empty husk from the loaded taters make a great vessel for leftover beans—all the better for bringing the romance home. Many of my favorite dinners are actually leftovers. Nothing could feel more right than the scent of Jocko's II heating up in the oven while cuddling on the couch with our two salivating dogs.
• Jocko's Steak House, 125 North Thompson Ave., Nipomo.
Reach Hayley Thomas at hthomas@newtimesslo.com.