New Times, at least in part, owes its existence to Wally Barnick. Back in the mid-'80s, the longtime member of the Cache Valley Drifters was managing The Spirit, one of many restaurant/nightclubs to take a stab at making the southern SLO Town hilltop venue succeed (now KSBY occupies the cursed Native American burial ground ... their days are no doubt numbered!).
Wally was struggling to get The Tribune to cover the dangerous rock'n'roll and blues shows he was booking into the club, but the Telegram-Tribune (as they were then known) was too busy writing about retiree seascape painters and macaroni sculptors. He decided to start his own paper that wrote about the bands appearing at The Spirit.
PHOTO COURTESY OF WALLY BARNICK
ALL IN THE FAMILY : Longtime Cache Valley Drifter bassist Wally Barnick, with daughters Grace (left) and Hannah (right), will play three local shows to promote his first solo album, View From Lafler Canyon, Nov. 20 at Steynberg Gallery, Nov. 21 at Painted Sky Studio, and Nov
Enter New Times' founder Steve Moss, who spoke to Wally, quickly recognized the glaring hole in local arts coverage, and decided to start the humble rag you now hold tenderly in your grubby little mitts. Steve asked Wally if he wanted to partner up, but Wally presciently realized that if he became part owner he'd have to deal with people like me. He wisely declined, folded his publication, and New Times began covering the arts like a circus tent.
Publishing and nightclub managing was just a day job for him anyway. Wally's heart has always been in music, and he's been a side and session man for, like, ever. He's been a member of the Cache Valley Drifters since 1975, and he also toured, recorded, and played in support of legendary late great folk artist Kate Wolf. Now, after a four-decade career in the business, Wally has finally released his first solo album, View From Lafler Canyon, a 10-song collection of tunes written by longtime pals Stephen W. Peters, Bo Dugger, and Annie Hughes, plus a self-penned tune ("Simple Thing"), and several covers that have been "adjusted."
"I'm a rock'n'roll guy," admitted Wally, who's best known for his bluegrass acumen as a member of Cache Valley. "I decided to do this album to show people I can do other things."
Lafler Canyon has a few bluegrass tracks, but it's mostly classic, folk, Southern, and blues rock richly arranged and expertly played. Wally's familiar tenor ties the project together. Much of his artistic inspiration came from Big Sur, where he spends a lot of his time as overseer of the Lafler Canyon compound that inspired the record's name. All the photographs on the CD packaging were taken by Wally at this rustic location, and I have to admit it looks like a pretty stunning place.
And as befits a man with 40 years in the music biz, the album is populated by plenty of notable guest stars such as Byron Berline, Bob Liepman, Mike Mullins, Louie Ortega, Scott Wright, and many more. His two lovely daughters Grace and Hannah sing backup.
Wally Barnick has three upcoming shows, and Bo Dugger (guitar and vocals), Corine Manroe (electric bass, keyboards, and vocals), Robert Olivera (saxes), Jim Christie (drums), and Wally's daughters Grace and Hannah will join him at the following times and locations: Thursday, Nov. 20 at Steynberg Gallery (7:30 p.m. $15 547-0278) Friday, Nov. 21 at Painted Sky Studio (8 p.m.: $15 927-8330) and Saturday, Nov. 22 at a house concert (7 p.m. $15 674-1877).
View From Lafler Canyon can be purchased at any of these shows or Boo Boo Records and Cheap Thrills Records in San Luis Obispo, and on-line directly from the artist at www.coastridgerecords.com, or by e-mail at wally@barnick.org.
Triple treat
PHOTO COURTESY OF EACH PASSING DAY
WINNING TICKET : The West Coast Songwriters Competition Best Song of 2008 winner Loren Radis brings his band Each Passing Day to Shepherd's Table on Nov. 14.
It's going to be a singer-songwriter extravaganza this Friday, Nov. 14 at 7 p.m. in Grover Beach's Shepherd's Table when North Carolina folksingers Dana & Susan Robinson join L.A.-based singer-songwriter Dafni and local trio Each Passing Day for a $10 show.
The Robinsons sing "dust-on-the-boots vignettes of rural America" with a "poetic clarity" that "takes the audience along riding shotgun down the highway."
Dafni, quickly becoming a local favorite, draws inspiration from such classic jazz vocalists as Billie Holiday and Ella Fitzgerald as well as modern-day chanteuses Norah Jones and Madeleine Peyroux.
Each Passing Day is fronted by talented songwriter Loren Radis, whose song "Homesick" won a Best Song of 2008 award in the West Coast Songwriters Competition.
Now go get an earful.
Yes we did
PHOTO COURTESY OF MARIA MULDAUR
BLUES BALLADEER : Grammy-nominee Maria Muldaur and the Free Radicals are coming to Los Osos' Red Barn on Nov. 15 to promote her newest album Yes We Can!
Obama-mania has reached all the way to midnight at the oasis, and to prove it Grammy-nominee Maria Muldaur and the Free Radicals are coming to Los Osos' Red Barn this Saturday, Nov. 15 to promote her newest album Yes We Can!
The Bay Area blues balladeer will perform works inspired by social, political, and economic issues penned by some of the most socially conscious songwriters of the past half-century: Bob Dylan, Marvin Gaye, and Garth Brooks. The album also features such guest stars as Joan Baez, Jane Fonda, Odetta, Bonnie Raitt, and The Women's Voices for Peace Choir.
Maybe songs about war, genocide, massive debt, and economic crisis don't sound too reassuring right now, but cheer up! We've got Obama on our side. The show starts at 7 p.m. and costs $15. There's also a 6 p.m. potluck for those interested. Barack my world, Muldaur!
More music...
PHOTO COURTESY OF DAVID GANS
JERRY'S KID : David Gans is perhaps best known as the host of the internationally syndicated Grateful Dead Radio Hour, but on Nov. 14, he'll appear at Linnaea's Cafe to support his new album The Ones that Look the Weirdest Taste the Best.
Don't forget that this Thursday, Nov. 13 hip-hop soca artist Collie Buddz is joined by DJ Pee Wee and Rise of the Revolution for a $25 ($23 presale), 8 p.m., 18-and-older show at Downtown Brew.
Check out The Herbs, fronted by NYC guitar slinger William Nicholson, on Thursday, Nov. 13 at The Clubhouse and Saturday, Nov. 15 at Sweet Springs Saloon. Nicholson studied guitar with Windham Hill Records founding artist Alex deGrassi, and in addition to his Americana and roots music, he also plays a one-of-a-kind 11-string harp guitar.
Funk-soul-rock act Body bring their booty-banging sound to SLO's Farmers Market on Thursday, Nov. 13 at 6:30 p.m. on Garden St., and Saturday, Nov. 15 at 9 p.m. for a CD release party at Hoovers Live. The cover's $3, or pay $5 and score a copy of the CD single "Bush World/The Contender."
City Nights Jazz presents L.A.-based pianist-vocalist Gaea Schell this Friday, Nov. 14 when she performs with the Mike Raynor Group at the Inn at Morro Bay at 7:30 p.m. Saxophonist Karl Welz will also be sitting in with Mike and the gang. Known among her peers for "swinging every note, subtle phrasing, and lyrical writing," Schell has been inspired by Oscar Peterson, Bill Evans, and Red Garland among others.
David Gans is perhaps best known as the host of the internationally syndicated Grateful Dead Radio Hour, but this Friday, Nov. 14, he'll appear at Linnaea's Cafe to support his new album The Ones that Look the Weirdest Taste the Best. The multi-faceted singer-songwriter has released five solo albums and has sat in with such legendary artists as Phil Lesh, The String Cheese Incident, and more. On his new album, Gans ropes in such longtime friends as Hot Buttered Rum, Railroad Earth, and Grateful Dead's lyricist Robert Hunter. "I've found any number of really enjoyable ways to not make a great living," quipped Gans, "but in the mid-Šs, I decided to get back to my original mission—my own music, and I've been touring and putting out my recordings since then with no plans to slow down." The show starts at 8 p.m.
Indie-trippers Pit Er Pat return to the Art Center this Friday, Nov. 14 to support their third full-length album High Time, playing with Hecuba and Lucky Dragons. Pit's newest venture diverges from their old by accenting their off-kilter indie pop melodies with infectious dub rhythms and a lot of interesting foreign percussion. And instead of being keyboard driven, there's a lot more guitar now.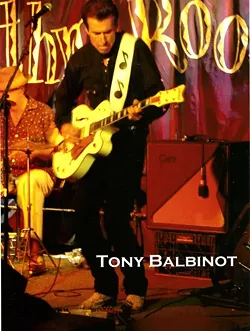 PHOTO COURTESY OF CADILLAC ANGELS
GUITAR SLINGER : Tony Balbinot and his band the Cadillac Angels promote their 15th studio album, Two Blocks Off Main, with a Nov. 15 show at Frog and Peach.
Fifteen's the charm for Cadillac Angels. The roots, rockabilly, and surf-rock outfit recently released Two Blocks Off Main, their 15th recording! It seems as though all frontman Tony Balbinot does is tour relentlessly and write and record music. On this new one, he delivers swampy guitar-driven burners that conjure memories of early Elvis Presley, Gene Vincent, Link Ray, and Eddie Cockran. Check 'em out on Saturday, Nov. 15 at Frog and Peach.
Rootsy reggae act Groundation returns to Downtown Brew this Saturday, Nov. 15 for an 8:30 p.m., $18 presale ($20 at the door) all-ages show. Formed at the Jazz Program on the campus of Sonoma State University way back in 1998 by Marcus Urani (piano/keys/organ), Ryan Newman (bass), and Harrison Stafford (vocals/guitar), the band has grown over the past 10 years into one of the most respected reggae acts on the West Coast. With funk and jazz undertones and transcendental dub, the group has played in 30 countries on four continents.
N.Y.C. jazz scenesters Jed Levy (saxophonist) and Cecilia Coleman (pianist) are the next attraction at the Famous Jazz Artist Series at the Hamlet in Cambria this Sunday, Nov. 16. Besides their own numerous recordings on the Steeplechase label, Levy and Coleman have been featured with some of the East Coast's greatest players: Charlie Hunter, Bill Mays, Billy Hart, and others. Dylan Johnson (bass) and Darrell Voss (drums) will provide backup, as well as series co-producers Charlie and Sandi Shoemake. There's a 4 p.m., $15 show a 7:15 p.m., $12 show or see them both for $20. Reservations are recommended: 927-0567.
It's Mack attack time on Sunday, Nov. 16 when former radio DJ John Mackey and local radio promoter Taylor Stevens team up to present a seriously awesome vocal jazz show at Level 4 in Paso Robles. The Kathleen Grace Band headlines this $15, 7:30 p.m. extravaganza. Grace has two successful albums to her credit, and the lyrical power of her songs has been compared to Joni Mitchell and Leonard Cohen. Perhaps more importantly, she's pals with our own stunningly talented jazz chanteuse Inga Swearingen.
Venice Beach rocker Christopher Hawley returns to Frog and Peach this Sunday, Nov. 16 to support a new as-yet-to-be-released recording. He's been venturing up this way for about six years now and says he "absolutely loves playing there." The show kicks off at 10 p.m.
Devon Allman's Honeytribe returns to Downtown Brew on Monday, Nov. 17 for an 8 p.m. show opened by local act The JD Project. Devon, son of Gregg Allman of the Allman Brothers fame, has a voice not unlike his famous pops, which accounts for Honeytribe's growing international fanbase. The group used to be a quintet, but after three years of almost nonstop touring, the band has pared down to a power trio featuring drummer Mark Oyarzabal and bassist George Potsos. If you're looking for a dose of high energy, grooving, bluesy, ass-kickin' old school rock'n'roll, look no further. Tickets are $8 presale or $10 at the door.
PHOTO COURTESY OF GROUNDATION
FEELIN' IRIE : Rootsy reggae act Groundation returns to Downtown Brew on Nov. 15.
Prolific songwriter Ian McFeron has drawn comparisons to Bob Dylan and Ryan Adams through a steady stream of albums: Don't Look Back (2003), A Long Way To Freedom (2005), Fistfight With Father Time (2006), and most recently Let It Ride (2007)—a 14-track narrative spanning themes of love and heartbreak, faith and despair, political corruption, and hope. Check out this folk-alt.country-blues act on Tuesday, Nov. 18, at 10 p.m. in Frog and Peach.
Josiah Leming of American Idol fame makes an appearance at Downtown Brew this Tuesday, Nov. 18 for an all-ages, 7:30 p.m. show. The youthful singer-songwriter may not have won the TV contest, but he's a winner in Downtown Brew's book.
Psychedelic hip-hop and punk act The Kottonmouth Kings will bring their dope-driven tunes to Downtown Brew on Wednesday, Nov. 19. The 18-and-older, 8 p.m. show costs $23 presale or $25 at the door. Smoke 'em if you got 'em. ?
CD Reviews
Dent May—The Good Feeling Music Of Dent May & His Magnificent Ukulele
Armed with a ukulele and over-sized glasses that are pitched just at the edge of his nose, Dent May seems to invite ridicule. But like a sympathetic character from a Wes Anderson movie, May balances his goofiness with dry humor. And with his deep crooning voice, you can't help thinking this was a subtle satire of a Vaudeville act—except it's so sincere it's more a true homage. Over the course of 12 songs that dip from novelty to jazzy renditions of pop, the 'good feeling' mentioned in the title really exists. After a brief welcome to his record and his unacknowledged pains ("Welcome"), May tromps right into a swanky lounge number ("Meet Me In The Garden"), complete with mouthed bird noises like Arthur Lyman's tiki-adorned albums. "God Loves You Michael Chang" has May overly empathetic toward the struggles of the youngest Grand Slam winner, while "At The Academic Conference" is a confession over a newly eyed interest: "Joyce, Whitman, and Camus/ well though I've never read them/ I'm here just for the booze." Pure vintage-like ukulele Ike.
Los Cenzontles with David Hidalgo—Songs Of Wood And Steel
Covering the generational range and variety of Mexican American music—from the traditional rancheras and boleros to its more contemporary influenced Rock En Espanol—with vibrant fluidity, Los Cenzontles is the accomplishment of an after-school program in San Pablo, California. Gaining the name recognition of Los Lobos' David Hidalgo is a plus, but not a necessity. Sure, if you're crisscrossing the heritage of Mexican music, Hidalgo is amply suited. His guitar work is electrifying throughout Songs Of Wood And Steel, and he also pops up behind the keyboard, g¸iro, and a number of other Latin-influenced instruments. But the talent on this disc wouldn't be diminished by his absence. Los Cenzontles' members Fabiola Trujillo and Lucina Rodriguez captivate with their dueto style on the ranchera classic "Mi Unico Camino" or the corrido "La Tragedia De Rosita." Once you count the full arsenal of the rhythm section and the horns of Banda Los Cenzontles, these are players who have succeeded in capturing a legacy of culture with pride and perfection.
—Malik Miko Thorne, of Boo Boo Records and KCBX's "Night Train."
---
Glen Starkey would give you a piece of his mind, but he's fresh out. Contact him using short, one-syllable words at gstarkey@newtimesslo.com.