We here at New Times have a fine tradition of printing two days after the unofficial election results are announced. And we have a healthy appetite for free food and booze. So, as in years past, we present to you a small sampling of the places-to-be on election night in San Luis Obispo County.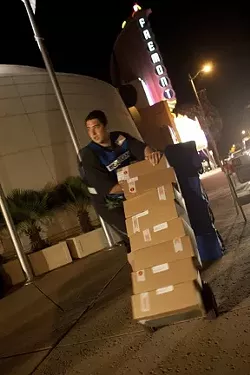 PHOTO BY STEVE E. MILLER
BALLOT MULES : Ballots trickled in throughout the night, propelled by enthusiastic county employees and volunteers.
The ballet of the ballot
Approximately 160 man-hours go into making your vote count. This was a fact among many facts I learned by peeking my head into the county clerk's office during ballot-counting time.
There are some 40 volunteers who pick-up, deliver, count, crosscheck, and compile votes for San Luis Obispo County.
It's very much the officious event that you picture it to be, except it's not.
Of course the whole counting bit is efficient, fascinating, and carried out with the utmost respect for our nation's great democratic process, but unlike the cold, bureaucratic image of ballot counting I had always harbored, I found a group of volunteers who were laughing and enjoying themselves.
Maybe that's because vote counting is very much a relay race. With nine vans delivering ballots from various parts of the county, the team of volunteers had time to kill between waiting for the boxes of ballots and feeding those boxes into the counters.
So wait they did. They chatted about the best place to get coffee, and late hours on the job.
City Clerk-Recorder Julie Rodewald reported that things were going as smoothly as they could and that it would all begin to speed up as the night went on.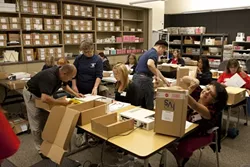 PHOTO BY STEVE E. MILLER
PAPER TRAIL : Democracy is sexy, there's no doubt about it. But it also involves a lot of paperwork, with 40 volunteers spending about 160 hours counting ballots.
"It really depends on when the ballots get here, but we'll probably be here until 12 a.m.," she said. "Once the boxes start coming in from other regions, that's when things really pick up."
Really, the volunteers' jobs have only just begun once the in-person ballots have been counted. Absentee ballots and drop-off ballots will keep some volunteers busy for weeks.
In the interim, everyone stayed focused on keeping the numbers accurate and accountable—practice for the big league game in November.
—Maeva Considine

Hill's cheese is the best cheese
Luis Wine Bar was the place to be for all things Adam Hill. The wine was flowing and the cheese was endless. New Times wasn't technically invited to the festivities for the District 3 incumbent, and I had hatched plans to stand outside the window, doe-eyed, until someone took pity on my pathetic soul and let me in on some free Brie.
But the door was open, and the patron saints of free beer shined upon me this night.
PHOTO BY STEVE E. MILLER
ADAM HILL, CAMERA SHY:
As I entered Hill's inner sanctum, it became very clear that no matter what the night's results were, Hill would be weeping tears of joy or tears of defeat into some really, really fancy cheese.
For all the glorious cheese present, the crowd was pretty subdued. Perhaps they sensed that the night was in the bag for Hill. But still, with all that cheese just lying around unattended, people held up social platitudes better than expected.
The free beer and wine kept guests floating somewhere between the realms of mildly conscious and somnambulant. Imagine a Baby Boomer's 50th birthday party, and you'll get the idea.
But it was clear that people love Hill—especially in his designer blue jeans and sweater vest—and his party posed the question: "What's not to love about a man who loves good cheese?"
—Maeva Considine
Agh, meatballs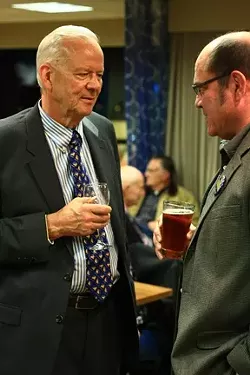 PHOTO BY COLIN RIGLEY
NOT THAT GUY : The Ed Waage party was a mix of his supporters and people who really didn't like his opponent, incumbent Supervisor Adam Hill.
At about 9 p.m., a few things rang true: Almost no one at Ed Waage's election night party at the Hilton in Pismo Beach wanted to talk to the guy with the camera and notepad, the smell of meatballs and perfume made for a near toxic combination, and perhaps the only thing that riled this crowd more than government regulation was an impolite incumbent who cursed in interviews and made a crank phone call.
I sauntered up to a table full of three women and one man who clearly did not want to talk to a reporter. One woman, a redhead in a sparkly gown who said she worked on Waage's campaign, said the clincher for her in this race was Supervisor Adam Hill's behavior.
"Adam Hill's nasty," she grunted. "He's not a nice person."
After Waage handed out a quick staged hug for the KSBY TV cameras, he gave a short speech at about 9:30, just about the time it was becoming clear that his campaign was preparing for its eventual death rattle.
Waage stood before crowd, poised before a large flat screen displaying the latest results and bathed in the siren song of smooth hotel jazz on a continuous loop.
"I love you guys," Waage said, choking back tears as he thanked his supporters and, of course, his wife, Jeannie. "We ran a good campaign. We're behind, but we'll see. It's still early."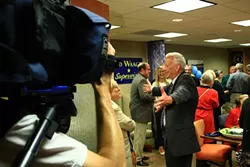 PHOTO BY COLIN RIGLEY
LIGHTS, CAMERA … : Despite a losing night, Ed Waage entertained TV reporters during an interview.
Already, a good chunk of the room seemed fairly toasted. They mazed through the German tourists at the bar watching Survivor and made for the hotel bar, then back to the various trays of meat, cheese, and pizza.
Earlier in the night, I slid into a back corner to hide.
"Try the mushrooms," said a guy slumped back into a high-backed armchair. "Or the meatballs."
Given the high content of wafting protein already in the air, I passed. But I learned the guy was Matt, a retired city councilman from Redwood City. Matt's been living in Shell Beach for about five years, and he jumped on the Waage bandwagon after seeing a campaign flyer posted in a local café.
"Ed's kind of a boring guy—personally," Matt said, noting Waage's attention to detail and adherence to rational arguments because of his background in science and chemistry. "That's exactly what kind of guy I want on the board of supervisors."
Clearly, as more and more precincts turned in numbers, it became obvious that not everyone in District 3 thinks like Matt. As the results solidified, the room began to empty.
"I think we challenged Adam Hill and pointed out a lot of the changes that people are concerned about," Waage said just before cleaning crews shut down the room. "And we made him defend his record. And given the fact that we were a challenger facing an incumbent, I think we ran a pretty good campaign."
Then the consolatory brownies came out.
—Colin Rigley
Hope slowly shriveling, like tomatoes in the sun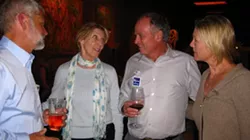 PHOTO BY NICK POWELL
COWORKER'S LAST HOORAY : Supervisor Bruce Gibson stopped by the wine bar to back fellow board member Jim Patterson and schmooze with his supporters. With only a few precincts reporting at this point, moods were still optimistic.
Being the only person under 30 at a post-election party in a wine bar dripping with sophistication is more than a little awkward. There was only one person at Atascadero's Haven Wine Bar that I knew, and it was incumbent Supervisor Jim Patterson, literally the star of the evening, with everyone else crowding about to congratulate him on a campaign well played.
With no one to talk to, I realized almost immediately that I didn't quite know what to do with my hands.
I opted for the classic "thumbs in the pockets" pose and leaned over the shoulders of a few women sitting at a table with a small laptop, analyzing the election results as they were released. It was about 8:30 p.m., and the polls had barely closed. The only information available was the tally from absentee ballots, and the bulk of them (55 percent) ere scored in challenger Debbie Arnold's column.
The word on the streets, though, was that the same thing happened in the last election, and Patterson won that like the Joe Montana of come-from-behind county-level elections. Plus, everyone says absentee voters usually lean conservative, so it's no surprise.
There was still plenty of time for big Jim, the P-man, to rally a victory, and I'd be damned if I didn't kill some of that time mooching little nibbles from the snack table in the back patio. It was vegetarian fare—cheeses, berries, sun-dried tomatoes, and hummus—but it was oh so fresh, and it went well with the bopping happy ditties played by Boomerang, a jolly cover band of minstrels who never stop smiling.
When I could catch a word with Patterson, he said he was staying optimistic until more votes ere counted. He'd had a glass or two of wine and seemed pretty happy overall. He certainly had plenty of friends in attendance, unlike lonely old me.
"It's a relief to be done campaigning," Patterson said, "but it's still all about winning."
Then the results from San Luis Obispo were announced, and they also went to Arnold. It should have been a fairly liberal precinct, but it's so small.
By the time I finished my snacks and made for the door, 20 percent of the votes had been tallied, and Patterson as still down by 13 percent.
Things could still turn around, though. Right?
-Nick Powell
Good ol' fashioned American red meat
PHOTO BY NICK POWELL
DISTRICT FIVE'S NEW FIRST FAMILY : Debbie and Steve Arnold were all smiles after 90 percent of the precincts gave her a 10 percent lead over incumbent Jim Patterson.
Unsurprisingly, Debbie Arnold was throwing her post-election hootenanny at a barn in the outskirts of Atascadero. It was dark, and the surrounding roads featured piss-poor signage.
Also unsurprisingly, I was lost.
After doubling back on the wrong road for 15 minutes, I finally found the barn, but it was separated from me by a wooden bridge just wide enough for one car stretching over who knows how much darkness. I was about a quarter of the way across when a cavalcade of trucks left the party, bearing down on me with high beam lights that wouldn't take no for an answer.
I had to back up, and I had to do it perfectly straight or else I'd fall who knows how far into the abyss. Fun!
The party wasn't half bad, though. Arnold's supporters were all boots and cowboy hats. There was country music blasting from some speakers, canned beer behind the bar, and a spread of tri-tip, pork sausage, and cheesecake laid out before me. I gorged while Arnold said goodbye to all the farmer types, folks who can't party into the night because they have to milk cows and whatnot in the morning.
The vote tallies were coming in fast, and it appeared clear that Arnold was going to nab the 5th District's seat on the San Luis Obispo County Board of Supervisors.
"We've finally got a voice on the board," someone hollered.
Disappointingly, no chorus of yee-haws followed.
—Nick Powell
Hard booze and jumbo shrimp
PHOTO BY MATT FOUNTAIN
TAKING IT IN STRIDE : Morro Bay Mayor Bill Yates kept the mood light as supporters clinked cocktail glasses and exchanged concerns for the city's future at Councilman George Leage's Great American Fish Company.
Walking into the bar of the Great American Fish Company, which is owned by Morro Bay Councilman George Leage, I could see this is the election-night watering hole of choice for the city's establishment.
Just as it's his custom to walk up and personally greet every single person in attendance at City Council meetings, this night was no different for Mayor Bill Yates. As he walked up to shake hands, I could just barely tell the news was not good. Yates seems to be splitting votes for the mayor's chair with Councilwoman Carla Borchard, and the two were both sitting well under Jamie Irons' haul.
"[Irons] could take this tonight," Yates said. But he didn't seem to be letting the results—still early—get him down. In his trademark Hawaiian shirt, Yates offered me a drink.
And the spirits remained surprisingly high despite the numbers. The bar was packed to near capacity, Yates' son hammering away on percussion with his acousto-mandolin band in the corner, Leage passing back and forth with trays of jumbo shrimp, and the booze certainly flowing.
Fellow mayoral candidate Joe Yukich was there, looking sharp as always in his black sport coat and cocktail in hand, as was Chamber of Commerce CEO Craig Schmitt and local developer Dan Reddell, both of whom ere wearing Hawaiian shirts that ere giving Yates a run for his money.
Some supporters murmured things about "socialism" and made other jabs directed at Irons, but Yates declined to join in. Got to hand it to the guy: He carries himself like a man with nothing to prove.
"Whatever happens, Matt, I'm not going to be a lame duck," Yates told me. "That's not what I do."
—Matt Fountain
Beer and burritos
"I got attacked by a pit bull this morning knocking on doors," a grinning Morro Bay Councilman Noah Smukler said to me not two minutes after I walked into the room. "Got me right in the stomach." I though he was pulling my chain, but he wasn't, and proved it by lifting up his shirt to show a bandage the size of my palm under a massive rip on his T-shirt.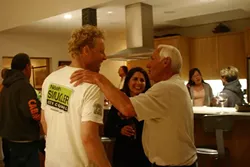 PHOTO BY MATT FOUNTAIN
BATTLE-SCARRED : Walking door to door earned Morro Bay City Councilman Noah Smukler more than just re-election—he got chomped on by a resident's pit bull. Luckily, his campaign hoodie saved him from serious damage.
Roughly 30 friends, neighbors, and official members of the Jamie Irons/Noah Smukler/Christine Johnson camps were gathered together at Johnson's home overlooking the Morro Bay strand. If my previous stop at Bill Yates' party was night, this party was day.
Former city planning commissioner John Diodati strolled up to Noah and me, beer in hand, and explained how the night evolved from a few friends and one drink to a packed house and, well, lots of champagne.
I got there at exactly the right time, as the 10 p.m. update everyone was waiting for suddenly appeared—at 10:20. And the news was all good for this bunch. Smukler and Johnson were safely in the upper-30 percentiles, more than twice their opponents. And the game-changer: Mayoral candidate Irons had a history-making 52 percent of the vote, well over Yates and Borchard.
Asked why he thought he so resonated with voters, Irons clarified: "No, I think this whole room resonated with people in Morro Bay. I really believe that."
His friends and supporters passed by, each slapping him on the back.
PHOTO BY MATT FOUNTAIN
IRON MAN : Power plant technician Jamie Irons made Morro Bay history, earning more than 50 percent of the local vote.
"I guess people wanted a change," he said.
One of the incredible aspects of the three candidates' campaigns was the army of volunteers who turned up to canvas the streets the old-fashioned way—going door-to-door. As I gazed over the food table, Diodati told me some of the more interesting events during their walks, like trying to knock on doors when some houses actually don't have front door. He said he knocked on one door that turned out to be some guy's bedroom.
"I'm just glad I didn't get shot," he said.
Politics is a dangerous business.

—Matt Fountain