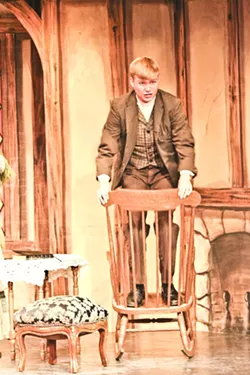 PHOTO COURTESY OF THE GREAT AMERICAN MELODRAMA
THE VAGABOND: Joel White plays Conn the Shaughraun in "The Shaughraun," a plucky young Irishman whose wit and wordplay saves the day.
The immediate efficacy of a melodramatic play becomes apparent when you find yourself empathizing with characters from a wholly other time and place. The Great American Melodrama, with its huge archive of props and costumes from throughout the ages, is especially equipped to bring anyone's story to life and always does it for the cheers, sighs, and boos of the audience.
The latest story on the Melodrama's stage is The Shaughraun by Dion Boucicault, who penned the play in 1874. The story is set in late 19th century Ireland, where two young women are awaiting the return of the beloved Robert Ffolliott (Chase Byrd). Ffolliott's sister Claire (Christine Arnold) and bride Arte O'Neal (Emily Christine Smith) are the only two left on Ffolliott ancestral land because Robert was shipped away to Australia for committing some dubious crimes.
The two ladies find their agrarian chores interrupted by an English military man, Captain Molineux (Andy Pollock). Molineux—though on strict military business—can't help but notice Claire, and vice versa. Arnold and Pollock have fun with the awkward excitement of infatuation, poking through a British Isles properness that resonates more than a century after the play was written. Captain Molineux informs the ladies of his business—responding to reports of an escaped convict making his way to the island—before he pardons himself from their company.
This is where we meet our villain, Corry Kinchela (Philip David Black), in all his dastardly, plotting glory. In true melodramatic style—with asides to the audience that reveal characters' inner thoughts—we find that Corry is the real reason for Robert's incarceration. Corry has framed Robert—all while posing as his friend—in order to procure his property and his wife. Black's performance includes a fantastic Irish brogue, a menacing persona, and more than a few chances for the audience to boo and hiss with gusto.

GO GREEN: The Great American Melodrama presents its repertory productions "Song of the Canyon Kid" and "The Shaughraun" through Sept. 21. Show times are Wednesdays, Thursdays, and Fridays at 7 p.m., Saturdays at 3 and 7 p.m., and Sundays at 6 p.m. at the Great American Melodrama, Highway 1, Oceano. More info: 489-2499 or info@americanmelodrama.com.
It isn't until after meeting all these key players that the audience finally has a chance to meet the character that gives the play its name. A Shaughraun is an Irish name for a lovable wanderer or vagabond, and that describes the character Conn (Joel White) perfectly. In Conn's first scene, he explains to Father Dolan (Jared Dawson) and his mother Mrs. O'Kelly (Hayley Galbraith) that an accused act of horse thievery was actually a daring rescue. White's nimble acrobatics, both physically and verbally, are something to behold. His portrayal of the character's wordplay skills is dynamic and enjoyable, and elicits plenty of laughter.
It is striking how relatable and accessible these characters, though developed so long ago, are in the hands of the Great American Melodrama cast. Their authenticity is fleshed out with some help though: Pianist Kevin Lawson brings sounds akin to bagpipes, fiddles, and fifes to the ears, underscoring the exploits of our characters throughout the production. The music and acting are given more potency by the sets designed by Brian Williams, whose beautifully painted backdrops have you almost smelling an Irish spring, and his interior settings feel so cozy, you want to stay for a cup of tea.
If you think this wasn't enough to pack into one evening, the Melodrama always caps the night off with a vaudeville review; this time, the area's beach experience unifies the review, which includes dance, music, and laughs. The Shaughran and the Life's a Beach Vaudeville Review are currently showing in repertory with Song of the Canyon Kid and the Oceano Tonight Vaudeville Revue, which play one after the other each week at the Great American Melodrama.
Santa Maria Sun arts editor Joe Payne has more than a little Celtic blood. Contact him at jpayne@santamariasun.com.