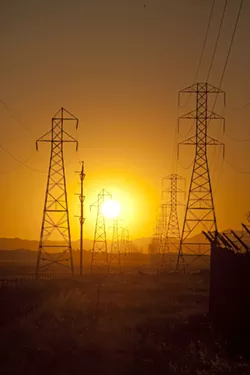 PHOTO BY STEVE E. MILLER
GETTING IN THE GRID : In addition to plentiful sunlight, easy access to PG&E's transmission lines has been publicized as one of the Carrizo Plains' best qualities for large-scale solar plants.
If you were to wander downtown San Luis Obispo on a busy night and bug people about the solar projects proposed for construction in the Carrizo Plains, chances are you wouldn't encounter the same fervor defining the arguments and the very shapes of those projects. On a recent Thursday night, mazing through the crowds at the Farmers Market and surveying people in the most unscientific method imaginable, I posed three questions to about 10 random passersby:
•Do you know where the California Valley/Carrizo Plains area is?
•Have you been there?
•Are you aware of the proposed solar projects, and if so what are your thoughts?
There was the guy in the green polo shirt with a stack of legal boxes weighing down his left arm.
"Probably a good use for that land," he said.
And the young skinny kid with the long hair and pseudo hipster attire.
"I'm all for green energy and trying to get energy to California in whatever way is possible without polluting the environment," he said.
The man on the bench with the dyed black hair and a proselytizing picket sign didn't know where the area was.
How about the man sitting at the political booths in the Libertarian baseball cap?
"I think they're ridiculous," he said of the projects. "Solar power will never replace oil. … I don't care about the tortoises."
Actually, tortoises aren't the issue in the Carrizo Plains—he was probably thinking of the Mojave Desert. In the Carrizo Plains, the species of choice is the endangered kit fox, or most recently, the endangered giant kangaroo rat. Just ask the two older women with the gray and red hair.
"I think it's ridiculous that they're going to stop the project because of the kangaroo rat," the gray-haired woman said.
"There's nothing out at the Carrizo Plains," the red-haired woman chimed in.
It's a hard sell to your average citizen, to suggest that such projects being proclaimed as the green-energy solution to save the planet—eliminating dependence on foreign oil and avoiding disasters like those that have created the pollution poster boy that used to be the Gulf of Mexico—are in fact a potential environmental threat.
But in a very peculiar way, the loudest argument against large renewable energy projects like the photovoltaic fields proposed by SunPower and First Solar is that building those projects will destroy the very environments they're intended to save. Large-scale solar, it seems, is no panacea. Maybe, though, it's a necessary springboard to boost into the Obama-touted era of renewable energy.
Or is it?
SunPower and First Solar proposed a 4,365-acre 250-megawatt project and a 4,000-acre 550-megawatt project in the Carrizo Plains, respectively. County officials recently released a Draft Environmental Impact Report for SunPower's California Valley Solar Ranch project, which outlines the various unavoidable environmental impacts the project would bring and alternative designs that would reduce some of those impacts. County planning commissioners are scheduled to take their first crack at the project at a Dec. 9 study session, with the first public hearing scheduled for Jan. 13—not that it will probably matter much what the commissioners decide.
"We do expect an appeal one way or the other," said John McKenzie, a county planner and the project manager for SunPower's proposal.
Ever since the first Carrizo Plains solar projects were proposed, the counter arguments allege that building them will dump city-sized solar arrays on sensitive habitat and boggle up the migratory paths of species such as the San Joaquin kit fox, tule elk, and giant kangaroo rat. Such projects have pitted environmentalist against environmentalist. Even ex-planning commissioner Sarah Christie was ousted from office at the peak of her effort to drive county planning policies to favor small, low-impact projects over those that would have significant environmental impacts.
"Yes, it's definitely a quandary," McKenzie said. "When you look at that aspect of the project where, on one hand, the intent is to be a part of the global climate-change process to make it better … however, on the other side, these projects are very large, very land-intensive. They have the potential and do show that they are going to have very significant impacts to those biological resources on areas larger than we have had to deal with in any other project in the past."
There have been solutions proposed to the large-scale solar quagmire: Don't build large projects, put solar on rooftops, explore more modern methods of energy efficiency, or just don't build those projects here.
So if not like this, and not here, then how and where?
Stick it where the sun does shine
On Sept. 22, the California Energy Commission voted to approve a 370-megawatt solar plant in the Mojave Desert. Contra Costa Times coverage included local criticism for the project tromping over six square miles of desert tortoise habitat.
As of Sept. 15, the energy commission reported approving four solar-thermal projects that will provide 1,550 megawatts, with another 3,302.8 megawatts' worth of projects under review.
On Sept. 15, the commission approved the 1,000-megawatt Blythe Solar Power Project in Southern California. In a press release announcing the approval, the commission stated that "even with mitigation measures, [the project] will have significant impacts on cultural resources, land use, traffic and transportation, and visual resources. The project will also be inconsistent with a land use provision in the Riverside County Land Use Plan. However, the benefits of the project would justify a legal override of those impacts."
It's this type of argument—the utilitarian philosophy that the impacts to the project site are outweighed by the larger threats of pollution, global climate change, and dependence on psychotic countries for fossil fuels—that really seems to draw the most ire.
Eric Veium is a scruffy 29-year-old who gets so excited talking about renewable energy that his eyes widen and his voice stammers a bit. In a recent New Times interview, he plowed through a variety of alternative ways to approach renewable energy beyond large-scale solar projects and other more traditional industrial configurations.
"The point of all these things is to think about them in the context of a system—an energy system," he said.
Veium is the local lead for the SLO Renewable Energy Secure Community project (SLO-RESCO), one of about a dozen projects funded by the energy commission to catalog and study the potential for renewable energy in various areas of the state.
The main tasks, he said, are to identify where the resources—sun, wind, water, etc.—exist, identify the technical and economic challenges for site-specific projects, establish commercially viable projects, and get the message out to the public. They're about one year into the two-year project.
"We're surrounded by an abundance of renewable energy," Veium said.
But projects like those proposed in the Carrizo Plains—the traditional industrial power hubs that require vast amounts of land—are about as likely to win over someone like Veium as an atheist believing in parthenogenesis.
"There are pathways to create a system and the conventional system is often wrong," he said of California's energy policies.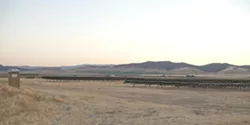 PHOTO BY STEVE E. MILLER
A LITTLE SUN : As SunPower prepares for the looming public hearing process on its California Valley Solar Ranch, the company has built a small solar voltaic test area on a portion of its proposed project site
Spend enough time with an expert on renewable energy, and more than likely you'll wind up in a discussion about Germany. Veium said that 75 percent of solar power in Germany is less than 100 kilowatts, meaning most of it is built on rooftops rather than central stations. He touted Germany's feed-in laws for creating an environment where a distributed generation system (rooftop solar, for example) is actually cost effective for Germans, as opposed to the prohibitive nature in California. One of the early pioneers of such incentive programs in the '80s, California received an "F" by the World Future Council this past May.
"[Distributed generation] is the most efficient and best design," said Andrew Christie, director of the local chapter of the Sierra Club. "When energy travels miles along lines from where it is created to cities, 15 percent of the energy is lost."
According to Christie, there are other, better, solar projects in the works outside of the Carrizo Plains: rooftop installations on commercial buildings, parking structures, and residential areas, for example.
"This is not theoretical," he said. "It is being done and it is working."
Yet there's evidence that rooftop solar would fall well short of overtaking fossil fuels. In the 2009 Environment America report "Building a Solar Future: Repowering America's Homes, Businesses, and Industry with Solar Energy," the group claims photovoltaic panels can be installed on 35 to 40 percent of residential roofs nationwide, and about 60 to 65 percent of commercial buildings are suitable for such infrastructure. However, "if every inch of suitable rooftop were to be covered"—generating 712 gigawatts and 700 times the capacity of existing solar installations—it would still only produce about a quarter of America's energy needs.
In fact, the energy commission estimated that, as of November 2009, the California Public Utilities Commission had approved 129 renewable-energy contracts that would produce about 10,271 megawatts, and another 30 contracts under review at the time could add another 4,605 megawatts into the grid. That may sound like a lot, but a state target to reach 33 percent renewable energy in the California system by 2020 could require as much as 75,000 gigawatts. To put that into perspective, the energy commission estimates that if every goal is achieved in rooftop solar, combined heat and power, and energy efficiency, the state would still be 45,000 gigawatts shy of meeting its 2020 goal.
And never mind the 20 percent renewable energy by 2010 goal. An energy commission spokesman said the state will fail to meet its most pressing goal, but may be on track to hit the loftier targets over the next decade.
Denny Boyles, a spokesman for Pacific Gas and Electric, said the company's latest estimate is that 14 percent of its power is derived from renewable sources. There are contracts in place to deliver more than 20 percent, but the projects aren't yet approved and on the ground.
"I would like to do it all on rooftops," California Energy Commissioner Jeff Byron said, "but you know what? The math doesn't work."
Meanwhile, according to Solar Energy Industries Association spokeswoman Monique Hanis, 74,000 permits have been issued for oil and gas drilling in the past two decades.
"Our view is—representing the entire industry here in the U.S.—we need both," Hanis said. "We need both if we want to make solar a more sizable segment of our energy mix, our energy portfolio in this country. Right now solar makes up 1 percent of our energy mix."
Even a group like the Environmental Center of San Luis Obispo has made an about-face. While the group was a formal intervener in the Ausra solar-thermal project (the energy rights and land were later sold to First Solar), ECOSLO Office Coordinator Maria Kelly said the group won't take a formal position on the projects. But in her opinion, "I think choosing a location for solar panels is a balance between human impact and nature. We should build the solar farms and then think about what ecological restoration can be done. We should build at Carrizo and in the valley as well."
Location, location, location
On a recent balmy night, dozens of people squeezed into a box-sized Embassy Suites conference room in San Luis Obispo. SunPower representatives had organized a presentation and Q&A for the public. Following the discovery of giant kangaroo rat habitat in the project's footprint, the company was likely in need of some public relations.
In addition to showing how the company had carved up its project to avoid pinching off native species' migration paths, SunPower officials noted that the California Valley and Carrizo Plains are, at least on paper, a prime stretch of land for solar. The valley floor is soaked in sunshine an average 315 days per year, it's protected on either side from coastal and valley fog, it's flat and mostly unpopulated, and it has four PG&E power lines crossing the Carrizo Plains that can be easily patched into.
County officials have highlighted a smaller project design as the preferred alternative, but implementing it would neuter SunPower's ability to pump out 250 megawatts. SunPower, however, has chased another alternative that reduces the project size slightly, shuffles the locations of solar panels, and still maintains the electrical output.
Though the SunPower alternative would reduce some impacts, according to the draft environmental report, it would simply shift impacts to different regions. SunPower's preferred alternative would "result in an overall net reduction in the loss of native vegetation and foraging habitat by approximately 50.4 acres," according to the impact report. "However, the construction of Array 9 could result in the potential elimination of over 1 million rare plants based on preliminary results of botanical surveys currently being conducted by the applicant."
Indeed, there's seemingly no way to build the large-scale solar omelet in the Carrizo Plains without breaking a few environmental eggs. The area was one of those pegged by the Renewable Energy Transmission Initiative (RETI), a statewide effort to catalog where transmission lines are most accessible for new projects.
"Those transmission lines … make it exceedingly desirable," said Sen. Sam Blakeslee, who represents the state's 15th district, which includes Carrizo Plains.
"We recognized that, you know what, if we're going to go to 33 percent renewables, we're going to need to do a lot of these large solar plants, and they're going to need to be where the resources are," commissioner Byron said.
Kevin Hunting, chief deputy director for the California Department of Fish and Game, thinks the rabid push to build solar plants in California focused more on finding sunny land with an easy vein into the grid than avoiding areas prone to significant environmental impacts.
"What's happening is we're playing catch-up as far as siting goes," he said.
Another alternative proposed in the SunPower impact report is simply to build it elsewhere. In fact, that alternative would take the project out of the Carrizo Plains—indeed, out of SLO County. The Westlands Solar Park in Fresno and Kings counties is suggested in the report as a potential alternative site, a 30,000-acre swath of dead land sucked dry by a history of intensive farming. Christie called the soil "toxic to plants."
"This is massive," he said. "Twenty Carrizo projects could fit into that area."
RETI also identified the Westlands area as having a potential to handle 5,000 megawatts—the Carrizo north and south areas would generate a combined 4,600 megawatts. Despite the potential, Westlands couldn't be developed in time to meet the desired 2012 construction date, according to the environmental report. Though the environmental impacts are expected to be insignificant in some ways, the project might not end up being the environmental salvation it's been proclaimed if and when more stringent environmental studies are conducted.
"It is expected that the number of special status species directly impacted [by the Westlands project] would be less than the proposed project [SunPower]," the environmental report states. Still, "the majority of the impacts created by a 250 MW solar PV project at the Westlands … alternative site would be similar to the impacts at the proposed project site."
"The problem, and I think what you're going to find out as you go forward, is every area has its own set of problems," McKenzie said. "And are they any greater than any other area?" ∆
News Editor Colin Rigley can be reached at crigley@newtimesslo.com. Intern Alycia Kiley contributed to this report.