Health care seems to be on everybody's mind. Maybe it's because of Michael Moore's newest documentary, Sicko. Maybe it has something to do with the recent health care convention at the Madonna Inn CaliforniaSpeaks addressing three different state health care reform proposals. Or it could be the public hearing held by the state of California on Aug. 7 to investigate allegations that Blue Cross' business practices could be harmful to both individuals and the health care system.
But all seriousness aside, if you're going to play the health care game and you are you'd better learn how. That means learning to calculate the financial value of your wellbeing. Taking risks kind of like deciding whether to buy Reading Railroad and chance going broke before you pass GO is another important element of the game. Except that, instead of purchasing property, you're determining whether an insurance policy is in your budget and, if not, how long you can survive without health care. The winners of this particular game are those who manage to survive or, better still, profit from the system.
The players: Everyone plays. Young, old, rich, poor.
The objective: The purpose of this particular game is not to navigate successfully past licorice whips and chocolate swamps to King Kandy's castle, or to own and develop as many properties as possible. The objective is simply to survive, and if possible survive with your home and life savings intact.
The rules: You play the hand you're dealt. Whether the cards happen to hold cancer or a clean bill of health, whether you have access to insurance or not, whether your insurance company agrees to pay the doctor's fee or not, you play. These rules may be changing, however. There are currently three major proposals to expand health care coverage in California. These plans include Gov. Arnold Schwarzenegger's plan AB 8, introduced by assembly speaker Fabian N·nez (D-Los Angeles) and SB 840, introduced by Senator Sheila Kuehl (D-Santa Monica).



Stay Healthy California
Introduced by: Gov. Arnold Schwarzenegger (R).
Status: Gov. Schwarzenegger unveiled this plan on Jan. 8 of this year, and though it's not yet been introduced as legislation, he's working with legislators to create support for the plan.
Summary: It would require all state residents to carry a minimum level of health insurance and require businesses with 10 or more employees to provide coverage or pay into an insurance pool. Physician and hospital revenues would be taxed. For more details, visit www.calhealthreform.org/content/view/25/32/
AB 8
Introduced by: Assembly speaker Fabian N·nez (D-Los Angeles).
Status: Assembly speaker N·nez introduced AB 8 on Dec. 4, 2006. The proposal was amended to include elements of SB 48 (introduced by Sen. Don Perata) on June 20 of this year, and the Senate Health Committee passed it on July 11.
Summary: The proposal would require employers to provide insurance to their workers or pay into a new state insurance fund. For more details, www.calhealthreform.org/content/view/26/27/



SB 840 Single Payer
Health Care Coverage
Introduced by: Senator Sheila Kuehl (D-Santa Monica).
Status: Senator Kuehl re-introduced the proposal on Feb. 23 of this year. The senate passed the bill on June 6, and on July 3 the Assembly Health Committee passed SB 840 and referred it to the Appropriations Committee.
Summary: The bill would institute a government-administered, single-payer system that would cover all state residents. For more details, visit www.calhealthreform.org/content/view/21/38/
A note of caution before you begin: There are so many players that it's easy to forget they each have a name, a face, and that their story is real. Player One is not a boot or hat rotating slowly around a board, nor a dollar sign waiting to expand someone's wallet. Player Two does, in fact, feel pain. And Player Three can't call for a "do-over" if she finds herself bankrupt.
Still, it's easier to play the game if you imagine them as small, whimsical game pieces and since you have to play the game, why not make it easier on yourself?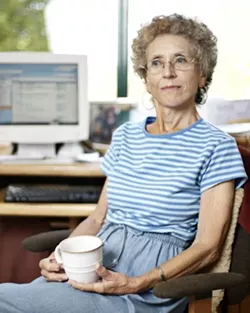 PHOTO BY STEVE E. MILLER
PLAYER ONE : Sherri Danoff-Gooding thought that careful financial planning and a good insurance plan would make her immune to healthcare-related financial concerns, but when she was diagnosed with cancer she learned that she was wrong.
# Player One
When Avila Beach resident Sherri Danoff-Gooding was diagnosed with a rare form of lymphoma, it never occurred to her that she might have to fight for the only medicine that would prevent her condition from deteriorating. A dermatological oncologist at Stanford University prescribed nitrogen mustard, which was to be applied topically. It wouldn't rid her of the cancer the condition is so rare there hasn't been enough research to produce a cure but it would keep her alive and relatively healthy.
"I wasn't worried because I had good insurance and the medicine wasn't that expensive," Danoff-Gooding explained. "And I've always been so responsible with money. I had a built-in budget and never spent as much as I had."
But her insurance company refused to pay the $200 per month for the drug, arguing that there was an alternative to topical application: Danoff-Gooding could take the drug internally despite the fact that medical experts at Stanford University no longer endorse that type of application. Taking the drug intravenously causes nausea and vomiting, which might be acceptable as a short-term remedy, but Danoff-Gooding wasn't prepared to spend the remainder of her life nauseous when there was a medical alternative. She started paying the $200 each month out of her own pocket in 1999.
For seven years, Danoff-Gooding paid for the nitrogen mustard. She considers herself fortunate because she was able to afford $200 each month, though she admits that it was a burden. Then, in 2006, she received a letter informing her that Merck & Co., Inc. had sold the rights to the drug to Ovation Pharmaceuticals. The price of her monthly dosage of nitrogen mustard was being raised from $200 to $1,800 effective immediately. At the time, her financial situation was worse than it had been in 1999. She was going through a divorce, and though she had both Medicare and a supplemental Blue Shield policy, neither Medicare nor Blue Shield was willing to cover the cost of her medicine. Given her condition, she couldn't shop around for an insurance company that would be willing to cover the drug.
Then, Ovation Pharmaceuticals the same company that had raised the price of the drug 900 percent offered to assist Danoff-Gooding as she filed an appeal with Blue Shield.
"You can't sell drugs to a dead person," said Danoff-Gooding, regarding the company's decision to assist her.
She went through a two-part appeal process, losing the first round but ultimately winning in the second. Blue Shield would be paying the $1,800 per month. It was a strange victory. Since learning she had lymphoma, Danoff-Gooding had struggled as much with her insurance company as with the cancer itself, and the subsequent stress had done nothing to improve her condition.
"These things hit you at emotional times and it slows your recovery," she said.
And this isn't the first time her recovery period has been cut short by insurance-related financial concerns. In the early '90s, Danoff-Gooding needed a cervical fusion. To her surprise, her insurance company pre-approved not only the surgery, but also a weeklong stay in a rehabilitation facility. Then, another unexpected twist happened.
"I came home to a bill for $25,000 and they said the only way to appeal it was to come to Los Angeles," Danoff-Gooding said. "I argued and appealed, but some other person might not have."
As overwhelming as her experiences have been, Danoff-Gooding is aware that she's been capable of calling upon resources that other people in her situation might not have. She was retired and had free time on her hands, had none of the family responsibilities that many younger parents have, and had been employed by the government. Additionally, she had a background in activism and considers herself a local activist since her retirement currently channeling her energy to support senate bill 840 for health care reform. She was equipped to play the game in a manner that few people are, yet it still left its mark. As long as she's taking the nitrogen mustard, she knows that she can get dragged right back into conflict at any point.
"You can't choose medicine over food," she argued. "And I hope that's not my future, but I continue to feel at the whim of a drug company. I know what I've experienced and I know I'm likely to face it again."

PHOTO BY STEVE E. MILLER
PLAYER TWO : Manley Golson can't afford insurance, but he can't afford the health risks of not obtaining preventative care either.
# Player Two
Aside from one unexpected visit to an emergency room, Manley Golson hasn't seen a doctor in 10 years. He doesn't have any exact statistics about what the absence of preventative care will mean in terms of increasing his odds of contracting a serious illness, but the 56-year-old is pretty sure that it doesn't bode well for his future health.
In 1995 Golson couldn't have anticipated that he would one day find himself without insurance and without any means of procuring health care. He had been a railroad conductor for nearly 24 years, earned a healthy salary, and had full health care benefits, including dental care, through his employer. He assumed that he would continue to work until he was retirement age 65 to 70 years old and then retire, just like everyone else. Then there was an accident at work Golson ruptured his bicep. At first it looked like he would be fortunate, inasmuch as a person with a serious injury can be fortunate.


"The accident was taken care of," Golson explained. "There was no real problem even though the policy at the time was under United Health care and they were not very cooperative in some ways, but they finally paid everything off typical insurance company."
After two surgeries, Golson was pronounced healthy, but not healthy enough to return to his former strenuous line of work. Golson's physician, and the physician the Railroad Retirement Board sent him to, both recommended that he retire with an occupational disability. He received a settlement from the railroad and retired on a fixed income. Two years after the injury, his insurance through the railroad dried up, leaving him with a disability, a fixed income, and no insurance.
In 2001 Golson moved to San Luis Obispo and the following year he applied for county-assisted health care. The county determined that his income is slightly above the poverty line and he's therefore ineligible.
"I've looked into purchasing private insurance, but it's just so far out of reach that it's not even close," he said. "This is a serious problem the cost. And, in my own opinion, now that I've learned more about the uninsured, people in my position should not be forced to purchase health care because the rates keep going up and up and you get less service. It's a total crisis."
When he developed a rash that affected his ability to breathe, in 2006, Golson asked a friend to drive him to the emergency room. He spent several hours at the hospital waiting for his breathing to stabilize. At the end of the two- or three-hour visit, a doctor advised him to see a specialist and the hospital sent him a $2,000 bill. Using the argument that he couldn't afford to pay $2,000 and there wasn't anything the hospital could take from him in lieu of payment Golson argued the bill down to $300.
He had learned an important piece of strategy that might just help him win the health care game. You don't have to be afraid of losing everything when you have nothing to lose. This fact won't help him obtain the preventative care he needs, but if he ever suffers something serious, like a heart attack, he said he doesn't worry about the figure at the bottom of the bill.
These experiences and fears have also created a political radical with health care reform on his mind. After hearing about an upcoming health care reform forum at the Madonna Inn, Golson decided that he needed to participate in the Aug. 11 event. He called the participant hotline again and again until he was on the list to attend CaliforniaSpeaks. If the state planned to discuss health care reform, he wanted to make sure that the 6.6 million Californians the California Health Care Foundation estimates to be uninsured had a voice.
Knowing that he's not alone and that an estimated 20.8 percent of Californians don't have insurance is both a source of comfort and anger for Golson.
"Making profit off health care has got to stop," he insisted. "There are some things in life that we just have to bite the bullet and fund. The people in this country need to show some backbone. But as long as they have a Whopper in their mouth and a beer in their hand, they're not going to do anything."

PHOTO BY STEVE E. MILLER
PLAYER THREE : After swallowing a piece of plastic Dawn Williams learned that being able to afford health care doesn't always ensure that doctors are capable of providing the care she needs.
# Player Three
It's not just insurance or lack thereof that makes the health care game a challenge. Dawn Williams' chief complaint is the fact that doctors are so eager to prescribe medication that they don't listen to what she has to say. That's how the 78-year-old ended up with a plastic bread-bag fastener in her throat for six months during 2001.
"I swallowed something that was in a sandwich that my son had made me," Williams explained. "I didn't know what it was, but I knew it didn't belong in my throat. And since I have full dentures, I didn't feel it until it was already almost in my throat."
She went to the emergency room where her throat was x-rayed, but the procedure didn't reveal the piece of plastic, and the medical practitioners were convinced that nothing was there. After leaving the emergency room, she made an appointment with a doctor who informed her that whatever she had swallowed was no longer in her body, though she insisted she could still feel it lodged in her throat.
By the end of May four months after she had swallowed the thing Williams still hadn't found a doctor who believed that there was something in her throat. Her next doctor took another x-ray, which again revealed nothing. However, she agreed to make an appointment with a gastroenterologist, who would be willing to see her six weeks later.
"All this time, I'm conscious of it," Williams said. "I can feel it, and I'm thinking, 'My God, suppose it goes down my windpipe and into my lungs.'"
After her six-week wait, Williams was hoping that the plastic would be removed, but during their first meeting the specialist informed her that the appointment was meant to be a consultation. He scheduled her for an endoscopy at the hospital two weeks after their initial meeting. What the endoscopy revealed was a plastic bread-bag fastener lodged between Williams' stomach and duodenum. It was starting to ulcerate. The gastroenterologist was unable to remove the plastic with his own resources, so he sent her to a gastroenterology clinic where, again, the plastic proved impossible to remove. Finally, after six months and three endoscopies, she was sent to the UCLA medical clinic where the plastic was removed.
"So, good ending," Williams said humorously. "They got it out, and I have it in a plastic bag as a remembrance, along with a picture."
Despite Williams' positive conclusion, however, there's only one ending in the health care game and it isn't happy. Williams no longer concerns herself with the now-benign piece of plastic, but she still finds it difficult to locate a doctor who both listens to her and doesn't over-prescribe pharmaceuticals.
"There may be other good doctors, but the good ones don't take Medicare patients anymore because Medicare doesn't pay well enough," she explained. "A friend of mine wanted to change doctors to a doctor her friend respected very much, and she called the doctor and they said, 'I'm sorry, we don't take any new Medicare patients.' So even though I've got Medicare and I know I can get taken care of, I can't necessarily see the doctors I want to."
Arts Editor Ashley Schwellenbach can be reached at aschwellenbach@newtimesslo.com.