In about a month and a half, on Nov. 27—if he hadn't died at age 27 on Sept. 18, 1970—Jimi Hendrix would be celebrating his 72nd birthday. Who knows what those extra 44 years might have meant to rock music. One thing is certain: In his short six-year career, Hendrix brought a truly original new vision to rock guitar—innovative and influential, his recordings and concerts redefined guitar playing.
PHOTO BY STEVE C. PESANT; COURTESY OF AUTHENTIC HENDRIX, LLC
LEGEND ON LEGEND: The Legendary Buddy Guy is one of 11 great guitarists offering tribute to iconic rock god Jimi Hendrix on Oct. 12, at Avila Beach Resort.
Most people know the rough outlines of Hendrix's life, that he was a left-hander who learned how to play a right-handed Fender Stratocaster upside down, that he taught himself to play as a teen along to recordings by Muddy Waters, B.B. King, Chuck Berry, and Eddie Cochran, and that he took the use of distortion and feedback to a whole new controlled level.
Then, there are the songs. "Hey Joe," "Purple Haze," "Foxy Lady," "Crosstown Traffic," "The Wind Cries Mary," "Little Wing," "Red House," "Voodoo Chile," and more. Countless books, articles, tribute albums, and films have chronicled Hendrix, but the best way to celebrate his greatness is through music by those who've been influenced by him, which is what The Hendrix Experience 2014 is all about this Sunday, Oct. 12 (gates at 1 p.m., concert at 3 p.m. until sunset; tickets are all Vallitix outlets, vallitix.com, or by calling (888) 825-5484; $40 to $80), at Avila Beach Resort.
"The lineup is probably the greatest assembly of talent ever on the Central Coast, including 78-year-old legend Buddy Guy, Jonny Lang, Kenny Wayne Shepherd, Rich Robinson from the Black Crowes, Zakk Wylde from Ozzy Osbourne, Billy Cox from Band of Gypsys, Doyle Bramhall II from the Fabulous Thunderbirds and Eric Clapton's band, Ana Popovic, Chris Layton from Stevie Ray Vaughan's Double Trouble, Mato Nanji from Indigenous, and Eric Johnson," Bruce Howard, the event's promoter, noted.
This is one for the ages! Hendrix's music played by some of the best guitarists in the world! Scuse me while I kiss the sky!
A case of the Monday…
I guess if you're looking for some musical fun on Monday, Oct. 13, don't go to SLO Brew this week because there's nothing going on there, but if it's any other day this week, the Brew's got you covered, starting this Thursday, Oct. 9, with classic '80s New Romantic act ABC (7:30 p.m.; 21-and-older; $25 presale or $28 at the door). Fronted by Martin Fry, the band's hits include "The Look of Love," "Poison Arrow," "Be Near Me," "How to be a Millionaire," and "When Smokey Sings."
PHOTO BY KEVIN HAYES
TROUBADOURS: Great L.A.-based folk rock quartet Dawes plays Oct. 15, at SLO Brew.
Reggae favorites Katchafire return to the Brew on Friday, Oct. 10 (7 p.m.; all ages; $16 presale or $18 at the door). The New Zealand-based band is comprised of indigenous Maori tribesmen, including Grenville Bell and his sons Logan and Jordan.
It's going to be a freaky dance party on Saturday, Oct. 11, when the Brazilian-infused salsa and cumbia band SambaDá and their dancers return (7:30 p.m.; all ages; $10 presale or $13 at the door). Expect to get sweaty shaking your moneymaker.
More reggae awaits on Sunday, Oct. 12, when Passafire returns (7:30 p.m.; all ages; $12 presale or $14 at the door), with opening acts The Expanders and Life. Then it's Monday. Stay home. Get your rest.
Nashville singer-songwriter Will Hoge returns on Tuesday, Oct. 14 (7:30 p.m.; 21-and-older; $14 presale or $16 at the door). He recently released his ninth album, Never Give In, which sums up his approach to the difficult road of a music career.
SLO Brew closes out its week on Wednesday, Oct. 15, with Dawes (8 p.m.; all ages; $22 presale or $25 at the door). The L.A.-based folk rock act has been hailed for its Laurel Canyon sound (think Joni Mitchell, Neil Young, and Crosby, Stills, and Nash).
Ray of sunshine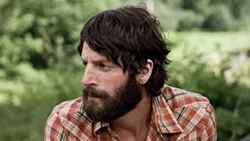 PHOTO COURTESY OF RAY LAMONTAGNE
SEASON CLOSER: Amazing singer-songwriter Ray LaMontagne closes out the season at Vina Robles Amphitheatre on Oct. 10.
Ray LaMontagne has one of those immediately appealing voices—familiar, welcoming, comfortable. The singer-songwriter's notched five studio albums into his gun belt: Trouble, Till the Sun Turns Black, Gossip in the Grain, God Willin' & the Creek Don't Rise, and his pop-infused newest, with its relentlessly hooky title track, Supernova.
Inspired by Stephen Stills, and compared to everyone from Otis Redding, The Band, Van Morrison, Nick Drake, and Tim Buckley, LaMontagne racked up a Grammy Award for Best Contemporary Folk Album in 2010.
The Vina Robles Amphitheatre will hosts Ray LaMontagne on Friday, Oct. 10, at 7:30 p.m. ($45.95 to $81.35) with The Belle Brigade opening.
If it ain't Baroque …
This Wednesday, Oct. 15, a great musician and composer joins with a world-class orchestra to bring you an evening of Baroque masterpieces at 7:30 p.m. in the Performing Arts Center's Cohan Center.
PHOTO BY PALMA KOLANSKY
BEYOND JAZZ: Branford Marsalis joins the Chamber Orchestra of Philadelphia in an evening of Baroque music on Oct. 15, at SLO's Performing Arts Center.
If you're like me, the Grammy Award-winning saxophonist and Tony Award-nominated composer Branford Marsalis wouldn't be my first guess as to who would join the celebrated Chamber Orchestra of Philadelphia in an evening of Bach, Albinoni, Purcell, Dornel, Locatelli, and Handel, but that's the deal.
Brought to you by Cal Poly Arts and titled Marsalis Well-Tempered, the evening will offer J. S. Bach—"Air on a G String," from Suite No. 3 in D Major, BWV 1068 and Concerto for Oboe D'Amour, Strings and Continuo in A; Albinoni—Concerto À Cinque for Oboe, Strings and Continuo in C Major, Op. 9, No. 5; Purcell—Incidental Music for Strings (Suite from Abdelazer or The Moor's Revenge); Dornel—Oboe Sonata in G Major; Locatelli—Concerto Grosso in C minor, Op. 1 No. 6; and Handel—"Al Lampo Dell" armi and "Cara Speme, Questo Core Tu Cominci" (arias from Guilio Cesare).
Cal Poly Music professor David Arriveé offers a pre-concert lecture at 6:30 p.m. in the Philips Lecture Hall. Student and adult tickets for the performance range from $24 to $64. Call 756-4849 or order online at www.calpolyarts.org.
More music …
"SLO County's really become a musical home base for me this year," Rob Larkin said. "I'm playing solo at a lot of the wineries, and [I've done] shows with my funky roots rock band, including Paso Robles Concerts In the Park, this past summer." You can find all Larkin's shows at roblarkinmusic.com, but he especially wants you to know he'll play with Debra Windsong (harmonica, percussion, voice) on Thursday, Oct. 9, at Shell Café as part of the Songwriters at Play showcase (6:30 p.m.). Later this month, catch him with his band The Wayward Ones at the BarrelHouse on Friday, Oct. 24.
This Friday, Oct. 10, at D'Anbino's, The Swingin' Doors front woman Ynana Rose will release her self-titled debut CD at this Songwriters at Play showcase that also features Damon Castillo (7 p.m.; $10; reserve at 227-6800). Castillo co-produced her new record, and both will perform full sets. Rose says she "draws inspiration from Gillian Welch, Emmylou Harris, Dolly Parton, Corinne West, Eddie Vedder, and more," and that her original music "blends elements of folk, bluegrass, country, and jazz."
"Your dreams have come true, Mr. Starkey," the wise guys from Occasional Mustache wrote. "On Friday, Oct. 10, Occasional Mustache will light up Luna Red in celebration of their new album Hard to Keep a Good Man Down. The alt-country/American band sure know how to have a good time, and their track "Walk of Shame" was an award-winner at this year's New Times Music Awards.
Total Guitar has said Preston Reed is "widely thought of as the world's most gifted guitarist," which is high praise indeed. The 53-year-old one-man band hails from New York and "tweaks the nose of musical convention, pokes the eye of accepted wisdom, and burns the rulebook of the past," according to his bio. "His unique style is impossible, unfathomable, unthinkable, as with blurred hands he taps, tickles, slaps and soothes his instrument, fusing polyrhythmic percussion with emotive melody to create a sonic landscape." See him at Coalesce Bookstore on Friday, Oct. 10 (7 p.m.; $20; 772-2880 for tickets), or at Castoro Cellars on Saturday, Oct. 11 (7:30 p.m.; $20; 238-0725 for tickets).
The 23rd annual Big Sur Jade Festival is free and happens this Friday, Oct. 10, through Sunday, Oct. 12, at Pacific Valley School on Hwy 1, 45 miles south of Big Sur and 40 miles north of Cambria. There'll be a Drum Circle with Keeth Crowhawk, the Gene Ohm Band, Turkey Buzzards, Trouble Hoof, Samba Loca, and Captain Nasty on Friday (noon to 6 p.m.). A Drum Circle with Tracy Morgan, Robi Duganne, Mowtowners, Thunder Canyon String Band, Rough House, Jill Knight, and The Mighty Croondogs is on Saturday (10 a.m. to 6 p.m.). Tracy Morgan, Coffee To The Conning Tower, Tempered Sol, James Sweetwater, Gillie Wheesels, and Zzah appear on Sunday (10 a.m. to 5 p.m.)
PHOTO COURTESY OF THE DTEASE
GLAM IT UP: Seventies-style glam cover act The DTEASE brings their show to Frog and Peach on Oct. 11.
D'Anbino's got a great day of jazz scheduled for Saturday, Oct. 11, beginning with San Francisco's Times 4 from 2 to 4:30 p.m. ($15 admission; $10 for wine club members; reserve at 227-6800). Their third album, Eclipse, "delivers a fresh set of modern grooves and uplifting jazz improvisation," according to press materials, as well as "fresh interpretations of classics by John Coltrane and Ron Carter/Miles Davis." Then later that same evening, contemporary Central Coast jazz act Zzah plays from 7:30 to 10 p.m. ($10 admission; $5 for members). "Their tracks have been programmed on more than 260 radio stations throughout North America, and they have appeared with great artists George Benson, Billie Preston, Spyro Gyra, and more."
I've never seen or heard The DTEASE, but judging from the live photos they sent, they look like fun! "Redefining the post millennium era of music, The DTEASE have managed to take all the good from '70s glam artists like David Bowie & T. Rex, '70s punk rock like The Clash and The Ramones, '60s rock 'n' roll like The Doors and The Rolling Stones, and everything missing in the modern rock scene to create an all-powerful icon," their bio claims. "Dressed in sharkskin suits and fueled by frontman Wilson Gil, the band has captivated audiences up and down the California coast." See them this Saturday, Oct. 11, at Frog and Peach (10 p.m.; 21-and-older) with Mother F Bomb opening.
The second annual Boogie on the Bluff comes to SeaCrest Oceanfront Hotel this Sunday, Oct. 12, from 2 to 6 p.m., featuring live music and local food on the gorgeous Pismo Coast. The event benefits United Way of San Luis Obispo County and features Grammy Award-winning musicians, Louie Ortega and Rio Salinas, with special guest Vudoo Lounge. The family-friendly event will have lots of food, beer, and wine from local restaurants, breweries and wineries, and even snow cones for the kiddies. Bring your own chair for lawn seating. Tickets are available online at unitedwayslo.org ($25 general admission; $10 for youths ages 5 to 20).
Keep up with Glen Starkey via twitter at twitter.com/glenstarkey, friend him at facebook.com/glenstarkey or myspace.com/glenstarkey, or contact him at gstarkey@newtimesslo.com.