For years, blues harmonica fell out of favor, replaced by guitar-driven blues. Chicago-based harp blowers like Little Walter, James Cotton, and Sonny Boy Williamson were brushed aside and all but forgotten, but Berkeley-based harp player Mark Hummel has changed all that by reminding blues fans that the harmonica can sing the blues better than anything.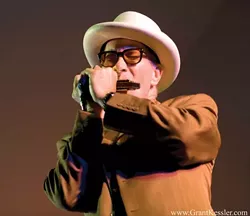 PHOTO BY GRANT KESSLER
HEAVENLY HARP : Blue harmonica master Mark Hummel leads his band through its paces on April 5 at the SLO Vets Hall.
# The SLO Blues Society presents Mark Hummel and the Blues Survivors, with special guest Rusty Zinn, on Saturday, April 5. Guy Budd and the Gypsy Souls will open the 8 p.m. SLO Vets Hall show, which costs $20 at the door ($17 for Blues Society members.) Those 21-and-older can attend.
Born in New Haven, Conn., and raised in Los Angeles, Hummel moved to Berkeley in 1972 where he played with local bluesmen such as Cool Papa, Boogie Jake, Mississippi Johnny Waters, and Sonny Lane. In 1980, he formed the Blues Survivors Band.
Hummel frequently finds himself listed in top five lists of the world's best living harp players and has a dozen Electro-Fi recordings to his credit, including Ain't Easy No More (2006), Blues Harp Meltdown (2004), Rolling Fork Revisited with Johnny Dyer (2004), and Blowin' My Horn (2004). Get a real dose of the blues on Saturday!
A real natty dread
Don Carlos may be the name of a five-act opera by Giuseppe Verdi, but the Don Carlos you need to concern yourself with is the legendary reggae artist who was a founding member of the roots vocal group Black Uhuru.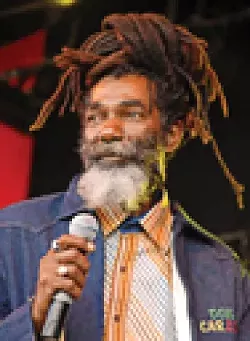 PHOTO COURTESY OF DON CARLOS
THE VOICE OF REASON : Socially conscious reggae artist and Black Uhuru singer Don Carlos plays a solo show April 4 at Downtown Brew.
# Born Euvin Spencer, Don Carlos was raised in a tragically impoverished district of Western Kingston, Jamaica, known as Waterhouse. He began his singing career in 1973 and played a prominent role in the highly acclaimed 1977 Love Crisis album, later re-released and re-titled as Black Sounds of Freedom.
He left Black Uhuru a year later, embarking on a solo career that began to soar with the release of 1981's roots-and-culture flavored album Suffering for Negus Roots. Since then, albums such as Harvest Time, Day to Day Living, Them Never Know a Natty Dread, Never Run Away, Just a Passing Glance, and Seven Days a Week have continued to prove Don Carlos as one of reggae's most important voices. He's also reunited with Black Uhuru in years past.
See Don Carlos live at Downtown Brew on Friday, April 4, at 8 p.m. Advance tickets are $20 at Boo Boo's and the venue. You must be 21-and-older to attend.
Get Hammered!
PHOTO COURTESY OF CHRIS "HAMMER" SMITH
MR. SMITH : Chris "Hammer" Smith leads The Hammer Smith Band in an evening of smoking blues at O'Reilly's on April 4.
# L.A.-based rocking blues act The Hammer Smith Band plays O'Reilly's on Friday, April 4, in yet another installment of the club's increasingly popular Friday Night Blues concert series. The band's frontman, Chris "Hammer" Smith, plays guitar, sings, and plays a mean harmonica.
Said O'Reilly's owner Jeff Wynn, "This one took quite a bit of work to put together, but we're very fortunate to have one of the world's foremost blues harp players playing right here in Grover Beach. It shows that hopefully we are doing something right when the word CD Reviews
She & Him--Volume One
# After helping hoist up Jenny Lewis' solo album, a sunny, AM-sounding escape from the indie pop of her band Rilo Kiley, it seems M. Ward has wanted a second run. This time, he (the Him) teams up with actress Zooey Deschanel (the She), and surprising any initial suspicions, what pours out of your speaker is goldenly sentimental and sweetly reminiscent of '60s and '70s pop. With songs built around wistful remembrances ("I Thought I Saw Your Face Today"), crying heartbreak ("Sentimental Heart"), and the occasional cover ("You've Really Got a Hold On Me," "I Should Have Known Better"), she inflates them with bubblegum playfulness ("Why Do You Let Me Stay Here") or dusts them with a bit of country twang ("Change is Hard"). Just from the song titles, you'll notice a blues ache, and if Zooey had the pipes, this could have been the second coming of Dusty Springfield. Instead, she belts out croons that charm and sound quite assured. And with M. Ward's ear for antiquated American songs, it's a quite impressive and endearing little record.
Black Keys--Attack & Release
# The Black Keys have released four previous albums, each stuffed with an impressive sound of dirty raw blues. The subterranean DIY recordings kept the sound of the two-man duo comprised of guitar and drums incredibly raw, though never rambunctiously sloppy. Rumor has it that Danger Mouse (the producer half of Gnarls Barkley) tapped them as the backing band for a project he had with R&B legend Ike Turner before his untimely death. With the momentum in process, The Black Keys headed into Danger Mouse's lab, and out pops the most fully realized Black Keys to date. The purists may be initially unhappy. Gone is an entire album of harsh, nasty gut-bucket blues hammered out by an thundering distorted guitar and crashes of cymbals and snares. Instead, they've gained assistance from two former Tom Waits' sidemen (Marc Ribot and Ralph Carney) and put an extra coat of varnish on their slower numbers, yet still sizzle out hard-fried blues like no one else.
-Malik Miko Thorne, of Boo Boo Records and KCBX's "Night Train."