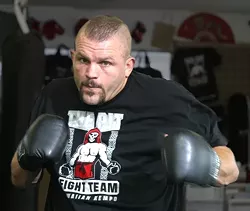 FILE PHOTO
COOLING OFF : The Central Coast's own Chuck Liddell recently announced an end to his ultimate fighting.
With the recent retirement of legendary mixed martial artist Chuck Liddell, many aspiring local fighters are trying to fill the void the "Iceman" left when his storied career came to an end and he hung up his four-ounce gloves for good.
Liddell, a former Cal Poly wrestler and a recent Ultimate Fighting Championship Hall of Fame inductee, is widely credited for bringing MMA into the American mainstream and is commonly considered the Central Coast's most famous athlete (with all due respect to fitness guru Jack LaLanne of Morro Bay, University of Oregon distance runner Jordan Hasay of Arroyo Grande, and Cal Poly athlete and National Football League linebacker Chris Gocong).
"The most famous fighter of all time is right in our backyard. He gave pride and bragging rights to the Central Coast, SLO, Arroyo Grande, and Cal Poly," said John Hackleman, Liddell's longtime trainer. "Every fighter around the world who has ever put gloves on looks up to Chuck. So imagine how the guys he trains with and goes out to dinner with feel about his retirement. They are very lucky to have him as a mentor, but they have pretty big shoes to fill."
Looking to fill those shoes is an array of talented up-and-comers. Topping a long list of local MMA fighters looking to carry on Liddell's winning ways is Antonio Banuelos, a World Extreme Cagefighting veteran making his UFC debut on Feb. 5.
"He's a bundle of dynamic, explosive, in-your-face energy," Hackleman said of the 135-pound Banuelos, who's won four of his last five fights. "He'll slam you on your head or punch you in the face. He started off as a wrestler-based fighter but his striking is now equal to his grappling."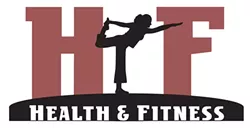 Also on the list is Scott Lighty, a former professional kickboxer who's made an impressive transition into MMA and boasts a 6-1 record; the hard-hitting Preston Scharf; the experienced Cruz Gomez;
the UFC The Ultimate Fighter season 11 winner Court McGee; Cal Poly engineering student Mike Gahan; McCarthy's barkeep Johnny Hackleman; and undefeated Luke Riddering and his wife Christina.
As for Liddell, the 41-year old "Iceman" walks away with a 21-8 record and a legacy that appears untouchable. During his December UFC press conference, Liddell acknowledged his retirement and endearing emotions for his beloved sport by saying, "Most of all I want to thank my fans and my family. I love this sport and I'm excited to go to this new stage in my life and keep promoting the best sport in the world, the sport I love … now that I'm retired."
Despite no longer fighting, Liddell's days with the UFC aren't over: He was named vice president of business development with the UFC.
"Chuck brought the UFC to the Central Coast," Hackleman said. "He had a huge impact on every fighter in the area. It's going to be very difficult to emulate his success, but if they do 1/100th of what Chuck accomplished in his career, then it would be awesome."

Contributor Kai Beech can be reached via Managing Editor Ashley Schwellenbach at aschwellenbach@newtimesslo.com.