If the bad driving, lack of neighborhood parking, and partying noises aren't enough to clue you into the return of Cal Poly, perhaps SLO Brew's run of eight shows in eight days will.
PHOTO COURTESY OF MEIKO
GEORGIA PEACH : Amazing singer-songwriter Meiko returns to SLO Brew on Sept. 26.
There's something for everybody, starting this Thursday, Sept. 20, with The Bright Light Social Hour, a band simply dripping with irony (7:30 p.m.; all ages; $10 presale or $12 at the door). Formed in Austin out of a university art rock collective (I especially like the bass player, who rocks the '70s porn star mustache like nobody's business), the band enjoyed a rare sweep of six awards at the 2011 SXSW festival, including Band of the Year, Album of the Year, and Song of the Year. They blend southern rock, hard dance, psychedelic blues, and deep soul in to their own brand of incendiary rock'n'roll!
Intimate, grumbling rock guru The White Buffalo returns to the club on Friday, Sept. 21 (8 p.m.; 21-and-older; $15). This dude writes great songs and performs them with gravitas and grit. He's a true underground cult sensation; those who have experienced him love him, and those who haven't are totally blowing it, man. Totally.
Dave Alvin plays on Saturday, Sept. 22, with his band The Guilty Ones (6:30 p.m.; 21-and-older; $17 presale or $20 at the door). Formerly part of The Blasters, Alvin is responsible for songs such as "Long White Cadillac," "King of California," and "Fourth of July." He's touring in support of Eleven Eleven, his newest studio album. Jonny Burke opens the show.
Country heroes The Randy Rogers Band plays the Brew on Sunday, Sept. 23 (7:30 p.m.; 21-and-older; $16 presale or $18 at the door). They caught the ear of Nashville insiders when their last album debuted as the most downloaded country album on iTunes, but long before that, in 2007, Rolling Stone ranked them alongside artists such as U2 and the Stones as the top-10 must-see acts of the summer concert season. The Chris Gardner Band will open.
On Monday, Sept. 24, check out Hell or Highwater featuring Brandon of Atreye (7:30 p.m.; all ages; $10) with Altercation and Wintersfear opening. That's a helluva lotta heavy rock'n'roll raining down on your ears.
On Tuesday, Sept. 25, Venice-based blues rock outfit Terraplane Sun rolls through town to support their sophomore album, Coyote, which they describe as "ambitious, raw, and organic." The Mowgli's will open, touring in support of their new album Sound the Drum. Check out these rock acts during their upper trajectory!
I make no secret that I'm most excited to see the adorable and charming Meiko, who plays Wednesday, Sept. 26 (8 p.m.; all ages; $12 presale or $15 at the door). The last time she played here she opened for Joshua Radin, and she totally stole the show. Her frank lyrics remind me of Liz Phair, but the Georgia peach is such a sweet southern gal that she doesn't seem to have Phair's jagged edge when she's purring out her sexy lyrics like these words to her song "Leave The Lights On": We're in the dark, it's getting late/ I really should go, he's waiting for me/ We both know it's not what it seems/ We both know what's between the sheets/ I know it's a secret/ And that I gotta keep it/ But I want the lights on/ Yeah, I want the lights on. Oh behave, Meiko!
Finally, on Thursday, Sept. 27, hip-hop star GZA plays SLO Brew (8 p.m.; all ages; $26 presale or $30 at the door). Killer Mike and Sweet Valley featuring Nathan Williams of Waaves will open.
SLO Brew, you're merciless!
Songwriter play!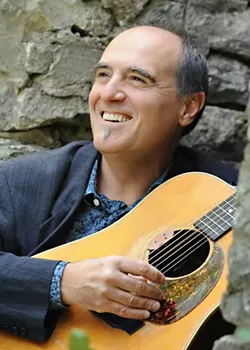 PHOTO BY EMILY GRIFFITH
COOP! : Nashville performer Dana Cooper plays the SLO Down Pub on Sept. 20 and Sculpterra on Sept. 23, both as part of Steve Key's Songwriters at Play showcases.
Steve Key's Songwriters at Play showcases continue to bring in the talent, and this week's no different. On Thursday, Sept. 20, Dana Cooper will play the SLO Down Pub (6:30 p.m.; all ages; pass the hat), and then he'll return to play Sculpterra on Sunday, Sept. 23 (1 p.m.; all ages; pass the hat). The Nashville-based performer recently released a collection of live versions of his favorite songs called Road Show. His songs have been recorded by the likes of bluegrass star Claire Lynch and Irish vocalist Maura O'Connell. Special guests on Sept. 20 include Romany Waters, Randall Lamb, Ivan Ulz, Billy Estrada & Tony Kirkorian of the band Spoonfed Lightning, and Austin Lloyd Fallin. Special guests on Sept. 23 include Cliff Stepp and Craig Louis Dingman.
On Tuesday, Sept. 25, Reese Galido, lead singer of the dub band The Kicks, headlines the Kreuzberg showcase (6:30 p.m.; all ages; pass the hat).
More music …
Truth About Seafood will play Pomar Junction Winery on Friday, Sept. 21, from 5:30 to 8:30 p.m. Wine, awesome rock'n'roll, and a cute train to play on? What else do you need, right?
Canadian singer-songwriter Danielle French plays Linnaea's Café on Friday, Sept. 21, at 8 p.m. She's touring in support of Drive, "a collection of driving, freedom, and heartache songs inspired by her years on the road touring throughout North America."
PHOTO COURTESY OF DANIELLE FRENCH
FRENCH … CANADIAN : Canadian singer-songwriter Danielle French plays Linnaea's Café on Sept. 21.
D'Anbino Tasting Room brings you Steve McCann with The Quiet Knights on Friday, Sept. 21, at 8 p.m. for $10 at the door. If you like country crooning, don't miss this one.
San Francisco's Hot Buttered Rum returns to the area to play a SLOfolks show on Saturday, Sept. 22, at Castoro Cellars (gates open at 6 p.m.; the show starts at 7; all ages; $22 tickets at castorocellars.com). The band recently recorded Limbs Akimbo with guest appearances by Jackie Greene (Skinny Singers, Phil Lesh and Friends) and Zach Gill (ALO, Jack Johnson). I heard some music last week on Sonnie Brown's Song Town on KCBX, and the band sounds like it's in great form! They describe their music as "part hoedown, part high art, part church, and part roadhouse rock." You can also buy a catered dinner by Popolo Rotisserie Café for $14, available at 6 p.m. Tune in to Song Town at 2 p.m. for Sonnie's interview with the band.
On Saturday, Sept. 22, the Steynberg Gallery is host to The Hohlax Trio, a group that formed on the Greek island of Amorgos, where the group spent many a summer on the beach Hohlakas, from which they take their name. Since they work within the confines of Greek traditions, many listeners will find their music wholly unique. They start at 8 p.m. and tickets are $20.
PHOTO COURTESY OF THE HOHLAX TRIO
GREEKS! : On Sept. 22, the Steynberg Gallery is host to the Hohlax Trio, a group that formed on the Greek island of Amorgos.
The SLO Blues Society is bringing sax great Terry Hanck back for a show on Saturday, Sept. 22, at 8 p.m. in the SLO Vets Hall, with The Amazing Stupifyers opening. Tickets cost $17 for Blues Society members and $20 for the general public; free dance lessons are at 7:30 p.m.; 21-and-older only. Hanck plays a wide array of blues and has an impressive vocal range. "On a typical night, Terry Hanck will travel from the Gulf Coast to the south side of Chicago, spanning over a half century of the blues, as he rolls 1950s swing, 1960s R&B, 1970s soul, and 1980s southern blues rock into a 2012 dance party mix," according to press materials. The Amazing Stupifyers deliver "raunchy, hip shakin' Central Coast electric blues."
Almost Counterpoint (Steve McAndrew, Brett and Julia Mitchell, and members of the quartet vocal group Counterpoint) will perform with Adam Levine on guitar, Ken Hustad on bass, and John D'Andrea on saxophone on Saturday, Sept. 22, at D'Anbino Tasting room from 8 to 10:30 p.m. Hear tunes by Johnny Mercer as well as their standard Counterpoint layered harmonies. It's $10 for admission ($5 for record club); reservations accepted.
Now's the time to catch Fish Out of Water before it hits the road again, this time returning to Australia in November. See them on Saturday, Sept. 22, from 1 to 4 p.m. and Sunday, Sept. 23, from noon to 3 p.m. at The Cliffs. Reggae, hip-hop, funk, and rock combine into the trio's own signature sound.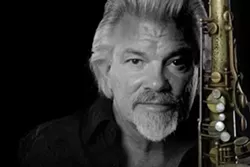 PHOTO COURTESY OF TERRY HANCK
SAX MAN!: Blues sax player and vocalist Terry Hanck plays the SLO Vets Hall on Sept. 22 for the next SLO Blues Society show.
The Mother Corn Shuckers have a bunch of upcoming shows over the next couple months, including opening for Forrest Day on Saturday, Sept. 22, at the Oktapitfest beer festival at the Mission Plaza. They start at 5 p.m. They'll also play SLO Creek Farms on Saturday, Oct. 13, and the Central Coast Bioneers gathering on Saturday, Oct. 20, at the SLO Monday Club, followed by a show on Sunday, Oct. 21, at the Pismo Beach Clam Festival.
On Sunday, Sept. 23, the Steynberg Gallery is host to the Harrison Young Quartet at 6 p.m. for $10 at the door. Harrison Young is a singer, multi-instrumentalist, and audio producer from NYC, who's appeared on numerous albums including Talib Kweli's latest release, Gutter Rainbows, for which Harrison provided the iconic piano riff on the first single, "Cold Rain."
The Kandinsky Effect hails from New York and Paris, which gives this jazz and electronica act immediate street cred, and they'll play a last-minute show at Cuesta College on Sunday, Sept. 23, at 7 p.m. for $10. "The Kandinsky Effect, led by American-born saxophonist Warren Walker, offers an invigorating take on modern jazz and improvisation," raves the L.A. Times.
On Sunday, Sept. 23, the Famous Jazz Artist Series at D'Anbino Tasting Room is host to a tribute to a wonderful composer of the Great American Songbook, Cole Porter. Featured performers will be Karl Welz (tenor saxophone), Ken Hustad (bass), and Darrell Voss on drums along with series co-producers Charlie and Sandi Shoemake (piano/vibraphone and vocals). There are two performances, at 4 p.m. and 7:15 p.m., each for $15, or see both for $20.
The Appellation Bluegrass Band, aka The Abbies, have a couple shows cooked up for you this week. "Bring the family dog and the whole family out for a seafood picnic and the finest bluegrass music on Sunday, Sept. 23, from 11 a.m. to 3 p.m. at Tognazzini's Dockside Too," wrote the band. "Be ready for high-energy, high-lonesome sound, visiting pirates, and a shipment of slimy eels." Then on Wednesday, Sept. 26, The Abbies head south to the SLO Down Pub for a 7 to 9:30 p.m. show. "Your ears will enjoy fiddle-banjo standards from the 1940s along with our originals and grassed-up hobo, rock, and surf favorites." Both these shows are free, but tips are gratefully accepted.
On Wednesday, Sept. 26, at 7:30 p.m. at the PAC, Cal Poly Arts presents the hilarious return engagement of The Capitol Steps, a political musical satire group that takes bi-partisan aim at both liberals and conservatives. Student and general public tickets range from $29 to $54. Call 756-4849 to reserve yours.
Internationally acclaimed Celtic music act The Colleen Raney Band plays Wednesday, Sept. 26, at Painted Sky Studios in Harmony at 8 p.m. Featuring Johnny B. Connolly on the button accordion and Casey Neill on guitar, this trio breathes new life into traditional songs. Tickets are $20; call 927-8330 to reserve seats.
I've never heard this duo, but according to their press materials, "The California-based instrumental duo Wahid use elegant oud melodies and perfectly tune frame drums to capture their unique combination of musical experiences live on Road Poem. Celebrity Cafe calls it 'a masterful expression of Middle Eastern pulses that transform into musical rhymes, which each tell a story that listeners will want to envelop themselves in.'" See them on Wednesday, Sept. 26 in the Steynberg Gallery at 8 p.m.

Keep up with Glen Starkey via twitter at twitter.com/glenstarkey, friend him at facebook.com/glenstarkey or myspace.com/glenstarkey, or contact him at gstarkey@newtimesslo.com.