Peta Rimington describes her life as "extraordinary" in a bright British accent, and it's hard to argue with her assertion.
Rimington, 82, said she was a small child in her grandmother's home in England when it was bombed during World War II, trapping members of her family under the rubble of the house. She's lived all over Europe and the United States, and worked in film, writing, and as an interior designer.
"I've lived many different places. I've met so many incredible people," she said. "I've reinvented myself many times. … This is who I am."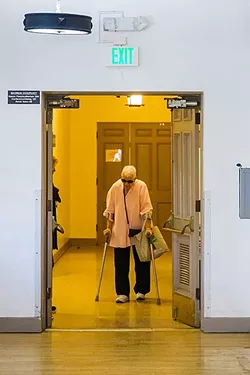 PHOTO BY JAYSON MELLOM
SPEAKING OUT : 82-year-old Peta Rimington worries about her own financial and housing situation. Still she tries to advocate for seniors like herself on the county's Commission on Aging.
But the latest chapter in Rimington's life worries her. After battling cancer, she is unable to work regularly and is reliant on social services. After she lost the house she was renting in 2008, it took her a year to find a new place to live. She now lives in government-subsidized housing in Paso Robles. What little money she has is barely enough to cover her basic needs and rent. If she loses her housing, she believes she might end up homeless. Rimington described her financial situation as a "sword of Damocles" hanging over her.
"When you're not working and you are paying rent, boy does it diminish fast," she said. "I am financially at the bottom of the barrel."
Rimington's situation is precarious but far from rare in SLO County, where a growing number of seniors, many of them women, face financial instability amid the rising cost of housing and struggle to meet their basic needs in areas like medical care and transportation.
"My situation is pretty much the same across the board as a lot of other people," Rimington said.
The hidden poor
Tom Clough is a man who believes in hard facts and data.
An 80-year-old retired attorney who specialized in intellectual law, Clough currently serves on the SLO County Commission on Aging and is spearheading the group's outreach endeavors. As part of an effort to create a presentation on the needs and challenges of the county's seniors, Clough began gathering data. He hunted down reports and research, looking for hard numbers. It was the only way, he said, to try and get a sense of the actual scope of the issue.
"Our goal was to look at establishing what the issues are and what are the facts supporting those issues," Clough said.
From his past work in SLO County on issues of homelessness and with seniors as chair of the nonprofit Senior Volunteer Services, Clough knew that some local seniors were struggling financially, but what the data revealed alarmed him.
The numbers showed a staggering percentage of county residents older than 65, which make up roughly 15 percent of SLO County's total population, are facing severe financial hardship. According to Clough's research, much of which came from the UCLA Center for Health Policy Research's Elder Index, an estimated 38 percent—or more than 13,000—of SLO County seniors older than 65 didn't have enough income to meet their basic needs. That same data also showed that an additional 9,000 SLO County seniors fall into the so-called "eligibility gap," meaning they live above the federal poverty level, but below the true cost of living in SLO County, leaving them struggling to make ends meet, but unable to qualify for government support services.
"We are not talking about 1 or 2 or 5 percent [of seniors]," Clough said. "We are looking at a segment that is in the 20, 30, even 50 percent range … that was a shock to me."
Seniors who live alone are particularly vulnerable. Without additional income and financial support from a spouse or loved one, and in the face of rising costs of living, single seniors who live on fixed incomes are increasingly at risk.
According to UCLA's data, an estimated 50 percent of all senior women living alone in SLO County were classified as economically insecure and unable to meet their basic needs like food and medical services. The same data shows that in 2013 the average cost of living for a senior residing alone in SLO County ranged between $1,592 per month to $3,037. That average has likely increased since then, while the average monthly Social Security benefit payment, which some seniors rely on almost exclusively, was a little more than $1,239 in September 2016, according to the federal Social Security Administration.
The statistics Clough collected are a reality for SLO County seniors like Bernadine Barrow. Barrow is 79 and has been a San Luis Obispo resident for 45 years. After the death of her husband, Barrow became one of the many SLO seniors trying to stay afloat financially while living independently. For the last several years, she's worked three days a week for Senior Volunteer Services.
"I was looking for a part-time job," Barrow said. "I needed to supplement my income."
Barrow said she was grateful to have a job with Senior Volunteer Services, which has been understanding and accommodating to her needs as a senior citizen employee. When she became ill and began to have issues with mobility that required her to use a walker, the organization allowed her to work a desk job doing mostly data entry.
But even working part time isn't easy. Barrow can't drive and relies on RTA's Runabout Paratransit program to get to and from work. The rides cost $2.50 each way, compared to a $15 taxi ride. Because of health issues and advancing age, Barrow said she has recently cut down on the hours she works each week, but she has to balance that against the impact working less has on her budget.
"So far I've managed, I think," she said. "I don't particularly worry much. I've gotten past it. I just take it day by day. The Lord has gotten me through so far."
A place to call home
Seniors all over the country sit at the center of a complex nexus of needs. In SLO County, few of those needs loom larger than that of housing. Whether they own their home or rent, keeping independent seniors in their homes presents both physical and financial challenges.
PHOTO BY JAYSON MELLOM
LONG-TIME ADVOCATE : Kathleen Bellefontaine served as the chairperson for the SLO County Commission on Aging for nearly 10 years.
According to Clough's data, eight out of 10 single seniors who rent in SLO County are struggling financially. Many seniors living alone in the county are renters and have been severely impacted by the county's lack of low-income and affordable housing. Barrow lives in a trailer in the Chumash Mobile Home Park. It has dark wood-paneled walls and is tastefully decorated with photos and collectibles. She said she's been renting the mobile home for 13 years from the same landlord.
"It's expensive to live in San Luis, and frankly, I don't know what I'd do if I didn't have Section 8 assistance," she said, referring to the government's subsidized housing program.
Rimington, with the gentle British accent who lost her longtime rental in 2008, described the year it took her to find a new place to live as an "appalling" experience. In one instance, she found a place in rural SLO County on Craigslist that appeared to fit her needs, only to find out that she'd have roommates in the form of several goats that were kept in the home's garage.
Even though she now has a roof over her head in Paso, housing is still a challenge for Rimington. Accessing medical and other services for seniors can be difficult in North County. Living south of the grade would make it easier for her, but between the cost of moving, the lack of accessible and affordable rentals, and difficulties with her health and transportation, it's easier said than done.
"I would love to live in South County because I'd be closer to those services," Rimington said. "I don't know how I'd pack up and move because I'm too sick."
Even seniors who live in and own their homes aren't immune to the issue. UCLA's data stated that 41 percent of SLO County's single residents older than 65 who lived alone in their own homes and had no mortgage were still unable to meet their basic needs.
The plight of seniors and lack of low-income housing for the most financially vulnerable among them is an issue all too familiar to Ann Wyatt, a program coordinator for the nonprofit Home Share SLO. Wyatt, who studies housing and housing policy, is helping the organization work with the county and some local cities to develop and launch a program that would facilitate matching providers who have extra rooms in their homes with individuals in need of affordable housing. The program would not only help find affordable and manageable living spaces for those in need, like single female seniors, but would also help combat a troubling side effect that many seniors living alone face: isolation.
"What we are seeing is a high problem with isolation, and that leads to actual health issues," Wyatt said. "There are all kinds of studies linking isolation leading to poor health outcomes."
The program could make a dent in the dearth of affordable, low income housing in the county, as do other projects by organizations like People's Self Help Housing of SLO and the Housing Authority of San Luis Obispo.
"Every little bit helps," Wyatt said. "But if you look at the numbers compared to the need, it's just not going to keep up."
It's not a problem the county can simply solve through construction. Wyatt said new development has been unable to keep pace with the need.
"We are kind of imagining that we can build our way out of this, but what we see is that not very much of the new housing being built is affordable for low-income or very low-income people," she said.
The situation isn't much better for those who can no longer live independently. The county is stressed for open beds in nursing homes and residential facilities, especially for those with little financial means to help them. At a Nov. 22 meeting of the SLO County Commission on Aging, Karen Jones, who sits on the commission as a representative the county's Long-Term Care Ombudsman Office, raised concerns about the lack of availability. She stated there were 800 beds available in the county's nursing homes "on a good day."
"It's really important that we start looking for some low-cost residential facilities here in SLO," she said.
A seat at the table
Housing is just one of the many critical issues impacting seniors that the SLO County Commission on Aging is attempting to address. The commission is made up of individuals appointed by members of the SLO County Board of Supervisors, representatives of local agencies that serve the senior population, and at-large members who are knowledgeable and advocate for issues important to the senior community.
The commission meets once a month at the SLO County Veterans Center to provide information on senior issues, listen to the concerns of the county's seniors, and advocate for them, advising the Board of Supervisors on their behalf. Affordable housing, combating isolation and depression, health care and medical needs, transportation, and nutrition—these are just a few of the issues the commission is attempting to tackle.
"We are talking about a population that can no longer fight for themselves," said Kathleen Bellefontaine.
Bellefontaine, a former social worker, has been the commission's chairperson for nearly 10 years. When she first took up the post, Bellefontaine said the commission wasn't necessarily "thriving," so she and other members worked to organize and strengthen its role, get its message out to more people, and make struggling seniors more aware of important issues and the resources available to them.
"We've made definite progress as far as what our mission is," Bellefontaine said. "I think we do a lot of good when it comes to education, and we have made great strides in that."
Those strides can sometimes be measured in inches. The commission takes up large and complex issues, but tries to make progress where it can, both as an advocacy organization trying to shine a light on the needs of seniors, as well as an advisory body that can only make suggestions to those who truly have the power to pass substantive policy at the county level. Whether it's arranging for Cal Poly to send volunteer students to help repair a rotting bathroom floor in a senior's home, supporting in-lieu fees for commercial developers to pay for affordable housing, or getting Clough's presentation on vulnerable seniors in front of the supervisors and other important county departments, no victory is too small or too unimportant.
Bellefontaine, who ended her term as the commission's chairperson on Nov. 22 and will now serve as its vice chairperson, said she didn't believe in miracles—silver bullets that will magically solve all the issues the commission takes up on behalf of seniors—but believes that the small victories can point in a direction of greater progress and a more strident voice for seniors in the county.
"We have a seat at the table now. We are called stakeholders," she said. "I think that's progress, but I would like to see us have more muscle."
The commission's work is important to Rimington. She serves as an at-large member of the commission, making the drive down from Paso to SLO for the monthly meetings. Unlike most of the commission members, she's not a civil servant. She sees her role as a voice for the seniors impacted by many of the decisions made by county departments with representatives on the board. While it's sometimes difficult for her to get to the meetings, she said the commission's work in trying to protect and serve a needy population appeals to her.
"I've always been a fighter. … I will always fight for things like this," she said. "I do have my wits about me, and if I can put them to good use, I will."
A growing concern
If current statistical trends are correct, the concerns and issues raised by Bellefontaine, Clough, and others will only grow if left unaddressed. While struggling seniors in SLO County like Rimington and Bellows my have nearly silent voices in the county's halls of power and influence, the number of those sharing their hardships continues to grow.
"It's not going to go away in the next two or three years," Clough said. "It's not a blip on the horizon."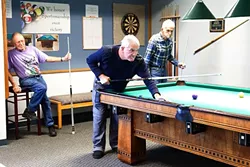 PHOTO BY JAYSON MELLOM
OUT AND ABOUT: Regulars at the 100-year-old pool table in the Morro Bay Senior Center are left to right: Wayne Gillmore, 79, Peter Gabriel, 66, and Rey Hudson, 85. They play pool for about three hours every day. Centers like this one help provide opportunities for SLO County seniors to stay active and engaged in their community.
California's senior population is expected to increase exponentially in the coming years, rising from 6.1 million in 2010 to more than 10.8 million by 2030. SLO County will be no exception; according to the California State Plan on Aging, the number of SLO County residents older than 65 will increase by more than 60 percent, from 58,433 in 2010 to 93,397 by 2030. That's nearly 35,000 more seniors who could be struggling financially and seeking affordable housing and social services. It's a big part of what Clough tries to get across in his presentation.
"We want to show it's a very serious problem. It's a large problem," he said. "It's growing, and if you think you have problems now, think about what you are going to require down the road."
While Clough said SLO County residents could help by volunteering with organizations that help serve seniors, he indicated that the needed changes to policy that could address the larger issues lay in the hands of public officials.
"Ultimately, the Board of Supervisors and the counties and cities are really going to have to start addressing these issues," he said.
How many of the growing population of seniors, like Rimington, will worry about staying in their homes, making medical appointments, and making ends meet? How may will feel that same "sword of Damocles" hanging over them, as Rimington says she does? How many will not realize until it is too late? Until it is them.
"People don't realize they are getting older themselves," she said. "But it's going to happen."
Staff Writer Chris McGuinness can be reached at cmcguinness@newtimesslo.com, or on Twitter at @CWMcGuinness.