Before we get into the goings on of the local music scene this week, I've got to give a shout out to all the New Times Music Awards winners who received their just rewards at last week's live music event.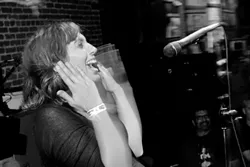 PHOTO BY STEVE E. MILLER
OMG! OMG! OMG! : Emily Wryn was the big winner at this year's New Times Music Awards, winning Best Live Performance, Best Songwriter, Best Country/Folk/Americana Song, second place for Best Album, and the Readers Choice Award! You go, girl!
The sweetheart of the rodeo was Emily Wryn, who swept into town and into our hearts and ears. She won first place in the songwriting contest with her tune "Fire," winning over Steven Sweet's "Younger" at No. 2, and Mark Adams' "Mona Lisa" at No. 3. Songwriting judge Sonnie Brown of KCBX's Song Town show also wanted to award Jim Townsend's "Watching My Baby Sleep" No. 4, Young Ireland's "Cold Bitter Water" No. 5, and Launnie Ginn's "That Could Be Me" No. 6, but we only awarded prizes to the first three places. Wryn also won the Readers Choice Award and Best Live Performance! She's kicking ass and taking names!
Bob and Wendy won Best Album for Your Beautiful Life, beating out No. 2 Emily Wryn (yes, her again) for Head On Straight and History of Painters at No. 3 for Only What Spring Can Bring. If there could have been No. 4, it would have gone to Greg "Spanky" Baldwin and his excellent debut Coop'd Up.
In the country, folk, Americana category, Emily Wryn won first with her song "Head on Straight," with St. Vincent Folk taking second with "Jump In My Car," History of Painters taking third with "Blue Dress"—and if the judges could have given a fourth, it would have gone to Dugie Crisp for "Runnin Hard."
In the hip-hop genre, Taktical took first with "That Good Touch," followed by Venomous Voices' "Let It Go" at No. 2 and Wynn-Ft. James Kaye's "Hero" at No. 3.
In the blues and R&B genre, Dr. Danger won with "Better Treat Me Right," followed by Mojo Combo's "June" at No. 2 and Craig Nuttycombe with Piper Heisig's "Two Buck Chuck" at No. 3.
In reggae and world beat, Zongo All-Stars took first with "Synchro Sax," followed by Klockwyze's "Pacific Vibes" at No. 2 and Connley Simpson's "Time to Find" at No. 3. The judges wanted to give Mustapha Swagger No. 4 for "The Eternal Now," but—again—we didn't award past third place, alas!
Finally, in the rock and alternative category, The Swan Thief won first with "Sun Suit," followed by "Thrift Store Girl" by The Honeymoon Phasers at No. 2 and "Lifestyle" by Klockwyze at No. 3. The judges also wanted to give No. 4 to "Friday Knights" by We Were Superheroes.
Thanks to all who entered, all who attended the show last Thursday, and congratulations to the winners and especially Emily Wryn. You're something special, chica!
Now on with the show …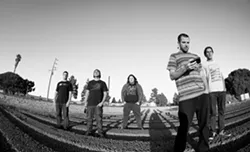 PHOTO COURTESY OF IRATION
IRIE NATION! : Iration headlines a three-act show at the Alex Madonna Expo Center on Sept. 15.
SLO Brew has such a hugely skanktastic show cooked up it was too big to hold in its downtown location, which is why it's hosting Domination! Presents Iration and The Expendables plus Cisco Adler at the Alex Madonna Expo Center on Saturday, Sept. 15 (doors at 7 p.m.; all ages; $25 presale or $27.50 at the door at all Vallitix locations or valllitix.com).
Iration now resides in Santa Barbara by way of Hawaii, and for the past two years they've been touring almost constantly, which is why the title of their last album, No Time For Rest, seems apt indeed.
The Expendables play music ideal to skate, surf, and party to, delivering '80s-energized reggae and punk that's impossible to ignore. The Santa Cruz band has come a long way since its 1997 inception, and as far as they're concerned, this is only the beginning!
Opening act Cisco Adler says he's a "musician first and a human second. I am a workaholic who knows how to have a good time. I love women until they hate me ... then I love them more. I live in Malibu, California, when I'm not living on a bus or in a hotel room. I grew up barefoot in Maui, Hawaii, from age 9 until I was 18 when I went off to college at the University of Arizona to study nothing. ... I did not graduate." You don't need a degree to rock the house! I recently got an advance copy of Adler's new album, Aloha, which has the same breezy, hook-laden infectiousness of Jack Johnson's debut. In fact, if you splice Johnson's genes with G Love's, you'd get Cisco Adler! Good stuff!
As far as what's happening at the club, there's plenty, starting Thursday, Sept. 13, with Tomorrows Bad Seeds (doors at 7:30 p.m.; all ages; $13 presale or $15 at the door), with Through the Roots and Barefeet opening. Should be a great night of mashed-up rock, reggae, punk, and hip-hop!
On Friday, Sept. 14, witness the return of Pinback (doors at 7:30 p.m.; all ages; $16 presale or $18 at the door). In just one short month, the band will release Information Retrieved, their first record in five years! They just released the album's first single, "Proceed to Memory," which Rolling Stone hailed "a solemn steady builder that grows anthemic with 'woaah ohhh's and Rob Crow's vocals piling on top of each other by the song's end." This indie rock duo has been called "storytellers with a unique sound" by NPR, while Entertainment Weekly calls the group "heavenly" and NME calls them "ornate artistes." Not to be missed!
If you don't feel like hitting the Expo Center on Saturday, Sept. 15, the club will present pop rockers The Growlers downtown (7:30 p.m. doors; all ages; $12 presale or $14 at the door) with opening acts Cosmonauts (swirly psychedelica) and Portland's campy, trampy surf-thrashers Guantanamo Baywatch.
And finally, on Wednesday, Sept. 19, SLO Brew presents Flobots (doors at 8 p.m.; all ages; $13 presale or $15 at the door) with openers Astronau talis and KauzaFex. Denver-based alt-rock and hip hop act Flobots are touring in support of their new CD The Circle in the Square, out last month on Shanachie Entertainment. Bring your brain to this socially conscious show!
PHOTO BY CHRIS WOO
INDIE ROCK DARLINGS : Pinback hits SLO Brew on Sept. 14, touring in support of their first new record in five years.
Songwriters at Play, hey hey!
Steve Key's Songwriters at Play showcases kick off on Thursday, Sept. 13, at the SLO Down Pub with headliner Dirk Hamilton (6:30 p.m.; all ages; pass the hat). Most often compared to Dylan, Van Morrison, and John Hiatt, poet and musician Dirk Hamilton will offer a rare Central Coast performance to perform his original indie rock, alt-rock, roots music, Americana, and folk-rock tunes. In the '70s, he was on ABC Records and Elektra/Asylum! Four San Diego musicians—Broni, Isaac Cheong, Kenny Eng, Rob Deez—are also on the bill.
The showcase series continues on Sunday, Sept. 16, at Sculpterra Winery with headliner Kyle Alden (1 p.m.; all ages; pass the hat). Alden, who started his music career as a bassist in an L.A. punk band, in his last album set 13 W.B. Yeats poems to his original music played in the traditional Irish folk genre. Guest performers will include BanjerDan, the duo Young Ireland, Stuart Mason of Molly's Revenge, and SoCal songster Mike V.
On Tuesday, Sept. 18, check out The Levins (pronounced The L'Vins ), husband-wife team Ira and Julia Levin playing at Kreuzberg (6:30 p.m.; all ages; pass the hat). Playing harmonic happy folk-pop, they combine "harmony-driven acoustic folk rock with wistful overtones of the 1930s." Guest performers will include Central Coast rocker Tim Jackson and St. Vincent Folk.
Finally, Rebecca Loebe headlines the showcase on Wednesday, Sept. 19, at Upper Crust Trattoria (7 p.m.; all ages; $10). According to bio materials, "Rebecca Loebe is a laid-back award-winning indie-folk singer from Atlanta, GA. Since quitting her job as a full-time recording studio engineer in 2006, she has performed 100+ shows per year at colleges, coffeehouses, and theaters in over 30 states of the US and in Europe. In the spring of 2011, her performance on the US premiere of The Voice impressed celebrity coaches Christina Aguilera and Adam Levine, prompting them both to ask her to work with them."
PHOTO COURTESY OFREBECCA LOEBE
THE VOICE : Rebecca Loebe appeared on the show The Voice, and on Sept. 19 she'll play the Upper Crust Trattoria.
D'Anbino to the rescue!
D'Anbino's Tasting Room has all your musical needs covered for the week.
Slim Man plays Thursday, Sept. 13, from 8 to 10:30 p.m. He's a pop-jazz singer-songwriter with a vocal quality that has gained him recognition as a male Sade.
Unfinished Business will deliver the best in '60s rock, R&B, and soul on Friday, Sept. 14, when they play from 8 to 10:30 p.m. Dance to the hits of yesteryear, and enjoy some great wine and appetizers! If you love the Animals, Beatles, Beach Boys, Rolling Stones, and Zombies, you'll love this show.
The No Egos Amigos play on Saturday, Sept. 15, from 8 to 10:30 p.m. Adam Levine (guitar) and Brett Mitchell (piano) of Human Nation will be joined by Mike Swan on bass to perform standard jazz and pop tunes from the 1920s through the 1980s as well as some original compositions.
The phat-sounding Royal Garden Swing Orchestra plays on Sunday, Sept. 16, from 2 to 4:30 p.m., bringing you the best in swing music from the golden era. Bring your dancing shoes. Admission for each show is $10 ($5 for Record Club members).
More music …
Jon Hogan and Maria Moss play the Frog and Peach on Thursday, Sept. 13. Maria wrote to say, "I was a reporter for a long time before I was a full-time guitar player, and having been on the other side of the 'please cover my band' equation, I'm terrible at flackery. But as we tour, we hear increasingly that we are pretty genuinely newsworthy. So there you go. My pitch. Please have a look. We play scorch folk, which is what we call this mix of old-time Appalachian, mid-century-sounding originals and combustible covers of Townes Van Zandt and James McMurtry. Some people say 'Gillian Welch and Dave Rawlings meet the White Stripes.'" They have a propulsive, jangly, old timey sound, so if you're a Red Barn Concert Series fan, head into SLO and check these guys out!
To open its season, Cuesta Performing Arts proudly presents the Cuesta Music Faculty in concert on Friday, Sept. 14, at 7:30 p.m. The highly acclaimed faculty will give its annual concert to benefit the music student scholarship fund, presenting a variety of musical styles including jazz, classical, and folk. The concert features vocalists John Knutson, Jumi Kim, Marcy Irving, and Cassandra Tarantino, pianist Idona Cabrinha, guitarists Jeff Miley and Jennifer Martin, and instrumentalists Ron McCarley, Aaron Wolf, Dave Becker, Darrell Voss, and Ken Hustad. Tickets are only $12 general or $7 seniors and students, and are available at cpactickets.cuesta.edu and at the door. Parking is free at the beautiful and acoustically superior CPAC.
Minneapolis-based acoustic musician Paul Doffing is touring the United States by bike this summer. "I'll be making a stop in San Luis Obispo and playing Linnaea's Café at 8 p.m. on Friday, Sept. 14," wrote the independent artist, who calls his 5,500-mile adventure the "Freedom From Fuel Tour." Touring on a bicycle to promote alternative transportation, he hopes to inform people about climate science, encourage people to get on their bikes, and to reduce their own dependence on fossil fuels. You'll get extra credit for riding your bike to his show!
Check out reggae-infused ZuhG when they play a couple shows, starting Friday, Sept. 14, at Cambria Pines Lodge at 9 p.m. and then on Saturday, Sept. 15, at noon at the Cliffs. These guys are extra groovy, baby.
Border Radio plays the next Música Del Río House Concert in Atascadero on Saturday, Sept. 15, at 7:30 p.m. Considered one of the most "out there" Americana acts in California, Border Radio roams the dial of Americana, from a bluegrass drive through lush ballads to dustbowl swing. For information and reservations, call 466-6941 or visit musicadelrio.org. Reservations are required. Tickets
are $15.
The Shival Experience, Shameless, and Bobby Santa Cruz and the Mystics will play the Annual Morro Bay Avocado & Margarita Festival on the Embarcadero on Saturday and Sunday, Sept. 15 (11 a.m. to 6 p.m.) and 16 (11 a.m. to 3 p.m.). Enjoy the best California avocados in all variations of culinary delights, as well as refreshing margaritas, beer, local wines, specialty foods, live entertainment, arts and crafts vendors, and fun contests. The event entry fee is $1 per person!
Lastly, Jameson, a singer-songwriter from Santa Ana, plays Frog and Peach on Tuesday, Sept. 18, at 8 p.m. to share songs such as "You Can't Drink Once You're Dead" and "I Don't Love You (I Just Want You)." ∆
Keep up with Glen Starkey via twitter at twitter.com/glenstarkey, friend him at facebook.com/glenstarkey or myspace.com/glenstarkey, or contact him at gstarkey@newtimesslo.com.