Like the dwindling populations of Amazonian tribes clinging to an ancient way of life or the critically endangered Amur leopard of northeast China (last count, just 60 remained in the wild), working cowboys—the real icons of the American West—may be facing down their final days.
Wyoming photographer Adam Jahiel accepts this harsh truth with an astounding level of grace; his photographs are one part documentary, one part love letter to this dying breed of human. His photographic exhibit, The Last Cowboy, runs through Nov. 27 at Studios on the Park in Paso Robles.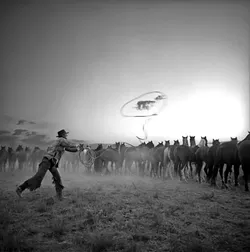 IMAGE COURTESY OF ADAM JAHIEL
INTO THE DUST: Cowboys are going the way of the dinosaur. Good thing Wyoming photographer Adam Jahiel is snapping photos of their daily lives, teepees and lassos included.
One look at his photos—stark, black and white images of stoic Western life—might lead you to think the photographer grew up a rancher's son. In truth, Jahiel grew up in Illinois, the son of an amature photographer. He spent hours in the basement darkroom fiddling around with chemicals and exposures, and eventually got his degree in commercial photography from the U.C. Santa Barbara.
A stint photographing in Los Angeles brought all the glitz, glamor, and beautiful bodies one might expect, but Jahiel wasn't satisfied. Adventure called, so he obliged, accepting a job as a still photographer for the 1987 expedition of the famous fallen ship, the Titanic.
"I wandered around the North Atlantic for a few months and got to go down in a submarine and see the Titanic myself," Jahiel said. "When I got back from that, I did a semester at sea program. We went around the world."
You'd think all of this exotic wonderment would lead Jahiel to settle on some sandy beach—not America's rural heartland. But that's where the artist found his truth. These were real Americans living their lives.
"Documentary photography has always really fascinated me—Dorothea Lange, Walker Evans, and their Depression-era work for the Farm Security Administration," he said. "I loved the imagery but also loved the fact that it addressed these subjects' humanity. It rubbed off on me in a big way."
IMAGE COURTESY OF ADAM JAHIEL
You can see glimpses of removed, documentary style in the photographer's depiction of working cowboys roping cattle or sleeping under the stars. Jahiel said he first fell in love with the cowboy subject after completing an assignment for The Sacramento Bee back in '89. He was sent out to the California-Nevada border—which, if you ask some city people—is a lot like stepping onto another planet.
"I stopped and had coffee in a cowboy cookhouse; I looked around and everything was really simple, plain and spare. It was whitewash and wood," Jahiel said. "I felt like I had stepped into one of those old black and white Farm Security pictures."
From that day forward, the photographer traveled from ranch to ranch, gathering modern images of what felt like a bygone era.
"These guys are super nomadic. They live in their teepees out in the desert and go from cow camp to cow camp. They don't finish work, come home, and turn on the microwave and color TV. It's almost like going back into history."
Much cowboy work hadn't changed for more than 100 years. The truth is, it still hasn't. The real change is due to the fact that open spaces are becoming scarce.
"When I started out, there were a number of large ranches with fairly decent sized crews, maybe a dozen people. Over the years, they got smaller and smaller, some have gone out of business. Some, instead of a crew of 12, have a guy and his wife and a couple kids and maybe some friends that have real jobs that come out for the weekend to play cowboy," Jahiel said.
AIN'T NO DOG AND PONY SHOW: Catch The Last Cowboy at Studios on the Park through Nov. 27. Studios on the Park is located at 1130 Pine St. in downtown Paso Robles. For more information, go to studiosonthepark.org. You can check out more of Adam Jahiel's photography at adamjahiel.com.
The artist's photos, like one image that depicts a lone cowboy throwing a lasso toward a group of horses—his rope inadvertently framing a solitary black cloud in the pre-dawn sky—say more about the future of cowboy culture than words ever can.
"The whole disappearing cowboy thing is sort of a cliché," Jahiel said. "But the thing is, it's true."
Hayley Thomas Cain is filling in for Ryah Cooley and loving every cowboy hat and farm dog that comes with the territory. She can be reached at hthomas@newtimesslo.com.