Six years ago, a new town arose from the sulky fantasies of an angst-ridden parent watching her daughter transition from childhood to adolescence. The borough was called Mushroomville, a matriarchal community where mothers could put aside their shoes and housekeeping duties and focus upon the task of teaching survival tactics to their daughters.
Leigh Barbier's representation of motherhood is far from sugarcoated, populated by figures sporting double buns that frame lined faces in lieu of the more traditional halo-clad Madonnas. Her vision—a boulder and crag-ridden wasteland that both inverts and re-imagines Arcadia—will be viewable at the Cuesta College Art Gallery Nov. 7 through Dec. 12.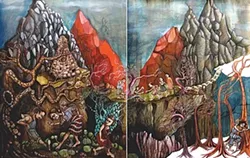 IMAGE BY LEIGH BARBIER
THE VALLEY OF DECISION AND TRADE :
In the artist's initial trek into Mushroomville, a woman sits beneath a mammoth mushroom, awaiting the bus. To this day Barbier's not certain how or why the mushroom materialized, citing the fact that artists can imbibe influence and inspiration from the most innocuous of occurrences and sights, often without realizing it. But mushrooms became the perfect metaphor for the natural world, existing as dual representations for danger and sustenance, the bedrock of a new landscape where she could stash unresolved emotions.
"I felt really overwhelmed because it feels like there's pressure on women to do everything—work, stay in shape, be a good mom," she explained. "I think I've just become overwhelmed by the complexity of our life, so Mushroomville was a place where I could take the pressure off myself."
Just as the mushrooms seemed to spring from her subconscious, the twin-bun hairdos—which
Barbier refers to as "squash-blossom whorls"—have no concrete significance. But Barbier's career as a digital painter in the film industry might have influenced Mushroomville's hairstyle of choice (the coiffure was made famous by Princess Leah, after all). She also suspects that movies—particularly westerns and war flicks—had something to do with the fact that Mushroomville emerged as a single-gender society. The decision to create a world without men was not a deliberate one, but Barbier points out the fact that women are frequently absent from certain film genres.
"It irritated me that there was a strong narrative without women," she admitted. "But there is something about simplifying culture by taking one gender out of it."
As her work continues to evolve, male figures are beginning to appear with increased frequency. She even created Sugar Hill, a neighboring town where the men live. After six years of habitation, Mushroomville has changed in other ways as well. Barbier works from a small studio in San Francisco, which limits the scale of her work but as she matures as an artist, she finds herself spinning increasingly complicated narratives. Whereas her images were once dominated by as few as one or two figures, her more recent pieces sometimes have more than a dozen. She compares the shift in viewer perspective to that of a movie that commences with a focused plot before expanding to reveal other narratives and perspectives.
While Barbier's tales of Mushroomville have an undeniably linear quality—in one image a child is kidnapped and in the next one of the mothers travels to Clown Town for assistance recovering the child—she doesn't want to force this story upon the viewer. Nor does she want the individual works to be subsumed by the collective narrative thread.
Until recently Barbier's figures remained nameless but the last three featured a character called Simone. Along with Simone and the arrival of the men, Mushroomville has begun to blossom with unaccustomed color in the past year. While Barbier refined her technique her pieces were entirely comprised of shades of gray and murky beige, but in recent years she has begun to wield wilder hues, among them nearly violent shades of orange, red, turquoise, and pink to punctuate her earthier palette. After a five-year color drought, Barbier insists that she doesn't follow any particular rules when choosing colors. Instead, she grants herself complete creative license, dramatically altering the scape of her rural community and heightening both the threatening and fairytale undertones of her work.
While Barbier's work is unlikely to be confused with that of any other artist—it's simply that distinctive—she freely acknowledges that other artists have played a great role in shaping her style. In particular she credits the muralists affiliated with the Mexican Revolution, along with Thomas Hart Benton, Paula Rego, and religious art, adding, "A lot of times you just create your style out of pure envy."
Working part-time, Barbier has one foot in the professional world and another in a realm dominated by stay-at-home parents. Her ability to juggle these multiple roles is reflected in the fact that her works are simultaneously enchanted and rife with peril. Except that the danger that lurks around the trees and precipices of Mushroomville don't assume the classical fairytale forms she tends to draw her monsters from real-life terrors.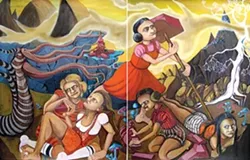 IMAGE BY LEIGH BARBIER
INDUSTRY AND CONTEMPLATION UNDER THE YELLOWING SKY :
"The world is both very dark and a very bright and beautiful place to me," explained Barbier. "I totally believe in the power of love and perhaps it can conquer all but there is no denying the darker elements that swim beside us every day. I feel strongly that by acknowledging or giving image or humor or perspective to these elements we can feel like we are being held safely in the dark."
INFOBOX: M-ville
Mushroomville: Leigh Barbier, Works on Paper will be on display Nov. 7 through Dec. 12 at the Cuesta College Art Gallery. An opening reception and talk with the artist will take place Nov. 7 at 5 p.m. in room 7120 of the Art Department with a reception from 6 to 8 p.m. at the gallery.
---
Arts Editor Ashley Schwellenbach eats hills of sugar for dinner. Send insulin to aschwellenbach@newtimesslo.com.