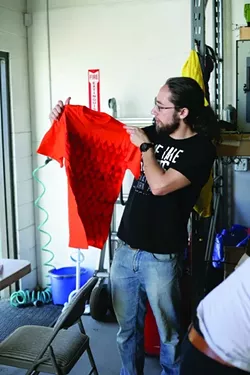 PHOTO BY GLEN STARKEY
THE HENCHMAN: Argent Data Systems employee Igor Dulkin shows off a T-shirt he decorated using an airbrush.
It's Saturday, Jan. 18, and I'm in Santa Maria, walking into a non-descript warehouse space on W. Betteravia Road. The place is abuzz with activity. Some gals are hula hooping outside with lighted hoops. A bunch of kids are painting on T-shirts under a pop-up in the parking lot. Many more people are gathered around tables painting, working on leather, on laptops hooked to sewing machines. A group of three teenagers are using a computer and controllers to navigate a rolling robotic six-wheel car through the warehouse. They've gathered here to make stuff, and they're part of a recent trend called "makers."
The makers movement is basically an extension of the DIY (do it yourself) culture. It's frequently focused on engineering-oriented pursuits like electronics, robotics, and CNC (computer numerical control) tools as well as traditional activities such as woodworking, metalworking, and arts and crafts like painting, weaving, sculpture, and more. Usually the idea is to share expertise and equipment with likeminded individuals.
The first person I meet at the Argent Data Systems workshop is a guy named Igor Dulkin, who's using an airbrush to create what looks like red dragon scales on an orange shirt. It turns out Igor is an employee at Argent.
"What's your title here?" I ask.
"Henchman," he casually responds
Hmm. A henchman named Igor? Sounds vaguely familiar.
PHOTO BY GLEN STARKEY
MAKERS: A group of do-it-yourselfers gathers around a worktable to share their skills.
"Scott Miller is the owner of the company," says Igor. "We build amateur radio electronics and toys for ham radio hobbyists, GPS trackers, that sort of stuff. We just decided to open up the shop and invite people over to make whatever they want."
This is their second Makers Day, and Igor says they'd like to do it two or three times a year.
Then I meet Scott Miller, who explains how his business started about five years ago when he designed a ham radio kit and electronic board for himself and made a few extra, which he sold online. Now they've shipped their products to 80 countries around the world and to all five continents, "including Antarctica," adds Scott.
"This is a real mad scientist workshop you've got here," I say.
"People have been calling me a mad scientist since I was a kid," he reveals.
His nerd roots clearly run deep. He first opened up his space last year to friends, but this time he put an invite out on Facebook and let friends invite friends.
PHOTO BY GLEN STARKEY
PICK A PATTERN: A woman examines the interface between a computer and a sewing machine.
"I wanted to open it up a little more this year," says Scott. "I figured anyone who could find out about it was welcome to come."
He even put a little sign out by the street, but "it wasn't very big because our vinyl cutter can't make letters any bigger," he said.
His dream is to find others like him who might collaborate on a shared makers space, but for now the best he can do is share his shop that's already packed with stuff not directly related to his business.
"I'd love to get a laser cutter," he says. "You can do all kinds of stuff with that."
Scott also does stuff with high altitude balloons, and in the last few years he's gotten into the Burning Man scene. In fact, he's got a telescope he set up to show the scene at the 2011 Burning Man.
"We set up three Go-Pros on tripods in the playa, and they sat there all week to record. Then I took the video and basically stitched it together and created software."
You look through the eyepiece, and it can turn 360 degrees and show the whole scene, and even tilt up and down. Clever!
Meanwhile in San Luis Obispo, another group is also showing off their new makers space called SLO MakerSpace, located at 3988 Short St., Suite 100, which is set to open on Feb. 1 (learn more at slomakerspace.com).
PHOTO BY GLEN STARKEY
THE MAD SCIENTIST: Scott Miller (center) owns Argent Data Systems and opened up his workspace on Jan. 18 for people to come use his equipment to make stuff.
Run like a cooperative, SLO MakerSpace members will pay a monthly membership fee that will give them access to the well-stocked workshop. Safety courses will be required to use many of the more dangerous machines. Using other machines may require extra skill classes for additional costs.
The philosophy is simple: Makers share resources and skills in an informal, peer-led environment. Want to learn a new skill? Got a project you want to do, but don't yet have the know-how or the tools? Become a maker!
Glen Starkey takes a beating and keeps on bleating. Keep up with him via twitter at twitter.com/glenstarkey, friend him at facebook.com/glenstarkey or myspace.com/glenstarkey, or contact him at gstarkey@newtimesslo.com.