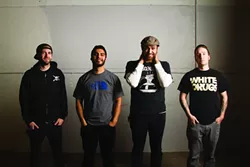 PHOTO COURTESY OF THE MIGHTY FINE
PUNK NUGGETS!: Local pop punk act The Mighty Fine (pictured) will release their new album Brothers & Smugglers when they open for The Ataris on March 3 at SLO Brew.
Local punk rock act The Mighty Fine is about to drop some wax on your ass. Yes, I mean vinyl, as in a big flat shiny record! So retro! Titled Brothers & Smugglers, the album kicks off with opening track "Into the Clouds," a soaring pop punk anthem in the tradition of NOFX or Bad Religion, though the band names The Descendents, Jawbreaker, and Hot Water Music as inspiration.
The album is full of these tight, hooky little punk nuggets, songs that are instantly listenable thanks to lead singer Brook Thompson's earnest voice and the harmony background choruses that make these songs such foot-stomping, head-bobbing fun. It doesn't hurt that these musicians are tight and inventive players.
The group formed in 2008 with Thompson (vocals/guitar), Casey Wieber (guitar/vocals), Mike Castillo (bass/vocals), and Chris Scott (drums), and they already have two previous albums to their credit. This third one was recorded in 2013 in North Hollywood with producer Kyle Black (Strung Out, Set Your Goals, Comeback Kid).
The songs are the kind of sing-along friendly punk power anthems that have come out of the No Idea/Epitaph label factory over the past 20 years. If that's your thing—and it's definitely my flavor of punk—don't miss picking up a copy of the album, which will also be available on CD and digital format for those of you without turntables (sad face).
PHOTO COURTESY OF THE ATARIS
THE ATARIS RETURN!: Back together for the first time in a decade, The Ataris will play their million-selling hit album So Long, Astoria from start to finish on March 3 at SLO Brew.
The Mighty Fine opens for The Ataris and Versus the World on Monday, March 3, at SLO Brew for their "So Long, Astoria" reunion tour (7:30 p.m.; all ages; $16 presale or $18 at the door).
And yeah, The Ataris! This marks their first time back together in a decade with the original line-up that first formed in 1996, and they'll be playing their million-selling album So Long, Astoria in its entirety from start to finish, for one tour only!
That record was released 10 years ago and catapulted the band to international stardom, selling over a million copies and garnering massive radio hits like "In this Diary," "The Saddest Song," and their iconic cover of Don Henley's "Boys of Summer," which is still heard daily on rock radio stations across the U.S.
Check out the SLO Brew website (slobrewingco.com) for info on their rest of this week's line-up, which includes Klaypex on Thursday, Feb. 27; Jackie Greene on Friday, Feb. 28; Y & T on Saturday, March 1; Common Kings on Tuesday, March 4; and local act and New Times Music Awards winner The Monroe on Thursday, March 6,for their first SLO Brew headlining show! You go, Monroe!
Be charmed!
Mary Anne Anderson's charmingly sparse, playful, and emotive new album Rendezvous features a dozen songs presented simply with Anderson's clear, elastic voice and Doug MacDonald's bright, crisp guitar work. Drawing from jazz traditions with a heavy nod to French chansons, the album delivers lovely takes on classics such as "Azure-te (Paris Blues)," "L'Amour Est Bien Plus Fort Que Nous," "Rust the Moon," "It Might as Well Be Spring/ C'est La Printemps," and "My One and Only Love," a tribute to Anderson's husband Ames.
IMAGE COURTESY OF MARY ANNE ANDERSON
THE CHARMER!: Mary Anne Anderson will release her terrific new jazz and French chansons album Rendezvous on Feb. 28 at Painted Sky Studios in Harmony.
In the liner notes, Anderson recalls a childhood filled with her mother's Big Band records and coffee table performances "for me to stand on and sing my songs, embellished with bows, curtseys, and pirouettes.
"I suppose it's what I was always meant to do," she added.
She's clearly a born singer, and while there's nothing glitzy or overproduced about this album, it's a beautifully simple, utterly charming collection of sentimental songs sung without guile. There are even a few originals, my favorite being "I'm Simply Goo Goo Gaa Gaa Over You."
Anderson and her "Joe Pass" Doug MacDonald will present a CD release party this Friday, Feb. 28, at Painted Sky Studios, where their album was recorded (8 p.m.; call 927-8330 for tickets and reservations).
"We had to take a break when the cows were mooing in the pasture," Anderson recalled. And that's pretty charming too.
Laissez Bon Temps Rouler!
Mardi Gras in SLO may have been beaten down by The Man, but the party continues … just in a smaller way with a lot fewer too-young, too-immature, out-of-town D-bags who ruined the parade.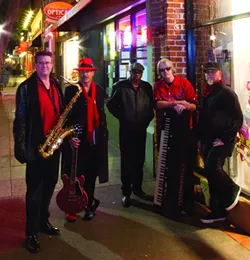 PHOTO BY DEAN SULLIVAN
NOLO STYLE!: Burning James & The Funky Flames play March 1 for the 2nd Annual Mardi Gras Masquerade Ball at the historic King David Masonic Lodge in SLO.
On Saturday, March 1, Burning James and the Funky Flames will be throwing down the NOLO-sounds when they join with their funky food partners at Bon Temps Creole Café to host the 2nd Annual Mardi Gras Masquerade Ball at the historic King David Masonic Lodge in SLO.
This fantastic, super fun event is a fundraiser for KCBX Radio and features Creole vittles, a no-host bar, colorful revelers, and funky good times.
Tickets are $25 in advance and $30 at the door (but I doubt there will be any left! They sold out last year!). Buy them at Bon Temps or online at burningjames.com. Doors open at 6:30 p.m.
"Carol Woode will be coming to join us on some lady soul pyrotechnics again," gushed Burning James. "Pianoman Brent Dannells will perform a half hour set of New Orleans piano favorites starting at 6:45 p.m. He'll also do a second 15-minute piano set in the ladies lounge in between the first and second sets. Brent is the keyboardist in Dr. Danger, the local SLO blues-soul-rock faves. Also, Joe Pilloud, the debonaire front man of Big Daddy's Blues Band and now also the Stratatones will also be on hand for a guest appearance. And of course the Funky Flames will be setting this historic building 'on fiyo' all night! It's going to be a part-tay ya'll."

Boys will be boys!
The first thing you need to know about The AJM Band is that, yes, they freakin' rock. This seasoned trio eschews trend for tradition, delivering blistering rock and blues tracks. "Monday Morning Blues/Dirty Boots," the opening track on their third album, Boys Will Be Boys, isn't a mash-up of Mississippi John Hurt's "Monday Morning Blues" and Sonic Youth's "Dirty Boots." Instead it's an original rocker that starts with some wicked slide guitar and then sounds like a lost anthem from an unknown AC/DC album.
PHOTO COURTESY OF THE AJM BAND
ROCKERS!: Kickass rock trio The AJM Band releases their new album at Shaw's Steakhouse and Tavern in Santa Maria on March 1. Worth the drive!
The album's title track is in the lyrical tradition of Thin Lizzy's "The Boys Are Back in Town," which brings me to the album's packaging that features a little boy on a rocket-propelled razor scooter on the cover and a woman's daisy-duke-clad derrière on the back. Inside is a photo of three boys peering over a fence with a sign that reads "Clothing not required beyond this point," while on the other side is a trio of images of the band, drummer Frank Alsing and bassist Darrell Sisco, who also provide backing vocals, and guitarist and lead singer Andrew Jay Magnuson. Yes, these guys have their tongues firmly planted in their cheeks. They might be serious about music, but their music is about fun.
And it's not all pedal-to-the-metal rockers, as witnessed by the smoldering blues sounds of the album's only cover, B.B. King's "Sweet Little Angel." But most of the tracks are ripping, guitar-driven rockers.
The album has already found an audience online.
"We're delighted our new songs are resonating with both rock and blues lovers," said Magnuson, "The Amazon numbers and recent growth in our fanbase on Facebook indicates we're doing something right."
Their upcoming album release party is a little out of our area, at Shaw's Steakhouse and Tavern in Santa Maria on Saturday, March 1, but these guys are worth the drive. They'll play songs off their record as well as popular blues and rock hits.
Keep up with Glen Starkey via twitter at twitter.com/glenstarkey, friend him at facebook.com/glenstarkey or myspace.com/glenstarkey, or contact him at gstarkey@newtimesslo.com.