In my first job as a professional cook I fried bacon and eggs and made old-fashioned sandwiches in a little breakfast and lunch café in the Bay Area. I didn't stay there long but afterward totally lost my appetite for sandwiches, which lasted many years (I must have hated that job and I know it didn't pay).
PHOTO BY STEVE E. MILLER
NUTTILY DELICIOUS : Homemade, award winning (MidState Fair) peanut butter cookies made by Lynn Copsey make for a great dessert snack.
While it's true the sandwich is the namesake of John Montagu, 4th Earl of Sandwich, did you know that the term sandwich includes tacos, burritos, and pizza? The use of bread to carry food to the mouth has existed since Europe's Middle Ages when silverware, plates, and drinking cups were only used by men of the highest rank, according to Food in History by Raey Tannahill.
"Other people ate in pairs, one 'cover' meaning a serving for two. Each diner, however, had his own trencher, unleavened bread measuring about six inches by four. This acted like an absorbent plate." I love the ultimate convenience food now: You can get totally creative while mixing meats and cheeses with veggies and savory spreads, not to mention toothsome full grain breads, and it's easily eaten out of hand. There is one other thing I really like about the sandwich: It's not that difficult to find a decent deli.
When the Moose Deli & Brew opened in Pismo Beach I waited a while to check it out, giving them a chance to work out the kinks. It ended up a nine-month wait, according to owners and operators, Amy Dillinger and Kevin Medici. They have already been open that long in the little café, formerly a Utopia Bakery outlet. Any new eatery needs some time to work on the menu before any professional should review them, and when I finally arrived I was pleased. The veggie sandwich was highly recommended as an excellent choice so I tried it.
It's a textural blend that includes hummus, balsamic vinaigrette, sprouts, lettuce, cucumber, tomato, carrots, red onion, avocado, pickles, and Havarti cheese on toasted whole wheat sliced bread ($6.95). I truly enjoyed the freshness of the veggies, the flavor combination, and the delightful crunch. I must admit I wasn't thrilled over the bread. Although it was the full grain style I prefer, it tasted stale. When I returned later to talk with Dillinger and Medici I discovered why—they store breads in the refrigerated case. That's the worst way to store any bread as refrigeration dries it out. It's better to freeze the bread and place it frozen in the toaster to brown.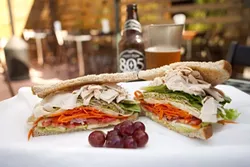 PHOTO BY STEVE E. MILLER
VEGGIE PILE : A featured sandwich is the Veggie with Turkey and it's as delicious as it looks.
My next visit I found the whole wheat bread much fresher. I had an appointment with a winemaker at Tastes of the Valleys Pismo, but I was starving for something good to eat. Fortunately the Moose is right across the street so I ran over and ordered several sandwiches. Not only did they cut them into easily shared portions, they delivered them to the wine shop (as they always do). We all praised the Moose for the tasty combos and the quality, and I noted the excellent value of their reasonably-priced foods (especially since I paid the bill). The favorite among everyone: big bear's hot pastrami with Swiss cheese, pickles, pepperoncini, and mustard, on a French roll grilled panini style ($6.95). The back of the menu offers guests a "build your own brilliance" with lists of the available Boar's Head meats, cheeses, breads, condiments, and veggies.
Dillinger was formerly a police officer in the Las Vegas parole and probation department who retired after nine years. "You get tired of carrying a 30-pound police duty belt on your hips every day," she admitted. Her sister Liz married Medici who spent seven years at Woodstock's in SLO as assistant manager. While living in L.A. he worked as a script coordinator for the popular TV series, Big Love. The deli partners said that they get along "great" and that motivated them to open the Moose. With Medici's restaurant experience about which he noted: "I've been eating pizza and sandwiches every day for a long time," it made it easier for them to get the business started. The only dessert they carry is a package of two peanut butter cookies ($1.00), hand-made by Dillinger's father, Lynn Copsey. Over the past two years he won second place at the Mid-State Fair for his cookies. They are the best I've had since my Gramma made peanut butter cookies when I was a kid. Medici said candidly: "I don't like peanut butter but I love those things."
PHOTO BY STEVE E. MILLER
MEESES? : Owners Amy Dillinger and Kevin Medici pose with a giant spraypainted moose mural created by Adam Moorhead of Southern California.
Dillinger explained that they created their "brilliant sandwiches" (it's on the menu) by experimenting with sandwich combinations at home and taste-testing them on their family to see which ones everyone preferred. "We didn't want to go for the traditional sandwiches, we just wanted what tasted best," Dillinger said of their sandwich wizardry. "We get everything in fresh, the Boar's Head meats, the cheeses which come from different companies, and we make the hummus," explained Medici who said he uses the word "brilliant" because it's common among announcers describing English soccer. "If you have a great sandwich you're happy and you leave happy," he added, "And word of mouth does a lot to help bring people in."
The Moose has a small patio where you can eat, and they deliver orders when possible. They carry a value-priced white and red wine from different producers, but the beer selection offers more choice. Although they named it a deli and brew they don't make beer. Medici said, "We're constantly changing beers trying to see what people like. If people ask for something, we try to get it." They stick to quality in everything from sandwich ingredients to beverages. I liked the Moose for reasonably-priced foods and knowing it's run by owners who go out of their way to keep their customers happy.
Contact New Times' Cuisine columnist at khardesty@newtimesslo.com.