The sun is beating down on Sunday, July 16, and we're only an hour or so into hiking the North Dome trail in Yosemite National Park.
This trip has been in the making since mid-March, when I woke up early to book our campsite as soon as reservations opened up for July. About 30 minutes of furious clicking later, all the sites were booked for the season, but I managed to score a spot in Hodgdon Meadow for me and my friends Zahara, Max, and Kyle for three nights. What I failed to do is enter us into the seasonal lottery to hike the park's most popular day hike, Half Dome, which left us at the mercy of the daily lottery. The odds weren't in our favor, but North Dome is hardly a lackluster consolation prize.
Photo By Ryah Cooley
HALF VIA NORTH While we didn't get to hike the coveted Half Dome trail, we did get a great view of the iconic landmark from the North Dome trail.
At about 9 miles, North Dome is a shorter trek than Half Dome, but it boasts a 500-foot elevation drop right at the end, which gives you a perfect view of its rocky sibling and a nice workout right when you turn around to head back.
Photo By Ryah Cooley
TAKE A LITTLE DIP A swim in Rainbow Pool just outside Yosemite National Park rounded out the trip.
Even though it's summer in Yosemite, the trail is nearly empty, save for a few other serious day hikers and backpackers. Delights like lime green moss crawling up giant sequoia trees and panoramic views of majestic mountains are around every corner.
We think we've gotten to the trail's end when things flatten out and we reach a breathtaking view of Half Dome, only to look down and realize that nope, there's the dreaded 500-foot elevation drop. We cautiously make our way down the steep, winding path, careful not to go sliding down the ground laden with pebbles and rocks. We reach our destination and it turns out that looking up at Half Dome is just as glorious as looking at it head on. We'll be back for you next time, ya big rock. All told, we finish the hike in about five hours, putting us solidly in the middle of the estimated four to six hours it takes finish the trek.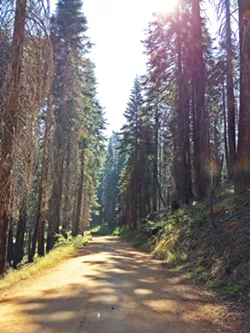 Photo By Ryah Cooley
LOOK UP There are giant sequoia trees as far as the eye can see on the trail to Tuolumne Grove.
The next day, our sore bodies are in need of something a bit mellower, so we head to the center of the park to check out the gift shop in Yosemite Village for souvenirs and catch a glimpse of spots like Bridal Veil Falls. The area is teeming with tourists just like us to the point where it feels a bit like Disneyland. I'm suddenly grateful for our campsite at the edge of the park. We're left with just a few hours of daylight after all that, so we drive just outside the park for a swim in a spot that one of the rangers turned us onto—Rainbow Pool. The place is tucked away off a main road. We walk down a shady dirt path and find a gorgeous waterfall feeding into a swimming hole. A group of locals is gamely diving in from the edge of the waterfall, and a few folks even dragged along a charcoal barbecue.
We wade into the icy water, which is refreshing. Eventually we climb over to some rocks to enjoy the view, cans of beer in hand, and I feel so happy to be here, right now, at one of the most beautiful places in the country. Δ
Ryah Cooley is unplugged at rcooley@newtimesslo.com.