PHOTO COURTESY OF COLLIE BUDDZ
THIS BUDDZ FOR YOU : International reggae star Collie Buddz brings his cannabis-centric hip hop/soca/reggae stylee to Downtown Brew on April 15.
My stripper name is Tigger Loruth (pronounced L'Ruth). Apparently, you just add the name of your first pet with the name of the street you grew up on, and voila, stripper name. I mention this not because I'm starting a new career and I want you to know about it (yeah, just try to get that mental picture out of your heads, suckers!), it's just I have this sneaking suspicion that Bermuda-based reggae star Collie Buddz' name is actually a stripper name. I mean, who names their kid after a Lassie dog and the street name for tasty marijuana nuggets?

Well, it turns out I'm half right: Collie Buddz was born Colin Harper in New Orleans. Buddz is indeed slang for cannabis. Here's the other embarrassing thing about my Collie Buddz naiveté. I've only vaguely heard of him, and yet he's been nominated for Top International Artist of the Year from the Fourth Annual Excellence in Music and Entertainment Awards. This year's other nominees are Junior Reid, Stephen Marley, Shaggy, Sean Paul, and Buju Banton, and aside from Sean Paul I have heard of them.

Buddz' style is a distinctive blend of hip-hop, soca, and reggae, and he frequently buts his voice through a special effects blender.

"Some tunes I create are just to show that I could do anything I put my mind to," he explained in his bio, "to show the versatility of my style."

Buddz' self-titled CD recently scored four out of five stars in Spin magazine. Maybe I need to get out more, like for instance shaking off the tax-day blues by hitting Downtown Brew on Wednesday, April 15 when Collie Buddz & The New Kingston Band plays a 7 p.m., 18-and-older show opened by Pep Love ($18 advance; $20 at the door). I promise to wear clothes.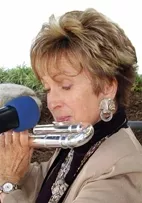 PHOTO BY ALEXANDER PAYNE
SONGBIRD : Los Angeles-based jazz singer and flutist Libbie Jo Synder joins The Pat Cormick Group on April 10 at Casa de Flores, April 11 at the SLO Down Pub; and April 12 at The Cliff's Resort and the Nipomo Presbyterian Church.
Libbie Jo blows
Popular L.A. flutist and songbird
Libbie Jo Snyder
plays a bunch of shows with the
Pat Cormick Group
this week starting with a 3 p.m. concert on
Friday, April 10
at Casa de Flores (1405 Teresa Drive, Morro Bay, 772-7372); then
Saturday, April 11
, from 7 to 10 p.m. at Arroyo Grande's SLO Down Pub; then
Sunday, April 12
, from 11 a.m. to 3 p.m. at the Cliffs Resort's Jazz Brunch at the Marisol (reservations at 772-5056); and finally a jazz service on
Sunday, April 12
, at 6 p.m. at the Nipomo Presbyterian Church (1235 N. Thompson Ave., Nipomo, 473-8059).
Snyder plays a "wide, wide, wide variety of jazz and Latin standards and originals, with a generous helping of music popular in the '60s, from Greensleeves to the Beatles," according to press materials. And the critics gush: Said Scott Yanow of L.A. Jazz Scene, "Whether taking expressive vocals or playing flute, alto flute, bass flute, or piccolo, Libbie Jo puts on a witty and entertaining show." She was named Jazz Critic's Choice by City Beat Los Angeles, and reviewer Kirk Silsbee says, "Not only does Libbie Jo Snyder's sublime flute have a vocal quality, her singing is awfully close to her playing. The weight in her timbre, the subtle vibrato, the sure-toned held notes signify that she's at one with her instrument."
Jazz fans will definitely want to hit one of these shows!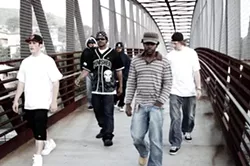 PHOTO COURTESY OF ONE
HIP HOP FLOW MASTERS : Members of the local hip hop collective ONE will represent during five upcoming shows this month: April 10 at The Z Club; April 11 at Children's Day in the Plaza; April 16 at Cal Poly's Chumash Auditorium; April 18 at the SLO Library; and April 23 at the SLO Art Center.
They're the ONE

I don't think of SLO Town as a hothouse for the cultivation of hip hop, because let's face it, our lily-white demographic coupled with a lack of venues that cater to locally grown hip-hop artists make it an uphill battle for local emcees to let the lyrics flow. But that doesn't stop them from making their own scene, which brings us to ONE.

According to James Kaye, part of a local group called ONE, "Our sound is hip hop-flow and is in tune with the local kids; however, we can still appeal to an older crowd. Our mission behind ONE is to unite people through music. We're continuing to push our influence outside the city into SLO County and beyond."

ONE has five shows this month. On Friday, April 10, be there when Kauz ONE Concepts presents Project Z, at the Z Club from 9 p.m. to 1 a.m. On Saturday, April 11, they'll bring the heat to Children's Day in the Plaza on the Mission steps at 2:40 p.m. On Thursday, April 16, ONE is part of the Cal Poly Hip Hop Congress in the Chumash Auditorium at 7 p.m. Then on next Saturday, April 18, Azz High as the Sky Promotions brings the Best of Cali Hip Hop to the SLO Library at 6:30 p.m. Finally, on Thursday, April 23, ONE Multi-Media Music Expo happens at the SLO Art Center at 7 p.m.

"We're hoping you can get a chance to come see what we can do, as well as get a feel for what other local hip hop groups are doing," added Kaye.

Come on out and see SLO's underground hip-hop scene rise to the surface.

A short history of SLO's music scene, revamped

One of my friends pointed out that I neglected to mention Loco Ranchero in my story last week about SLO music. Though on the outskirts of town in an out-of-the-way hilltop location, that club did pep up the scene considerably for a couple of years in the '90s. I was more remiss, however, in not mentioning yet another burgeoning live music venue, the Z Club, that scrappy little joint on Parker Street with the stripper pole. The neighborhood bar isn't quite downtown, and it's the kind of place people tend to forget about, but those days are over. They, too, are making a serious bid to join the live music fray.

I got schooled on the Z Club by Joe Mac of the Dirty Nails, whose band had played there.

"I was just reading the New Times with my morning coffee and I read your big story on the live music in SLO," wrote Mac. "That's cool Mother's is having live music. Maybe we'll get some more great white reggae bands or twangy Americana."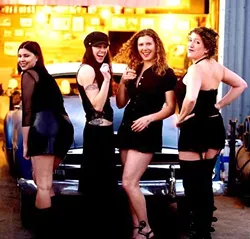 PHOTO COURTESY OF THE DIRTY PINK SLIPS
ROCK MORE, SLIP LESS : Grrl punk act The Dirty Pink Slips slip into The Z Club on April 11.
Ooo! Snap!
"I just would like to point out that the Z Club has become a music venue, and the shows for the past month have been awesome. Admittedly, it's slightly more counterculture than the Ash [Management] productions or Numbskull, but it's the hottest bands I've seen in this town, hands down. The Hollowbillies, Skykiller, Death Bear, Pennyjar, Kauseeffect, Strangefeather, and Hurts to Laugh are just some of the bands who have been kicking out rock'n'roll at the Z Club."
Ask and ye shall receive (and here's hoping the Z Club has a cabaret license and this little blurb doesn't bring the po-po down on yer arses!).
On
Saturday, April 11
, estrogen-driven punk juggernauts
The Dirty Pink Slips
and
Shival Experience
play the Z.
"I'm excited to get bands stopping through SLO that otherwise would just skip this place because they don't fit the Ash/Numbskull groove," said Mac, "and I could really use your support getting the word out."
Done and done.
Music on the 
outskirts of town
The Clubhouse continues to deliver an alluring alternative to the Downtown live music scene, but this
Saturday, April 11
they're hitting one out of the park when our own Texas transplant
Joe Koenig
brings his acoustic Texas soul to the club the same night as
Cave Country
brings it alt.country-indie rock.
Cave Country is made up of singer/songwriters Jim Reynolds and Evan apRoberts, the latter of whom attended Cal Poly. He's also been on tour with Port O'Brien recently, and he opened for another former SLO Towner turned budding superstar M. Ward.
According to Cave's bio, their "rich vocal harmonies seem to emanate from a small surf shack in San Onofre. Their 'gather-around' approach to music brings to mind images of a family band playing late at night around a warm fire beneath an old valley oak. What began 14 years ago as a collaboration of Los Angeles natives Jim Reynolds and Evan apRoberts has grown and evolved with travels ranging from Ohio to Michoacan, Mexico, up to Portland and several years in San Luis Obispo."
Even better, there's no cover charge, all ages are welcome, and the show starts early enough (7 p.m.) to not keep you out all night.
Ready to rumble!
You just missed ska-reggae-swing act
Davenport Totem
, whose members hail from SLO Town and San Francisco's East Bay, take on local experimental-prog-rock act
Criticnue
during the first stage of New Rock 107.3FM and Three Olive Vodka's Battle of the Bands at Mother's Tavern, and because New Times already went to press before the show, I don't know who won yet, but stage two happens this
Wednesday, April 15
when
Artiface
takes on alternative garage rock act
Park Layne
at 9 p.m. Upcoming battles include
Sad Lisa
versus
Machine
on
April 22
and
The Prestige
versus
The JD Project
on
April 29
. Semifinals happen on
May 6 and 13
, and the final face-off is scheduled for
May 20
. There's a $2000 purse up for grabs, so you can bet these bands have come ready to rumble! "The Three Olive Vodka girls will be on hand passing out shots and free swag, so don't miss this amazing event," said Mother's Johnny Kenny.
PHOTO COURTESY OF GUTTERMOUTH
STILL PUNKS, BUT WITH NEW T-SHIRTS : Punk rock superstars Guttermouth play Downtown Brew on April 10.
More music…
You'll get music and more when a new kind of art show comes to the Steynberg Gallery courtesy of
KCPR
—Cal Poly's non-profit, public, student run radio station—when they present Warm Up!, a night of varied art forms produced by anyone from students to faculty of Cal Poly to community members. On
Thursday, April 9
at 7 p.m., KCPR DJ Jesse Bo Widmark of SLObispo: the show! (Tuesdays at 10 a.m.) will present a DJ set and clips from the show, which focuses around strange, fascinating, and little known stories you wouldn't otherwise hear from around the Central Coast. Visual art will be on display. Community writers will read their own written works. A performance by Santa Clarita-based indie darlings Pangea will conclude the event. Admission is $4 with $1 going to help support KCPR and SLObispo: the show!
Orange County duo Billy Kernkamp & Barrett Johnson play Mother's Tavern this Thursday, April 9 at 7 p.m., the perfect time to grab a bite and hear some tunes before wandering around Farmers Market.

This Thursday, April 9, Cheap Thrills continues its foray into in-store shows with Idaho hardcore act Jument & Bonedance at 8 p.m. As always, these shows are free.

Don't forget about the DT Brew/Mother's country showdown this Thursday, April 9, when country fans will have to make a hard choice: See Reckless Kelly with opening act Micky and the Motorcars at Downtown Brew or head over to Frog and Peach and see Rancho Deluxe. Oh, hell. Just go to both!

Punk-rock superstars Guttermouth play Downtown Brew on April 10 during a 7:30 p.m., 16-and-older show ($12 presale tickets). These guys have been through hell and back, recorded about ten albums, survived alcoholism, car wrecks, weird diseases, and worse. Let them sing to you about it.

The SLO County Jazz Federation presents its annual Young Jazz Concert this Saturday, April 11, at 1 p.m. in Cuesta College's Room 7160. Hear performances and witness scholarships awarded to six outstanding musicians: Two Cal Poly students, two Cuesta students, and two students from local high schools or middle schools. The most outstanding musician will receive the $500 Matt Taylor Scholarship to honor the late Matt Taylor who was an outstanding local jazz musician. The concert is free, and it's a great chance to see some upcoming talent.

De La Bahía plays Saturday, April 11 from 8 to 10:30 p.m. at the Inn at Morro Bay. Expect Latin classics and salsa dance standards (mambos, cha chas, bossa novas, sambas, and boleros) for your dancing pleasure. The cover's $8.

Glen Starkey's not cheap, but he's on special this week. Place your orders at gstarkey@newtimesslo.com.

CD Reviews



Tosca—No Hassle
As half of the trip-hop production group Kruder & Dorfmeister, Peter Kruder has engineered enough down-tempo grooves to put flocks of fence-leaping sheep out of work. With Tosca, he rejoins his schoolmate Rupert Huber and continues producing dub-out and jazzy ambient tracks that will whisk away your troubles, sinking you by the Achilles into streams of serene mellowness. On No Hassle, their fifth studio album, Tosca merge acoustic and digital ingredients into a seamless instrumental mix. Forgoing any lead vocals for the occasional sampled voice, No Hassle is a fluid, lush soundscape that dips heavily into dub and acid-jazz, but also pulls in funky krautrock, sophisticated piano melodies, and warm live instrumentation. Yes, this is hassle-free like the title suggests, with minimal, submerged beats gracing willowy, lithe melodies that are as hypnotic as a pendular pocket watch.

Yeah Yeah Yeahs—It's Blitz!
Pushing beyond their visceral early roots of confrontation and sexually charged garage rock, the Yeah Yeah Yeahs have shifted their sound but not their bite. Guitarist Nick Zinner's aggressive riffs are mostly sidelined for layers of synthesized pulses and textures, with a drum machine often echoing the drummer Brian Chase's firepower. Instead of their previous skeletal, stripped down production, It's Blitz! is multilayered and full-sounding, gaining production assistance from TV On The Radio's David Sitek. Opening with "Zero" and continuing into "Heads Will Roll," the YYYs surge forth with a mixture of electropop and post-punk. The catchy bounce of "Soft Shock" follows the disco rhythms that bridged New Order from Joy Division. But the key still lays in Karen O's voice. She can come across as an energized live wire about to explode ("Dull Life") or fragile and vulnerable with resolve keeping erect ("Runaway"). You may miss their early spastic energy, but the YYYs have delivered a complete and accomplished third album.
—Malik Miko Thorne, of Boo Boo Records and KCBX's "Night Train."