PHOTO BY STEVE E. MILLER
IN IT TO WIN IT! : Performers will take home these custom Newtie Awards cast from "Peace Bronze," metal reclaimed from decommissioned weapons systems, and cast by Genesis Bronze.
Five will enter, but only one will leave crowned as the Best Live Performer during the 5th Annual New Times Music Awards this Thursday, Aug. 29 at SLO Brew. Who will it be?

Maybe Fialta, the band that grew out of Sherwood, the SLO-based act discovered by Tom Anderson of Myspace and signed to the Myspace label. They toured the world and released three albums before breaking up in 2012. Fialta's breezy, lush, summer sounds might wow the judges: Bruce Howard of Otter Productions, Inc.; Tim Reed of Vina Robles Amphitheatre; and Michael Antonette of New Times.

Or maybe it will be Cassidy "Taktical" Wright, a member of Public Defendaz, whose gritty, smooth rhymes have made him a local hip-hop favorite. He comes from a musical family and used his percussion skills and a Boss DR-5 drum machine and began writing rhymes. Now he's a local legend.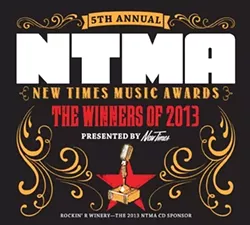 ALBUM DESIGN BY DORA MOUNTAIN
COME TO THE SHOW; GET A FREE CD! : While supplies last, everyone who attends the New Times Music Awards on Aug. 29 will take home this year's 18-track compilation CD, generously supplied by Rockin' R Winery.
Or maybe it will be The Monroe, featuring Morgan Monroe, whose exquisite voice reminds me of Lauryn Hill. Yes, she's that good. I've yet to see her live, but if her recordings are any indication, she's sure to blow the crowd away.

Of course, you can't discount rocker Travis Warren, who when Blind Melon decided to revive itself after the death of Shannon Hoon was tapped to replace Hoon as lead singer. You may recall Warren from his days fronting popular local rock act Rain Fur Rent or the duo The Lookout Kids.

Or maybe it will be dark horse Vincent Bernardy, who often plays under the name St. Vincent Folk. It's hard to explain his diverse, textured sound, but let me put it this way: He's up for awards for the Americana/folk/country genre, the rock/alternative genre, Songwriter of the Year competition, and Album of the Year.
PHOTO BY STEVE E. MILLER
WAITING FOR THE SHOW TO BEGIN : Last year's awards show was well attended, but this year promises to be even bigger! Other sponsors include Founders Community Bank, Ernie Ball, Chumash Casino Resort, The Krush 92.5FM, Pirate Radio 104.1FM, Avalon Recording Studio, Left Coast T-Shirt Company, Santa Maria Sun, and SLO Brewing Company.
In addition, as the judges are making their determination for Best Live Performance for the aforementioned artists, attendees will be treated to a short set by folk and country artist Dulcie Taylor, who's also up for Songwriter of the Year. She's a recent SLO resident but no newcomer to music, having launched her career in 2000 with her album Other Side of the Bed, which took home a Wammie (Washington Area Music Award). Will she add a Newtie to her mantle?

Other artists who will be on hand to collect their awards are Group Home Music, Erin Inglish, James Kaye, Klockwyze, Cheyenne McDonald, MC Risk, The Mother Corn Shuckers, MD 2020, Smokin Joe Pilloud, Jimmy Riggs Band, The Tipsy Gypsies, and We Were Superheroes. And you'll also find out who won the Readers Choice Award.

Come witness our amazing and diverse local music scene in action, and pay tribute to this year's winners! I'll be there to cover it all, and if you miss it, you can read all about it in next week's Art Bash! column.

Glen Starkey takes a beating and keeps on bleating. Keep up with him via twitter at twitter.com/glenstarkey, friend him at facebook.com/glenstarkey or myspace.com/glenstarkey, or contact him at gstarkey@newtimesslo.com.