A few weeks ago—no one really seems to know why—the double doors of Oddworld Inhabitants' former San Luis Obispo office were cinched together with zip ties. It was a strange homage to a video game company that built its reputation on Abe, a gawky, misshapen alien with a nasal voice and his lips sewn shut like a back-alley surgery patient.
PHOTO COURTESY OF ROB BROWN
THE INHABITANTS : When it closed, Oddworld Inhabitants employed about 70 people. This photo was used as a promotion for the team's third game, Munch's Oddysee, released in 2001.
Oddworld Inhabitants was that one company everyone remembers for its weird characters and slapstick sense of humor. It was also the company that left a lot of questions in its wake, the biggest of which is simple: What happened to Oddworld?
In April 2005, the company officially shut the double doors of its office between two main downtown arteries. Oddworld Inhabitants pumped out four games while in SLO, spanning almost a decade of video game development as the industry was beginning to make the leap into mainstream culture on par with major Hollywood movies.
At the end of this month, one of the company's most beloved titles is scheduled to be re-released, but it's being put together by an entirely different development team in another country.
More than six years after Oddworld Inhabitants' office closed in SLO, the laminate sign displaying the company's name remains on the doors facing Higuera Street. It's showing its age, the letters fading, and some parts peeling away from the glass. Anyone who walks by the doors might wonder, "Oh yeah, what happened to them? Are they ever going to come back?"
The short answer is no, Oddworld Inhabitants won't be coming back to SLO. The longer answer to the question of what happened to Oddworld is almost as strange as the name itself.
The oddysee
Oddworld Inhabitants was the unabashedly optimistic foray of a long-haired, crazed writer, Lorne Lanning, dragging his business savvy partner, Sherry McKenna, practically kicking and screaming into the world of video games.
When Lanning told McKenna his idea for the story of Oddworld, originally conceived as a quintology set on another planet full of vaguely reptilian aliens, she said "it broke my heart."
"I said, 'We should make a movie,'" McKenna, now the CEO of Oddworld and the newly formed company Xmobb, remembers telling Lanning. "And he goes, 'No, we're going to make five video games.' And I go, 'No, no, no.'"
That was 1991. McKenna and Lanning—who couldn't talk to New Times for this story due to a pending software launch—were both working at Rhythm & Hues at the time, a visual effects company based in the heart of Southern California film country. McKenna's background is in special effects houses. Ever been on the Back to the Future ride at Universal Studios? That's one of hers.
"We were working on a motion-based-ride film for Universal for Japan, and Lorne started talking to me about the fact that video games were going to take over, and I said, 'Well, what's a video game?'"
Remember, this was when video games were beginning to cross into the territory of big guns, blood, and general machismo. McKenna remembers watching Lanning and his friends at Rhythm & Hues play games like Doom at work.
"And I'm going, 'This is fucked up man.' It's all violent and killing. This is just stupid," she said. "I'd say to the folks, 'Stop playing that damn game and get to work.'"
But Lanning convinced her to jump on board his crazy idea to split off and start making games. The deal was that she'd go along, but he had to come up with the start-up money.
"I have no idea, but he got $3.5 million," McKenna said.
Their financial backer was a guy named Gary Vickers, a Colorado businessman who agreed to fund Lanning's project on one condition: They had to come up to San Luis Obispo. Actually, they originally had to move to Los Osos where Vickers already had a studio called Alexandria.
IMAGES COURTESY OF ODDWORLD INHABITANTS AND JUST ADD WATER
"And I was very concerned because most of the animation talent is in L.A. or San Francisco," McKenna said. "And it was literally me and Lorne going, 'OK, now we've got to make a video game company.'"
McKenna and Lanning officially formed Oddworld Inhabitants in 1994. The company first stationed itself next to Alexandria in Los Osos, which is now a strip mall, but soon moved its office to downtown SLO, into 15,000 square feet of concave walls and red brick above the Ross department store between Higuera and Monterey streets.
They immediately began working on the first game: Abe's Oddysee. The story centered on Abe—a gangly alien with stitched lips. It looks like a chameleon might if it strapped on a loincloth and began walking upright. From the beginning, the fictional universe of Oddworld has been steeped in metaphors of corporate corruption, pollution, and consumerism.
McKenna and Lanning began working on the game in 1995 and spent the better part of three years developing it for the original Playstation. They unveiled their work in 1997 at the Electronic Entertainment Expo, or E3.
Everything was set, with a theater for them to display Abe behind closed doors.
No one came.
"'This is a total disaster,'" McKenna remembers thinking.
They had an unknown franchise from a brand-new company with a character who didn't carry a gun and had about as much machismo as a pack of mayonnaise.
"Abe was based on empathy as opposed to aggression," McKenna said.
After a while, a few people started to trickle into the theater, and the team went for lunch. When they came back, the line was around the corner.
"Thank God for word of mouth," McKenna said. "… The reception to Abe's Oddysee was just mind-blowing; we couldn't believe it."
The game sold so well, the team's publisher asked them for a sequel, which they never planned on doing—at least not in the original five-game plan.
This was Oddworld's heyday. Abe was considered by some to be an unofficial mascot for the Playstation. He even made the cover of WIRED magazine.
"To me, these are my children, and I mean that, " McKenna said. "I love Abe. When he came out on the cover of WIRED, it was like my child has graduated!"
It wouldn't be until the next game—part two of the quintology—that some chinks started showing in Oddworld's armor.
The exoddus
Gamers are a fickle and possessive bunch.
At the tail end of the last century, Sony began shifting to its new Playstation 2 platform, and Microsoft was getting ready to unveil the Xbox in 2001. Microsoft approached Oddworld Inhabitants and asked them to develop their next game as a launch title for the Xbox. When the company decided to switch platforms, its fans revolted. Lanning got hate mail and even death threats.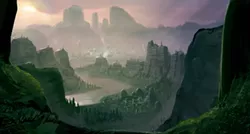 IMAGES COURTESY OF ODDWORLD INHABITANTS AND JUST ADD WATER
"I'm going, 'What the fuck? This is crazy,'" McKenna said.
There were other problems. Being a launch title entails a few asterisks. One: You're helping sell a platform for one of the largest computer companies in the world. Two: You don't get any wiggle room on deadlines.
Munch's Oddysee released with the Xbox in late 2001 and received a resounding "meh" from critics.
"The final product comes off as anything but polished, and suffers from a lack of variety, and an overabundance of repetition that keeps this game from truly shining like I wished it would," a review from IGN.com concluded.
Munch had to be cut and trimmed to meet the launch deadline. Story elements were cut to ship the game in time and overall, McKenna said, "it was not the game we wanted it to be."
There were a few hints that Oddworld as a business was hitting roadblocks. In the game, Munch and Abe are fighting an evil company hell-set on torturing small critters and exterminating some species. The evil company, Vykkers Pharmaceuticals, also seems not-so-sublty similar in name to the original financier: Gary Vickers. Asked about the connection, McKenna said simply, "No comment."
Still, Oddworld was banking on a solid reputation with its fans. The game sold more than a half-million copies, McKenna said.
Microsoft originally wanted Oddworld to help sell the Xbox as a casual, family friendly device, McKenna said. But Munch launched along with the sci-fi shooter Halo, which overtook the industry and shifted priorities. Suddenly no one cared about silly looking aliens—unless they were on the business end of a machine gun.
So Oddworld Inhabitants dumped Microsoft as its publisher and went to Electronic Games—or EA—to publish the next (and what would ultimately be the last) title: Stranger's Wrath.
The game was an all-out departure from Abe and Munch. It focused on a new character, the Stranger, a bounty hunter in a Wild West corner of Oddworld who shot "live ammo" from an arm-mounted crossbow. The game marked a new hardcore shift for Oddworld but stuck to the company's roots of strong characters and stories.
By this point, Oddworld Inhabitants had a staff of about 70 people, including some of the most talented computer engineers, artists, and game designers in the industry. While much of the admin staff was made up of locals, the company's production team was almost entirely brought in from other parts of the state and country.
Rob Brown, for example, was a concept artist who began working for Oddworld Inhabitants about eight months after the company formed. Brown grew up in the Bay Area and went to art school in Pasadena, but made the move to SLO when he took a job with the company.
"It was more of a lifestyle than … just having a job," he said. "It was like being from Oddworld was a lifestyle. Your friends were there; we socialized together. We all came from different parts of the country, so we didn't know anyone."
On any given day, Brown said, the Oddworld team might be seen at Linnaea's Café sketching, or hanging out at Frog & Peach. Once the company rented the Fremont for a party after one of its computer-generated short films was submitted for an Academy Award.
"They were kind of the only thing of their sort in the area," said Raymond Hanson, a co-owner of Captain Nemo Games & Comics. "Which made them kind of an odd-world inhabitant."
EA's bigwigs loved what the company was showing them with Stranger's Wrath. Like Microsoft, they too wanted to publish a game that went against the shoot-first-ask-questions-later norm of most games. But they pulled the plug, too. Rather than put marketing dollars behind a game and a character no one had heard of, EA decided to shift its priorities to an upcoming Bond game.
IMAGES COURTESY OF ODDWORLD INHABITANTS AND JUST ADD WATER
Stranger's Wrath released in 2005, about a year after publisher Atari broke off from its relationship with Oddworld Inhabitants, and sold off 50 percent of its holdings in exchange for publishing rights. At its close, Oddworld Inhabitants was working on a game with an expected budget of about $20 million.
Despite critical acclaim (Stranger's Wrath received an average score of 88 out of 100, according to metacritic.com), the game was a commercial flop. It's now received the title of cult classic, which is just another way of saying it's a great product no one knew about.
Lanning later told Eurogamer, "I'm thrilled EA did such a crappy job distributing [Stranger's Wrath] back in the day."
Before the game shipped, the team was already working on other projects, including The Brutal Ballad of Fangos Klot and a new project set in a new universe: Citizen Siege.
So Lanning and McKenna decided to dump EA and find other partners. But they also decided to shift away from games and focus on a Citizen Siege movie project. It was the point when Oddworld Inhabitants outgrew SLO.
"The reason that we wanted to move was that it's just too difficult getting really top talent to move to SLO," McKenna said.
Oddworld Inhabitants began preparing for a move to Berkeley and then, unexpectedly, it shut down game development and closed its doors.
One former employee, who asked not to be named, told New Times, "Quite honestly they had one of the best teams in the industry, and they just threw it away."
The wrath
To date, Oddworld Inhabitants games have sold more than 5 million copies, putting the series in line with such franchises as Mario Party. Being in SLO, almost exactly halfway between L.A. and San Francisco, however, put the company exactly where it couldn't be if it was going to be the company its founders wanted.
Lanning and McKenna kept the Oddworld name alive, but eliminated most of the team and moved to Berkeley to begin work on the Citizen Siege movie project.
Financially speaking, McKenna said the company was doing more than fine.
"We had money," she said. 'We had a lot of money. … We had enough money that we could really give everybody a good compensation package."
For the people who were from the area, the closure was likely hard. But for the production team, losing Oddworld meant they had to sell homes, gather families, and look for another job in another city. Most have since moved on to companies in L.A., San Francisco, and Seattle where they've taken jobs with big hitters like Pixar, Bungie, and Valve Software.
IMAGES COURTESY OF ODDWORLD INHABITANTS AND JUST ADD WATER
"It was just one of the most terrible days of my life when I had to tell the people at Oddworld that we were closing development and we were shutting down shop," McKenna told New Times.
Of the former employees who spoke to New Times, many knew the company was going to move. Almost no one, however, knew Oddworld Inhabitants was shutting down.
"I think it was a big surprise to many employees and to the fans," Charles Bloom, the lead programmer on Stranger's Wrath, said in an e-mail. "But we had some inclination that trouble was coming. The Oddworld games are very high production values, which makes them cost a lot, and Munch and Stranger simply didn't make enough money. There wasn't a big enough market for quirky/alternative games at the time."
Silvio Aebischer, who worked as a production designer on Stranger's Wrath and who still works out of SLO, said, "They wanted to take that content and go bigger; go into movies; go into TV series; take the [intellectual property] and turn it into just a larger phenomenon, not just games. I think they thought that would be hard to do here in San Luis Obispo."
But by 2008, the project that took Oddworld out of SLO fell flat. Lanning and McKenna scrapped the Citizen Siege production due to what McKenna said were "clear differences" with a third party.
But as for future projects, McKenna said she and Lanning still plan to make the movie, just not now. Currently, the two are getting ready to launch Lanning's new foray into social media, Xmobb. As for the Oddworld universe, it's firmly in the hands of U.K. developer Just Add Water and its CEO Stewart Gilray.
A long-time fan of the Oddworld games, Gilray said he met Lanning at a gaming conference in San Francisco in early 2009. They e-mailed back and forth a few times, and after knocking ideas around for a few months, Oddworld Inhabitants gave Just Add Water permission to re-release its games on the PC, with plans to re-skin Stranger's Wrath and Munch's Oddysee. Stranger's Wrath is due for a high-definition re-release on Dec. 27 in the United States. If all pans out well, Gilray said the team has plans to polish up other Oddworld games and possibly to take on new projects in the universe, like the canceled Fangos Klot game and Squeak's Oddysee.
"I think to myself, 'Shit, I get to work on this stuff,'" Gilray told New Times. "I get to work on this really cool franchise, these cool characters, and this cool universe that these guys have created."
But it won't be in SLO. A few of the old artists told New Times they miss the old studio and the old team, but they're curious to see what Just Add Water does with their work. Most of the production team had to move to SLO to work with Oddworld, and only two or three stuck around when the company moved.
Zoë Wood, an associate professor of computer science at Cal Poly, said she had an Oddworld Inhabitants developer speak to one of her classes when the studio was still open. The school has a burgeoning video game development club and is beginning the process to create a minor in game development, with a new faculty member preparing to teach courses in games and artificial intelligence in the spring.
"Cal Poly computer science students typically have more than one [job] offer, they get good jobs, but they require moving to Seattle or the Bay Area or Los Angeles," Wood said.
Dave Garth, the former head of the SLO Chamber of Commerce, said he never felt comfortable using tech companies like Oddworld to market the city. Such companies come and go, he said; they get bought and sold and move to new cities.
"It's dangerous to hang your hat on any one business," Garth explained.
One of the old Oddworld Inhabitant computers is still used in the Chamber of Commerce office, which Garth bought for $100 at a company garage sale.
And in a few days, the last remnants of Oddworld's time in SLO will begin to fade away. Though the building has remained empty in the years since the company closed, the owner said he plans to re-list the space for new tenants.
When someone else moves in, they'll probably scrape the old sign off the doors and refill the space that used to make games back when SLO was odd.

News Editor Colin Rigley can be reached at crigley@newtimesslo.com.