PHOTO COURTESY OF SWITCHFOOT
ROCK GODS : Radio darlings Switchfoot play the Avila Golf Resort on Oct. 29.
N
ot since Stryper has a Christian rock act managed to enjoy mainstream crossover success like Switchfoot, which thankfully isn't a glam metal act with a penchant for black-and-yellow striped Spandex and fluffed rock mullets. Nope, Switchfoot seems positively normal compared to its "fabulous" forebears.
On Friday, Oct. 29, Avila Beach Resort hosts Switchfoot and The Almost in an Otter Productions, Inc. concert. Tickets are available at all Vallitix outlets including Boo Boo Records, the Mid-State Fairgrounds, and The Ranch box office; or call 1-888-825-5484; or order online at vallitix.com.
It's sort of interesting that as they've become more successful, Switchfoot's Christian trappings have sort of faded away. Their bio doesn't even mention it, instead playing up their So-Cal roots: "Switchfoot got their start in 1996 when the Foreman [Jon and Tim] brothers and [Chad] Butler came together around a mutual love of surfing and a passion for rock music spurred by such personal Southern California guitar heroes as Rocket from the Crypt, Drive like Jehu, Boilermaker, Three Mile Pilot, and Heavy Vegetable."
Hmm? Nothing about how Sparrow Records bought out Re:think Records right before it was about to release Switchfoot's debut, The Legend of Chin, or how Sparrow marketed the band exclusively to Christian stations. Be careful, boy! Jesus doesn't cotton to deniers!
Anyway, in 2000 the trio added keyboardist Jerome Fontamillas and released Learning to Breathe, an album that hit RIAA gold status and garnered a Grammy nomination. Some of the songs also ended up on the platinum soundtrack to 2000's A Walk to Remember, the Mandy Moore flick.
They soon landed on Columbia Records, releasing A Beautiful Letdown, a Top 20 Billboard 200 hit that went double-platinum thanks to the singles "Meant to Live" and "Dare You to Move."
More albums, more success, a best of collection … this little So-Cal Christian band has turned into a mainstream powerhouse. The gates open at 5 p.m.
PHOTO COURTESY OF BONNIE "PRINCE" BILLY
A REAL PRINCE : Quirky and wonderful singer-songwriter Bonnie "Prince" Billy plays Santa Margarita Ranch on Oct. 28.
Strange and beautiful
It's hard to believe Will Oldham (aka—Bonnie "Prince" Billy) has 10 albums out, not to mention a gazillion singles, compilation tracks, collaborations, and videos. He'll always be the boy preacher in John Sayles' stunning 1987 film Matewan to me, but for most fans of Oldham, it's the music.
There's something peculiar about his music, something tender and haunting and unlike anyone else's sound. Take "Strange Form of Life," in which he sings, "a strange form of life/ 
kicking through windows/ 
rolling on yards/ heading in loved ones' triggering eyes/ 
a strange one/ 

and a hard way to come into a cabin/ 
into the weather/ 
into a path
/ walking together/ 
a hard one/ 

and the softest lips ever/ 
25 years of waiting to kiss them
/ smiling and waiting/ 
to bend down and kiss twice
/ the softest lips/ 

in a dark little room/ 
across the nation
/ you found myself racing/ 
forgetting the strange and the hard
/ and the soft kiss/ 
in the dark room/ 

and a strange form of life
/ kicking through windows
/ rolling on yards/ 

heading in loved ones' triggering eyes/ 
a strange one."
Strange indeed. Strange and beautiful.
See Bonnie "Prince" Billy on Thursday, Oct. 28, at The Asistencia at the Santa Margarita Ranch (7 p.m.; all ages; tickets at bonnieprincebillymissionranchslo.eventbrite.com). If you've never been inside the Asistencia, you're in for a treat. It's a stone barn with so much rustic charm, it'll make you swoon.
One, two, three punch!
SLO Brew's got three hot shows coming at you this week, starting with Del the Funky Homosapien's "Funk Yo Halloween show" on Thursday, Oct. 28 (7:30 p.m.; all ages; $21 presale or $23 at the door), with Bukue One opening.
Reggae, ska, and rock is next when Nada Rasta and Chiller Whales play the club on Friday, Oct. 29 (7:30 p.m.; all ages; $6 presale or $8 at the door).
PHOTO COURTESY OF JOE PUG
GOOD PUG! : On Oct. 30, check out singer-songwriter Joe Pug at SLO Brew.
Finally, on
Saturday, Oct. 30
, check out singer-songwriter
Joe Pug
(7 p.m.; 21-and-older; $10). The playwright student at the University of North Carolina one day woke up and realized he needed to "write the songs that have to be written, play them for anybody who will listen, tour as if you had no home."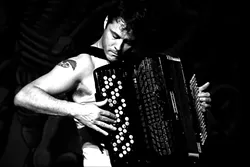 PHOTO COURTESY OF MARK GROWDEN
ETHEREAL HAMMER : Check out the haunting sounds of Mark Growden on Oct. 28 at the Steynberg Gallery.
More music …
San Francisco's Mark Growden is returning to the Steynberg Gallery on Thursday, Oct. 28 (8 p.m.; $10 at the door), for I think the third time now. He's clearly becoming a favorite, and why not? His dark, brooding, theatrical music has won him fans worldwide. If you like Tom Waits or Joe Henry, Growden's right up your alley.
On Thursday, Oct 28, The Pour House in Paso hosts a shit-kickin' double header when Mud Thump and The Mother Corn Shuckers play a free show at 8:30 p.m. The show's in celebration of Pour House owner Shawn's 40th Birthday Bash. "We know it's a weekday, folks, but this is one party you don't want to miss," said the bands. "So start the weekend early and come have a beer to celebrate—boots and rowdiness required.
Singer-songwriter Tiana Star of Coffee Shop Girl Records is rolling through town with four local appearances. The Berklee College of Music bee-lined it to the Left Coast after graduation and has become a quintessential Cali girl. Check her out on Thursday, Oct. 28, at The Porch at 7:30 p.m.; Friday, Oct. 29, on 101.3 FM The Coast for a live radio interview and performance at 8:30 a.m., and then an 8 p.m. show at Linnaea's Café that evening; and finally Saturday, Oct. 30, for an in-store at Boo Boo Records at 5:30 p.m.
Anybody who lists Townes Van Zandt, Tom Waits, Hank Williams, Nick Cave, Leonard Cohen, The Gun Club, and Kris Kristofferson as influences is OK in my book. Meet Los Angeles-based singer-songwriter Ben de la Cour, who's touring in support of Under a Wasted Moon, his newest album. De la Cour grew up in Brooklyn and spent time living in London, Cuba, and Paris. He's a former amateur boxer and self-taught guitarist, who played New York's fabled CBGB's when he was just 12 years old. See him on Friday, Oct. 29, at Last Stage West (8 p.m.; all ages; free).
PHOTO BY A. ROSEN
BLOW, TERRY, BLOW : Chicago-born Saxophonist Terry Hanck is returning to town for the next SLO Blues Society show on Oct. 30 at the SLO Vets Hall.
Chicago-born Saxophonist
Terry Hanck
is returning to town for the next SLO Blues Society show on
Saturday, Oct. 30
, at the SLO Vets Hall. Formerly a member of Elvin Bishop's band, with whom he toured for 10 years, Hanck's been doing his own thing since the late '80s, playing a mix of New Orleans gumbo, West Coast jump, and East Bay funk.
The Jerome Washington Express
will open the 8 p.m. show. SLO Dance is offering free dance lessons at 7:30 p.m. Tickets cost $17 for Blues Society members and $20 for the general public, at the door. You must be 21 or older. This month, the SLO Blues Society continues its 30th anniversary celebration with a costume party and contest, so break out your best duds and get ready to dance.
If you missed internationally renowned harpists Kim Robertson and Laurie Rasmussen when they played Painted Sky Studio last week, never fear. The two talented ladies will appear in concert on Saturday, Oct. 30, at the Steynberg Gallery (8 p.m.; all ages; $15 at the door). They feature "powerfully evocative Celtic harp and song, performing duets and solo renditions of traditional Celtic, American, ethnic, and original compositions on a variety of harps."
Also on Saturday, Oct 30, check out the drum 'n' bass Halloween Party at The Clubhouse (8 p.m.; $10), which features live music by Jamaican band Dubtonic Kru. "The founding members of Dubtonic Kru are Deleon 'Jubba' White and Strickland 'Stone' Stone, a dynamic drum and bass duo who over the years have contributed to the development of modern roots reggae with their unique sound and approach that intertwines Jubba's mesmerizing reggae/jazz fusion drumming with Stone's groovy yet pulsating bass lines."
The Zongo All-Stars will be hosting their fourth annual Halloween Costume Party on Saturday, Oct. 30, at Sweet Springs Saloon in Los Osos. "This year's theme is the 'Zongo Mothership,' and the club will be transformed into a space party with plenty of lights and special effects," said Zongo's Paul Irving. "Cash prizes awarded for the best costumes, and this event gets bigger and bigger each year." The show starts at 9 p.m. with the wild sounds of DJ Dhiya/Tabla Excursions ($7; 21-and-older).
The Dr. Danger Band will deliver the Halloween goods on Saturday, Oct. 30, when they play a spooktacular show at the SLO Down Pub at 7:30 p.m. "We've added a number of Halloween-themed songs for the occasion," said pianist Brent Dannells. "Werewolves, witches, ghosts, devils, a little voodoo by way of Dr. John? We've got it covered. Costumes are encouraged and no cover at the door. On Halloween itself [Sunday, Oct. 31], we'll be playing the Merrimaker in Baywood Park, starting at 5 p.m., also no cover."
On Monday, Nov. 1, the Steynberg Gallery hosts Jay Clayton, an internationally acclaimed vocalist, composer, and educator, whose work spans the sounds between jazz and new music. Larry Karush will also appear (8 p.m.; all ages; $15 at the door).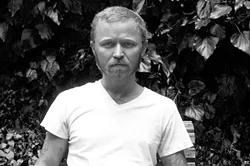 PHOTO COURTESY OF BRANDON DECKER
TRIFECTA : Arizona-based singer-songwriter Brandon Decker is rolling through the area again, this time on Nov. 1 at Rose's Landing, Nov. 2 at the Steynberg Gallery, and Nov. 3 at Gather Wine Bar.
Arizona-based singer-songwriter
Brandon Decker
is rolling through the area again, this time with "a new album [
Long as the Night
], which I believe in very deeply, and a far better musical lineup," he said. He and his gritty folk rock quartet draw on influences such as Leonard Cohen, Tom Waits, Cat Power, and PJ Harvey. See them on
Monday, Nov. 1
, at Rose's Landing in Morro Bay at 7 p.m.;
Tuesday, Nov. 2
, at The Steynberg Gallery in SLO at 6:30 p.m.; and
Wednesday, Nov. 3
, at Gather Wine Bar in Arroyo Grande at 7:30 p.m.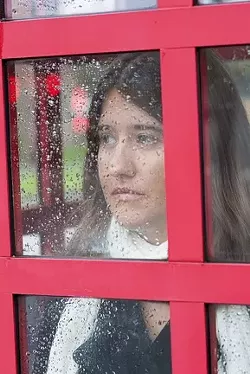 PHOTO COURTESY OF ANNA COOGAN
BITTER AMERICANA : On Nov. 2, Seattle-based "bitter Americana" artist Anna Coogan plays The Steynberg Gallery.
In addition to Brandon Decker, Steve Key's Songwriters at Play showcase on
Tuesday, Nov. 2
, at the Steynberg also features Seattle-based Americana artist
Anna Coogan
. "A trained opera singer and field biologist, Anna translates her love for desolate landscapes, dark alleyways, and neon valleys into simple, sweet melodies," according to her bio. The show starts at 6:30 p.m. and costs $5. Expect to see a half dozen other performers playing three-song sets.
Save school music programs and fix your leaky faucet
If you shop at Pismo Bob's on Mondays starting Monday, Nov. 1, he'll donate 15 percent of his profits to the music program at Lucia Mar Unified School District, which has historically received a lack of funding. Apparently, the situation is critical!
According to Dina Myers, band director at Judkins Middle School (and at other elementary schools throughout the district), "Every year the money runs out before all the necessary repairs are made—sometimes as early as November or December."
So what, you say?
"Time and again I am reminded by parents that music makes a difference in their child's life," Myers said. "For some, it's what keeps them wanting to come to school. For others it's a creative outlet. For many, it is a place where they feel welcome, a part of something bigger than themselves, and the place from which they pull their closest friends. The music room is a place where working hard and having fun are not mutually exclusive. Musicians understand that it takes dedication, discipline, attention to detail, repetition, and time to achieve great things."
That's why Bob Pringle of Pismo Bob's True Value Hardware is trying to help out. That and the fact that all five of his sons have learned to play their respective musical instruments through this program, and he is dedicated (along with the entire Pringle family) to preserving it.
"I believe in the power that music has to build the self-confidence and academic performance of our youth," Pringle said. "Taking this away from those students that need it would be disastrous. To donate a portion of my sales to this cause is the least that I can do."
Pismo Bob's is right off the 101 in Pismo Beach at 930 Price St. (across from Giuseppe's Italian Restaurant, and the newly built Valentina). ∆
Keep up with Glen Starkey via twitter at twitter.com/glenstarkey, friend him at Myspace.com/glenstarkey, or contact him at gstarkey@newtimesslo.com.