Tbilisi's cultural ambassador is a teenaged girl named Salome.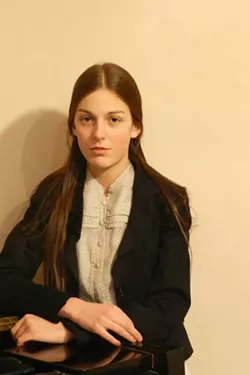 PHOTOS COURTESY OF THE SLO SYMPHONY
SALOME JORDANIA:
A talented pianist, Salome Jordania began her serious musical education in 2003, at the age of 7. The following year, she placed first in the Georgian National Piano Competition. Thus began, from the looks of her impressive bio, a life of concerts, festivals, awards, and tours throughout Eastern Europe and beyond.
But Salome's extraordinary musical abilities initially drew mixed emotions from her conductor father, Giorgi Jordania.
"I personally didn't want any one of my children to become musicians," Giorgi admitted in a Skype interview, the 16-year-old Salome seated beside him. (Seeing as it was already 10 p.m. in Georgia, I'd assured the two of them I wouldn't keep them up too late. "Oh, it's not late," Giorgi had replied, "it's only 10 here.")
Himself the son of renowned conductor Vakhtang Jordania, Giorgi hadn't wanted his kids to lead the stressful life of a musician, he said. As a young conductor studying under his father, Giorgi was well aquainted with the pressures of rising to the occasion.

THE JORDANIAN MAGIC: Pianist Salome Jordania and her father, conductor Giorgi Jordania, will perform Schumann's Piano Concerto in A Minor in a SLO Symphony Classics Concert titled "Blooming Talent" at the Cal Poly Performing Arts Center on Saturday, March 16, at 8 p.m. Tickets cost $20 to $75 and can be purchased by calling 756-4849 or visiting pacslo.org. Salome will perform a solo recital the following Sunday, March 17, at 3 p.m. at Trinity United Methodist Church, 490 Los Osos Valley Road in Los Osos. Tickets cost $25, and can be purchased by calling 543-3533 or visiting slosymphony.com.
"As soon as you stand in front of an orchestra, you are treated as a maestro immediately," he said.
When his son didn't appear to be musically inclined, Giorgi said, he was greatly relieved. But Salome was another story. After her first big win at the national piano competition, she went on to perform two solo recitals, including William L. Gillock's 24 Lyric Preludes in Romantic Style. In 2006, she went on her first tour, playing Bach's Piano Concerto No. 5 in F Minor with the Kharkov Philharmonic Orchestra in the Ukraine. The awards, stipends, and invitations to master classes kept coming in. At a concert in Poland, she performed on Chopin's personal piano, an experience she described simply as "very strange."
On Saturday, March 16, at 8 p.m., Salome will bring her prodigious talents to the Central Coast, in a concert with the SLO Symphony titled "Blooming Talent." Held at the Cal Poly Performing Arts Center, her performance of Robert Schumann's Piano Concerto in A Minor will be conducted by her father, a rare exception made by SLO Symphony Musical Director Michael Nowak. (Nowak will resume conducting duties for the program's other selections, Zoltán Kodály's Dances of Galánta and Johannes Brahms' Variations on a Theme of Haydn.) The following Sunday afternoon, Salome will perform a solo recital at the far more intimate Trinity United Methodist Church in Los Osos.
This will be the young pianist's second trip to San Luis Obispo. At 14, she traveled to California for a performance with the San Luis Obispo Youth Symphony. (While in town, Salome was also filmed for an upcoming documentary on Georgian-born, Morro Bay-based music teacher Botso Korisheli, from whom she took a piano lesson.)
In our conversation, however, Salome appeared very much the normal teenaged girl, answering questions shyly, occasionally checking with her father to be sure of the right English word. Before it became clear that music was her calling, she said, she wanted to be a ballet dancer.
"But I had no talent at it," she laughed, her father confirming this with a shake of the head.
When his daughter displayed such a talent for the piano, Giorgi said, he considered fostering these abilities to be a divine obligation.
Given the Jordania family's musical legacy, Salome has some tough acts to follow. Her grandfather Vakhtang was a prominent conductor in the '70s and early '80s, in what was then the Soviet Republic of Georgia. He won first prize at the 1971 Herbert von Karajan competition for young conductors, and by 1980 had performed as guest conductor with most major orchestras in Eastern Europe. Frustrated, however, by his inability to perform in the West—or to access scores by contemporary American composers—Vakhtang defected to the United States with his then-girlfriend in 1983.
Like his father, Giorgi studied conducting at the Tbilisi Conservatory and the Leningrad (now St. Petersburg) Conservatory. In 1989, he pursued his master's degree at the University of Tennessee at Chattanooga, where his father was working as musical director of the Chattanooga Symphony and Opera. Giorgi made his American debut with the symphony, performing for an audience of 30,000.
Upon returning to Georgia, Giorgi began working as a conductor of the Tbilisi State Academic Theatre of Opera and Ballet, in addition to receiving guest engagements all over the world. Last month, he was appointed the company's general director.
It's difficult enough to convey the work of a musician in writing—though some make a career of trying—but it's fairly impossible to describe the work of a musician one hasn't yet seen in concert, as this article likely proves. I can only list facts, observations, and markers of success. So enough with words. Just go to the concert.
Arts Editor Anna Weltner is hankering for a Georgia peach, all snow-kissed and pale. Contact her at aweltner@newtimesslo.com.