Festival attendee (and expert), Rachael Manuele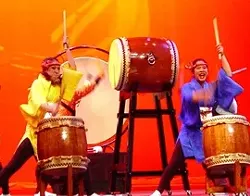 IMAGE COURTESY OF GROVER BEACH CHAMBER
GET YOUR K ON : The 17th Annual Stone Soup Music Faire and Dune Run Run kicks off in Grover Beach on Aug. 23 starting at 8 a.m. The Stone Soup Music Faire takes place Aug. 23-24, 10 a.m.-10 p.m. on Saturday and 11 a.m.-5 p.m. on Sun. Enjoy live music, a health fair (11
New Times Is anything new happening this year at Stone Soup?
Rachael Manuele We are celebrating the 20th anniversary of the Dune Run Run, which kicks off Stone Soup. Toyota will have a hybrid car there for people to look at. We will have the health fair again. The theme behind the whole event is to get a whole bunch of cultures and mix them all together. We operate better when everyone throws in their cultural backgrounds.
New Times What is your favorite part of the weekend?
Manuele The music is definitely the highlight; it's always great. Some of the band members of Caf» Musique will be performing, so I'm looking forward to that.
New Times What about the dance Saturday night?
Manuele I think the Dance Pavilion will bring dancers to show off their stuff, but also invite the public to dance along as well. That will take place by the main stage at Ramona and 9th Streets.
New Times Any pointers or tips for attendees?
Manuele It is great for families, so if you're within walking distance, bring the stroller down. The Exploration Station will have activities all day long for kids: crafts, and more. That keeps the kids busy while the parents have a beer and enjoy the music. Also, it's a great thing to do if you have company in town—you can hit the beach and the festival.
Vendor selling food, Rita Canclini, owner of Higher Groundz in Grover Beach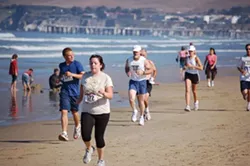 IMAGE COURTESY OF GROVER BEACH CHAMBER
New Times What is Higher Groundz?
Rita Canclini It's a coffee house on the corner of Oak Park and Grand Ave. in Grover Beach.
New Times What sets you apart from all of the other coffee joints?
Canclini I wouldn't sell anything I wouldn't give my own family. The espresso we use is from Italy. We have smoothies that are sugar free, sandwiches and wraps with wholesome ingredients. We use organic chocolate in our mochas. We have the best customer service anywhere in town. Our whole mission is to make a positive impact on whoever comes into the store. It's about what each person likes in their coffee, smoothie, or hot chocolate, making it exactly how they want it, in an efficient manner. We have highly trained baristas here.
New Times So you will bring this entire concept to the Stone Soup Faire on Saturday and Sunday?
Canclini Yes ma'am. We will have smoothies, blended mochas and lattes, and boba tea, which is not served in many places on the Central Coast.
New Times What's that?
Canclini It's the blended tea latte with the boba pearls. We will have iced coffee, iced tea, and drip coffee.
---
Christy Heron can be reached at cheron@newtimesslo.com.