Have you heard of the Phantom Project yet? If not, you haven't been reading New Times. We covered the hell out of this pop-up art show—which takes place at vacant buildings throughout SLO County—the first time it appeared on Higuera Street in downtown SLO. What can we say? The project is pure awesome, turning the gaping hallmarks of a crappy economy into vibrant art hubs. Then, as quickly as it comes, the magic is over. The Phantom Project's temporary nature seems to serve as an extra motivator, inciting contemporary art lovers (and people who don't usually go to art shows at all) to check it out before it's gone.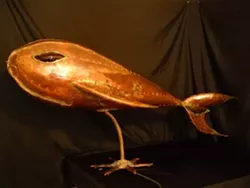 PHOTO COURTESY OF PAUL SAUERESSIG
'THE ELECTRIC RAY': This piece by artist and welder Paul Saueressig will be on view at the next Phantom Project art show in Paso Robles.
Now, the project, which was conceived by the Central Coast Sculptors' Group—part of the San Luis Obispo Museum of Art—is back. Titled "The View from Here," the second Phantom exhibit will be appearing at the A&R Furniture building in downtown Paso Robles. An opening takes place Saturday, May 5, with a reception from 6 to 9 p.m., and the show will be on view through June 5. A "People's Choice" award will be announced at the closing reception, held Saturday, June 2, from 6 to 9 p.m.
Jurors of the first Phantom Project were faced with the unhappy task of turning down lots of quality submissions. But this time around, thanks to the vast amount of space available (10,000 square feet!), the public will have the chance to see not only the work the two jurors chose, but all other entries to the show as well, allowing viewers a glimpse into the difficult and highly subjective process of jurying art.
Here's how it works: Each juror will present 60 to 80 individual selections in his or her own separate "version" of the show. These two versions will be presented alongside a show of all of the submissions that were left over, resulting in a showcase not only of local art, but of the jurying process as well.
Come see if you agree with the jurors' choices. The A&R Furniture building is at the corner of 12th and Pine streets. Viewing hours are Fridays and Saturdays, from noon to 9 p.m., and Sundays from noon to 6 p.m. For more information, visit sloma.org/exhibits/the-phantom-project.php, or find the Phantom Project on Facebook.