GOING ABOVE AND BEYOND: ARTS Space Obispo is exhibiting "Beyond the Hutch: Selected works by Jamie Dietze and Vincent Robles" April 3 to 23. There will be an opening reception during Art After Dark, April 3 from 6 to 9 p.m. ARTS Space Obispo is located in The Creamery, 570 Higuera Street. For more information call 544-9251 or e-mail director@artsobispo.org.
When Jamie Dietze paints a bunny—long-eared and puce, gray, or pink with petal-shaped toes that suggest razor claws—viewers sometimes mistakenly believe that she dislikes rabbits or uses her art to protest cruelty against them. In reality, the painter uses them as a metaphor with which to explore and purge her psyche, a fluffy vessel for her emotions, good, bad, and ugly. Surprisingly, she's not alone in this.

Atascadero resident Vincent Robles started drawing rabbits last September after purchasing a wind-up toy bunny furnished with miniature hand cymbals. One piece turned into a series in which Robles would place the animal within various environments based on his personal experiences. Like Dietze, Robles sometimes allows other animals to graze through his wood canvases; she prefers cats and various species of birds such as swallows, crows, ravens, and mockingbirds while he favors horses, birds, and newts. Both sculpt as well as paint their subjects, Dietze in clay and Robles primarily in wood. Neither was aware of the other, a mere 20 miles apart, until Marta Peluso, executive director of ARTS Obispo, invited the pair to share an exhibit at the organization's gallery space. "Beyond the Hutch: Selected works by Jamie Dietze and Vincent Robles" opens during Art After Dark on April 3 and closes April 23.

Both artists fall under the heading of emerging. Dietze has participated in the Open Studios Tour and has displayed her work at the Nautical Bean, but Robles hasn't shown his work locally. He's shown extensively in Southern California, the market Dietze hopes to infiltrate with her own rabbit-riddled art. While Dietze calls her painting style "intuitive," Robles refers to his own as "impulsive."


IMAGE BY VINCENT ROBLES
SCAPE:
Dietze took her first tumble into the rabbit hole in 2006, while taking a 3D Design course at Cuesta College. (The multi-media artist began taking art classes at the community college 15 years ago.) She was assigned the task of transforming inanimate materials into a life-like sculpture; from a bottle of nail polish arose a rabbit, standing, ears high. The artist and her hoppity muse have been inseparable ever since.
"It's unexpected. I think that people don't expect rabbits to be dark," Dietze said, of people's reactions to her work. Her first rabbit painting depicted the animal surrounded by other creatures. But at its heart, it was about a boy she had been involved with.
"I took the emotion that I was feeling and I took paint and scraped it onto a board in a very angry way. The animals were players in that, characters in the drama. There's a crow, another rabbit, cats, and dogs. Once I painted that it was out and I was done with that emotion and drama. It's a very powerful tool."
The dichotomy of a soft, cuddly animal expressing raw and rancorous emotion is oddly satisfying for Dietze. She starts by drawing. Without planning she sketches whatever tale requires telling. From there she paints onto a canvas or wood, sometimes in acrylics, others in a combination of acrylic and oil. Emotions become colors, a background for her stencil-like farm of figures.
Then there's Fluffy, a stuffed animal rabbit that Dietze paints when she wants to review her childhood. She saves the stencil-like bunny for experiences and relationships that encompass adulthood.
IMAGE BY JAMIE DIETZE
LIFT :
Reactions to her therapeutic larks range from frightened to concerned to downright offended. Many local venues won't show her work. Some agree as long as she excludes paintings with blood. Her recent show at the Nautical Bean featured what she called "the PG version" of her work. Because many of the galleries and cafes in SLO aren't receptive to her work, Dietze has focused on marketing in more urban settings in Southern California.
"I just want to get people thinking about themselves and their awareness of themselves because that's what this has been for me—a journey towards self-awareness," concluded Dietze, who believes that people can derive happiness from self-knowledge. "And that's the dark side of yourself and the light."
Over the grade, Robles' bunnies are a little less ravaged, being neither bloody nor eviscerated. Instead, they peacefully occupy the landscapes he creates for them, holding hula-hoops or reclining in a corner.
"I don't consider myself having a painting background," said Robles, who admitted that his rendering capabilities are more limited than he would like. Where he excels is in his creative use of wood as his canvas. While studying art at San Diego State he began constructing furniture-based pieces with a conceptual edge. Then he produced work in which the anti-function sculptural aesthetic dominated.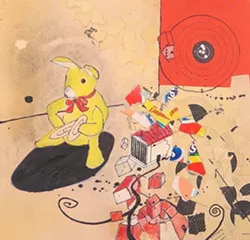 IMAGE BY VINCENT ROBLES
CYMBALS:
Because of his tendency to throw on his paint quickly, Robles works in acrylics. He doesn't have to wait for oil to dry because he doesn't like the idea of pining away over a piece. If his painting style is compulsive, his sculptured canvases give him the opportunity to be deliberate and thoughtful. Reclaimed wood is a favorite material to work with, whether plywood or posts from a picket fence; he saw, and produced, a lot of waste while sculpting in college. In one piece he hinged the wood together, allowing the painting to open and close, unfolding the world he had created for his rabbit persona. Another is shaped like a cabinet, also revealing a more detailed bunny tableaux when open.
Each piece begins with a sketch, a quick process that might result in a series or a finished product. It could also end up in the trash. Then, often, Robles turns to wood, burning lines and shapes that he will later color in with paint, ink, and colored pencils before returning for round two.
"Not all wood is the same and it burns differently. That was an exciting discovery," Robles explained, enthusiastically. "I tend to like mistakes because they end up being better than what we intended. It's always got more character than something that just comes out, like a print."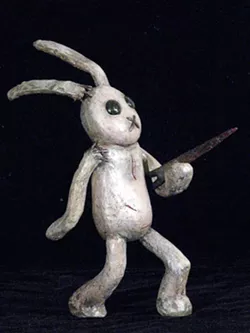 IMAGE BY JAMIE DIETZE
FORWARD MARCH:
Sometimes people mistakenly identify Robles' rabbits as representative of sex and reproduction. But he encourages them to look beyond the obvious interpretation.
Robles' interest in rabbits stems, in part, from his ability to identify human qualities in animal behavior as well as animal traits in human behavior. Sometimes, he'll see a bird in his friends' behavior, and paint the feathered apparition. He doesn't want to use human figures as vessels of expression because, well, it's been done. Plus, he has a pet rabbit he acquired from some 4-H kids who became bored with their bunny.
Once the bunnies are out of the bag, and on the walls at ARTS Space Obispo, Robles plans to expand the scope of his work. After binging on teddy bears at Goodwill—purchasing toys for a friend's dog—he realized that it might be time for a new muse.
But he'll always come back to bunnies. Whether it's a wind-up bunny marching proudly, with cymbals, to an unknown destination or a stenciled pink rabbit communing darkly with cats and birds, rabbits are expressive.

Arts Editor Ashley Schwellenbach knows that if you start out with two bunnies, you wind up with 30. Send ideas about Planned Parenthood for bunnies to aschwellenbach@newtimesslo.com.