PHOTO COURTESY OF JOHN AND NATHAN MCEUEN
LIKE FATHER, LIKE SON : John and Nathan McEuen headline the 4th Annual Benefit Concert for Escuela del Rio on June 6 at Castoro Cellars Winery in Templeton.
Who's played over 6,000 shows, appeared on television more than 200 times, and traveled more than 3 million miles to do it? Founding Nitty Gritty Dirt Band member John McEuen, that's who.

On Saturday, June 6, McEuen, his son's band The Nathan McEuen Band, and special guest Chelsea Williams will all play the 4th Annual Benefit Concert for Escuela del Rio at Castoro Cellars Winery in Templeton beginning at 7 p.m. (Tickets are $30, available at Escuela del Rio; KMan Cycle and Run; Matt's Music Stage and School; and through Castoro Cellars Tasting Room, by phone at
238-0725 or online at castorocellars.com).

You really can't overstate John McEuen's contributions to American music. He's the only California musician to perform solo on the Grand Ole Opry. He instigated what Rolling Stone (in 1972) called "the most important record to ever come out of Nashville" and what the 2004 ZAGAT survey called "the most important record in country music": Will the Circle Be Unbroken. He's made more than 40 albums (six solo) with 20 top 20 hits that have earned four platinum and five gold recognition awards, in addition to six Grammy nominations including a win in 2005 for Best Country Instrumental, CMA and ACM Awards, a Western Heritage Award, an Emmy nomination and an IBMA Record of the Year Award. I could go on.

At Saturday's concert, he'll pass the torch to his son Nathan, who's been finding his own musical niche and has performed locally at Monteleone's Rock and the Hampton Inn and Suites. Nathan's got two albums out, Grand Design and Festival, and Nathan has produced a compilation CD of local artists for the nonprofit group Peace Thru Music.
Chelsea Williams has sold more than 40,000 CDs on her own in the last 16 months—not bad for an unsigned newcomer.
In addition to the music, a barbecue will be available, and there'll be some great raffle items including a Deering Banjo Company "Goodtime" banjo to be played and then autographed by John McEuen, and a one-of-a-kind guitar autographed by too many famous musicians to mention.

Escuela del Rio is a day program for adults with developmental disabilities in North San Luis Obispo County. For more info, visit escueladelrio.org.
Be a winner!

Just imagine it! You could be among the first Newtie winners! Think of the glory, the fame, your place in history. There's still time to enter the New Times Music Awards, a countywide competition for Best Band, Best Solo Artist, Best Song, and just added, Readers Choice Award.

Just fill out the entry form (on this page), enclose a CD with up to five original songs, pay the $10 per song entry fee, and get it to us by Monday, June 15. Five judges will do a blind listen and choose the winners. Entries will also be placed on our website to let readers pick their favorite.

Cash and other prizes will be awarded, and winners, runners up, and honorable mentions will be compiled on the New Times Music Awards CD.

The competition culminates with a concert and award ceremony on Saturday, Aug. 8 at Downtown Brew. You've got to play to win, people!

Also, it's not too late to be listed in Soundcheck, SLO County's first all-inclusive music guide to performers and music-related businesses. Send your details to soundcheck@newtimesslo.com.


PHOTO COURTESY OF LMFAO
STYLE MASTERS : Sky Blu and Redfoo of LMFAO drop their electro-hip-hop beats on Mother's Tavern on June 5.
Mother's lovers unite
Mother's Tavern is back with a vengeance this week with two awesome shows. First up, hip-hop sensation
LMFAO
plays on
Friday, June 5
at 10:15 p.m. (21 and older; $25).
"We're definitely not a band that's shy. We love to hear ourselves talk. We want to be seen as much as possible. We want to be so big that we can't even walk down the street," said Redfoo, the programming brain behind the electro-hip hop act, whose hits include "I'm In Miami Bitch," "Lil' Hipster Girl," and "Yes."
Redfoo with his cohort (and nephew) Sky Blu have been blowing up the clubs, and in the last year they released three self-produced and self-distributed tracks that have become club favorites. They've also remixed Fergie's "Clumsy," Kanye West's "Love Lockdown," and Katy Perry's "Hot 'N' Cold."
"It's always better to have a party in your life," said Redfoo. "Fun and laughter, the girls, dancing, celebrating. We want to feel the same way walking down the sidewalk as we do on stage."
Which is why they also have their clothing line,
Party Rock
, which is also the name of the first album.
"
Party Rock
is the kind of record a band would make on their third album," claimed Foo. "It's gonna be our
Thriller
—it's meant to take you away, to escape to this world of fun, dance, sex, craziness, do-what-you-want attitude. It's our lives."
PHOTO BY LIAM MALONEY
GET FURRY : Sub Pop recording artists Handsome Furs hit Mother's Tavern on June 10 to promote their excellent new album Face Control.
The party continues on Wednesday, June 10, when Mother's has Sub Pop recording artists
Handsome Furs.
"With the success we had with live music on Wednesday nights, we're going to continue now that the Battle of the Bands is over, but we're kicking it up to another level!" gushed Director of Entertainment and Media Johnny Kenny. "Mother's Tavern and New Rock 107.3 are teaming up again to bring you 'Big Wednesdays': big bands, big cups, big drink specials, and big party."
Handsome Furs are touring in support of
Face Control
, an immediately engaging album whose metronomic eclectro-beats have a bit of a Peter Gabriel vibe. It's technology meets soul-crushing emotion backed by reverberating fuzz-tone guitars. Kind of awesome!
A $5 entry fee gets you a local opening band, Handsome Furs, and a 20 oz. cup.
What's cookin', good lookin'?
Downtown Brew has some good lookin' shows this week starting with rap favorite
Andre Nickatina
on
Thursday, June 4
(18-and-older; $18; 8 p.m.). The Bay Area MC is also known as Dre Dog, purportedly so named because of his scarred smirk, the result of a Daschund attack when he was 6 months old. He's been at the club more times than I can count, which means the locals love him.
PHOTO COURTESY OF REY FRESCO
JUMP FOR JOY : Groove rockers Rey Fresco hits Downtown Brew on June 5 to deliver soulful vocals backed by a hard-hitting rhythm section.
Groove rockers
Rey Fresco
take the stage on
Saturday, June 5
(all ages; $6 presale or $8 at the door; 7:30 p.m.) with local singer-songwriter
Chase McBride
opening. Rey Fresco's lead instrument is a 36-string Veracruz harp, and when you mix in their soulful vocals and hard-hitting rhythm section, you get a completely original sound.
Hip-hop/jazz/rap favs the
Crown City Rockers
return to the club on
Saturday, June 6
(all ages; $8 presale or $10 at the door; 7:30 p.m.) with
Venomous Voices
opening. Crown City is a genre-blending collective delivering funk-drenched grooves.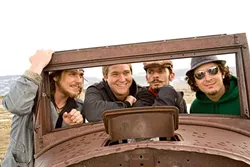 PHOTO COURTESY OF THE LUKAS NELSON AND THE PROMISE OF THE REAL
DADDY'S BOY : Blues act Lukas Nelson and the Promise of the Real hits Downtown Brew on June 8. And if you're wondering, yes, that's Willie's kid.
Blues act
Lukas Nelson and the Promise of the Real
hits the stage on
Monday, June 8
(all ages; $6; 8 p.m.). If you're wondering, yes, that's Willie's kid. Don't expect Willie's thoughtful picking; Lukas is more of a string-stretching blues rocker.
More music…
When it comes to a love for singer-songwriters,
Steve Key
is like their obsessed stalker! If he's not going to see them, he's creating venues for them to present their talents to the world. Key's newest foray happens every Thursday at Santa Margarita's The Porch, including
Thursday, June 4
from 6:30 to 9:30 p.m. when Atascadero resident
Richard Green
will be the featured performer. Green recently released a terrific new album,
Better Days
, from which he'll draw his set material.
Siko
takes the stage at the Mission Plaza from 5:30 to 7:30 p.m. on
Friday, June 5
, for the opening of the popular Concerts in the Plaza series. Beer and wine, music, dancing, SLOhemians—what more could you ask for?
Speaking of The Porch, just back from his first time playing in Mississippi, guitarist
Dorian Michael
plays his first gig ever at the Santa Margarita venue on
Friday, June 5
at 7 p.m. See what the Deep South has done to this musical chameleon.
If you're in the mood for a short drive south this weekend, you ought to think about stopping by the
5th Annual Los Olivos Jazz and Olive Festival
on
Saturday, June 6
from 1 to 4 p.m. The ticket for this event lets participants enjoy the culinary art of 30 "O'chefs," taste the wonderful wines poured by 20 of the area's wineries, watch cooking demonstrations by professional chefs, and hear live jazz performed by
Stefan Karlsson
,
Bob Sheppard
,
Mark Ferber
,
Tom Warrington
, and
Larry Koonse
. Tickets are only $40 and last year's event drew 660 people. This year there will be a limit of 550 people, and those who are planning to attend are encouraged to purchase their tickets in advance by calling 325-2345.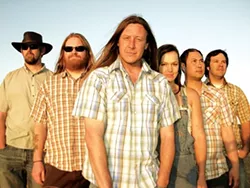 PHOTO COURTESY OF CUESTA RIDGE
LOCAL YOKALS : The Red Barn Community Music Series presents Cuesta Ridge with special guest fiddler Lillian Dennison on June 6 at the Red Barn in the South Bay Community Park in Los Osos.
The Red Barn Community Music Series presents
Cuesta Ridge
with special guest fiddler
Lillian Dennison
on
Saturday, June 6
at the Red Barn in the South Bay Community Park in Los Osos (7 p.m.; $10; potluck at 6 p.m.). Cuesta Ridge puts on an amazing live acoustic show, with harmony vocals, pyrotechnic musicianship, and contemporary twists on the bluegrass genre.
The Painted Sky Concert (4111 Bridge St., Cambria) series presents an evening of acoustic Celtic music with
Banshee in the Kitchen
on
Saturday, June 6
at 8 p.m. Featuring Brenda Hunter (fiddle, hammered dulcimer), Jill Egland (flute, accordion, whistle), and Mary Tulin (six- and twelve-string guitar, bouzouki)—this trio plays Celtic music with merry abandon. Tickets are $18 at Boo Boo's, Cambria Business Center, or by calling 927-8330.
Roots rockers
The Cadillac Angels
play the Frog and Peach on
Saturday, June 6
at 10:30 p.m. Frontman Tony Balbinot just returned from performing at a big festival in the Netherlands. "You can check out some photos on our site cadillacangels.com," mentioned Tony. "We played to about 5000 people! The Frog and Peach doesn't hold that many, does it?" You know it doesn't, smartarse!
Birdie
, which performs upbeat original music with positive lyrics that the entire family can enjoy, plays a CD release and fundraiser at the Avila Bay Club on
Sunday, June 7
, from 1 to 3 p.m. "We're planning a wonderful afternoon of family music, fun for the kids, face painting, and a silent auction for the adults to raise money for Chris Stilwell and his family," explained Teresa Gasca-Burk. "Chris was hit by a car while riding his bike in December of 2007. Since then he has had several surgeries and is still undergoing physical therapy." A $5 donation (or $20 for families) is requested.
The G. Roger Bailey Classical Guitar Scholarship Concert will be held on
Sunday, June 7
, at 2:30 p.m. when classical guitarist
Reuben Westmoreland
will be hosted by Los Osos' St. Benedict's Episcopal Church. Music from the Baroque and 20th century eras will be played. Tickets are $15 at the door. Westmoreland has been studying under Marilyn Blodget of Atascadero for the past six months, made possible in large part by the generous sponsorship of the Triada classical guitar trio, Edward Trybek, and David Isaacs—classical guitarists who have donated their time and talent to this scholarship in the past two years.
The 35-member
Cal Poly Arab Music Ensemble
is a local treasure, performing traditional and contemporary music and dance from the Eastern Mediterranean and larger Middle East. This
Sunday, June 7
at 7 p.m., they'll play vocal and instrumental selections by some of the most popular composers and performers of Arab art music, including the eminent Mohammad Abdel Wahhab and Abdel Halim Hafez of Egypt, the legendary Fairouz of Lebanon, and the renowned Nazim Al-Ghazali of Iraq; in Cal Poly's Spanos Theatre on campus. Guest artists on the program include the internationally celebrated master of Armenian dance
Tom Bozigian
, along with acclaimed oudist
Viken Najarian
, and clarinetist
Ara Gholdoian
. Tickets are $10 for the public and $8 for seniors and students. Call 756-2787.
Dr. Mark Dyczkowski
is both a scholar of Hindu Tantra and a practitioner. He'll offer a talk, meditation, and Sitar concert at the Steynberg Gallery on
Tuesday, June 9
, at 7:30 p.m. (music starts at 9). The cost is $15—a small price to pay for spiritual enlightenment (spiritual enlightenment not guaranteed!).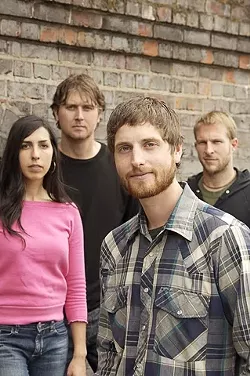 PHOTO COURTESY OF IAN MCFERON BAND
NORTHERN LIGHTS : See Washington State's Ian McFeron Band on June 9 at Frog and Peach.
Ian McFeron
, whose work has drawn comparisons to Bob Dylan and Ryan Adams, returns to Frog and Peach to promote his most recent and fifth full-length album
Love Me Blue
, which chronicles his life and rocky relationships, the passing of a dear friend, and his spiritual unrest. But these songs come with a silver lining: "The album has themes of adversity, but in the end I really feel like it's a hopeful record. The ultimate message is that there is richness in the struggle—that struggle teaches us about compassion and gives us heart and makes us grateful for the people that love us." See Washington State's
Ian McFeron Band
on
Tuesday, June 9
at 10:30 p.m.
Glen Starkey got rubbed the wrong way and went instead of came. Commiserate at gstarkey@newtimesslo.com.


CD Reviews


The Field—Yesterday and Today
Swedish producer Axel Willner arranges music for the discotheque in your head. Shimmering ethereal melodies align with mechanically precise, propulsive beats to offering you a soundtrack for mental nightclubbing. At its best—like the percussive euphoria of "Yesterday and Today"—Willner strengthens his own deep, throbbing sound with live instrumentation (joined here by Battles drummer John Stanier), erecting a rock platform beneath his electronic structure, and pulls the body rocking straight out of your bones. But it can also be reserved—like the 15-minute '80s noir track "Sequenced"—a unrelenting rhythm that plays out better in headphones, where your ears can capture all the synthesized percolation and understated layering. For Yesterday and Today, Willner's The Field may have jumped to eclectic rock label ANTI- for its U.S. release, but its heart still beats to the minimal techno of his European label Kompakt.
Allen Toussaint—The Bright Mississippi
As a producer, songwriter, and musician, Allen Toussaint's contribution and influence on American music is immeasurable. He's touched everything from hits by Lee Dorsey and Dr. John, and shaped the sound of New Orleans' R&B from his early assistance to Fats Domino to pushing the Meters out of their house band status to become legends for their instrumental funky soul. The Bright Mississippi follows 2006's The River in Reverse, a duet collaboration with Elvis Costello. But here, Toussaint leaves aside the vocals for a dazzling dig into jazz standards filtered through a history of New Orleans' swing, a musically tradition that outfits its funeral marches with a respectable groove. His assistance is all top players: Nicholas Payton's warm trumpet blows allusions to "Summertime" on "A Dear Old Southland," Don Byron channels Sydney Bechet's flute vibrato on "Egyptian Fantasy," and Toussaint sings us to a finish on "Long, Long Journey," the album's only vocals. A perfectly executed album of New Orleans cool with the geniality of a warm embrace.
—Malik Miko Thorne, of Boo Boo Records and mikovision.blogspot.com, where you'll find archived reviews and soundclips.