What a weekend! I can still smell the two-stroke-oil-infused gasoline. It seems to permeate my skin, but it's a grand memory of all the fun we had:
It all starts around 7 p.m. when my wife, Anna, and I arrive for cocktails in Madonna Inn's ritzy bar on Friday. I'm wearing a suit, and I mean a tie, shoes, and everything! Aside from my wedding, my dad's funeral, and taking my mom to church a few times, I do not wear suits, but this is a special occasion.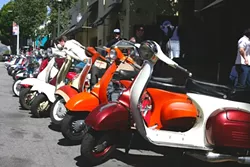 PHOTO BY GLEN STARKEY
ALL THE PRETTY SCOOTERS: Nearly 70 scooters appeared in this year's Rides of March, SLO County's annual scooter rally put on by local scooter club PushStart MSC.
DJ and Magazine Dirty frontman Curtis Campbell warned me to dress sharp for Dance Craze, the dance in the Venetian Room. Sure enough, people start showing up and are dressed to the nines. I'd look pretty out of place in my camo cargo shorts, black T-shirt, and flip-flops.
"There'll be 300 people here tonight," Curtis says when I see him in the bar. "You're about to have a great time."
Then I see Jeff Bosco, an old friend who used to live in SLO but now is up in San Jose. He returns every March since he moved to attend The Rides of March on one of his 14 scooters. Yes, the man has a sickness.
"I plot to move back," he confides. "Life here is just dropped down a gear."
The SLO life is pretty chill, and soon Madonna Inn is filling up with local scene makers. I see Josh Whipple who organizes the Rides and is also one half of the DJ duo The Ideals, who'll be spinning vinyl tonight along with guest DJ Malik Miko Thorne.
There's famed scooterist and general troublemaker Crawford C. Crawford, a man of such mystery that I don't actually know his real last name.
PHOTO BY GLEN STARKEY
QUADROPHENIA : Kermit Claytor of Los Gatos brought down his headlamp- and mirror-festooned Lambretta, one of the more elaborate scooters to make the ride.
"I can tell you what the 'C' stands for," he deadpans. "Crawford."
Filmmaker and photographer Chris Daly shows up with his writer bride Sarah, and soon they're tearing up the dance floor. Man, there are some big dresses here! The ladies are looking incredible, including former K-Otter DJ Cyndi Hafley, who's flying solo since her musician mate and small batch canner Stormy T is working tonight.
Then I see Kim and Jason Nadal, and Kim looks fantastic as usual in white go-go boots! Hubba! Even Dr. Cain owner Reid Cain and his wife, New Times food writer Hayley, have made the scene. It's a who's who of SLO's hipsters.
The next morning, everyone gathers at Blackhorse on Foothill to drown their hangovers in coffee and get ready to ride a 100-mile tour through Los Osos, Morro Bay, Atascadero, Paso, and back. I meet Aaron Cribbs, who hand painted the helmet that became the graphic for this year's commemorative patch and button.
I see Josh and ask him how many rally packs they sold this year.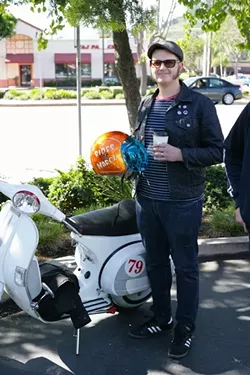 PHOTO BY GLEN STARKEY
CUSTOM COOL : Aaron Cribbs hand painted the helmet that became the graphic for this year's commemorative patch and button.
"We pre-sold 55 and have sold about 10 more this morning. I think we'll have around 65 or 70 bikes," he says.
"What was the biggest Rides?" I ask him.
"In 2010, we had 180, but that year we teamed up with a couple other scooter clubs to host the ride. That was the year we all told stories about the messed-up things we did over the years to fix our scooters."
That's the thing about these vintage bikes: They're always breaking down, and sometimes you have to be innovative to fix them. Later, when I see him after the ride, Josh informs me that seven scooters—that's about 10 percent for you math majors—broke down during the ride.
My wife and I set off with the gang around 1 p.m., but by the time we get to Morro Bay, we decide to head back. We have a little Vespa 150 Sprint, and with two people on it, it's a slog.
PHOTO BY GLEN STARKEY
GOOD TIMES: This annual rally gives friends like (left to right) Curtis Campbell, Jeff Bosco, and MarciJean Fambrini a chance to catch up and have fun over lunch at Palazzo Giuseppe in SLO Town.
We meet up again at 3 p.m. when the riders who went the distance (or didn't break down) return to Palazzo Giuseppe for an amazing buffet lunch. Man, this place knows how to make great Italian food!
That evening, everyone with the energy to still be mobile heads to SLO Brew for The Inciters, a great old-school soul band from Santa Cruz, but first we're treated to a set by SLO's own kick-ass garage-punk-blues act King Walrus & The Magicians. The trio's drummer is off the hook, delivering a thundering polyrhythmic backbone to the band's thumping bass, bright guitar, and scream-shout vocals.
Then, the fat horns and four female singers of The Inciters start trading off lead and backing vocals. It's awesome music that has the dance floor filled.
On Sunday, the final day of the rally, the group again meets at Giuseppe's in SLO to ride over Prefumo Canyon to head to Giuseppe's in Pismo Beach. My wife and I bomb up the canyon in our Corvair and find a spot near the top to get photos of the riders flying by, grinning ear-to-ear.
PHOTO BY GLEN STARKEY
NIGHTTIME FUN: The Rides of March included a night of dancing at Madonna Inn to DJ music and a night of soul music from The Inciters (pictured) at SLO Brew.
This is a small community—tight knit, friendly, fun loving—and my wife and I have already put out feelers to find a second scooter so we can both ride our own next year. I love the smell of two-stroke-oil-infused gas in the morning. It smells like … victory.
There's always next year!
You can keep track of all things Rides of March on the event's Facebook page and website: facebook.com/RidesOfMarch and theridesofmarch.com. The event started in 1989 and takes place in the last week of March. See you in 2016!
Glen Starkey takes a beating and keeps on bleating. Keep up with him via twitter at twitter.com/glenstarkey, friend him at facebook.com/glenstarkey, or contact him at gstarkey@newtimesslo.com.