By July, the San Luis Obispo Symphony's plush office was buzzing and humming in preparation for the annual Pops by the Sea concert taking place Sept. 2, with the theme "Gotta Dance!" Actually, planning started getting serious a full six months prior to the show.
This is a year of changes for the annual event. The New Year
IMAGE COURTESY OF PATTY THAYER
THE RHYTHM IS GONNA GET YOU : Conductor Michael Nowak gets busy. This event will be made even better with beverages of your choice including alcohol and lovely picnic fare available for purchase at the concert. Remember, bringing in your own alcohol is prohibited.
# brought the symphony a new office location in SLO, as well as a revamped website (slosymphony.com). Even the Pops stage is in a new location this year, adjusted a bit left for an even grander view of the ocean in Avila.
But it's really all about the music.
Pops by the Sea the magical, quintessential Central Coast musical event is now in its 16th year. The Symphony is entering its 47th season, kicking everything off with the festival's foot-stomping bang.
Michael Nowak the Symphony's resident conductor and music director has spent more than 20 years at the helm of the musical group. His talent is far reaching and multi-layered. In his spare time, he conducts Hollywood scores for such films as King Kong, Spider-Man, and The Kite Runner (based on the book by Khaled Hosseini), and he's returning again to head up Marketing Director Patty Thayer's favorite event of the year, which she explains as a fundraiser for the Symphony and then some.
"It's more than that," she said. "It is a community event, part of our mission it adds to the community."
And the community is involved through and through, right to the top, with Rob Rossi donating use of the venue at the Avila Beach Golf Resort, where popular music meets the maestro.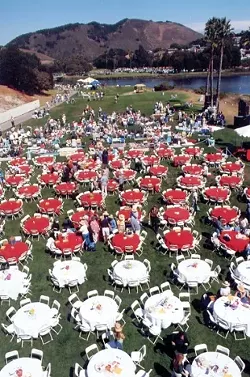 IMAGE COURTESY OF PATTY THAYER
ALTERNATIVE MUSIC : There are new alternative transportation options to the Pops Concert. The free shuttle buses pick up from all over the county and take guests to the show. Call 543-3533 for more info and reservations. Or pedal to Pops: Call the SLO bike club for details at 543-5973 or e-mail info@slobc.org. Cars with four or more people get in free.
# Great expectations
The music for Pops is performed by a full, live orchestra. It's the largest outdoor concert in the county. Three thousand people will attend this year but it won't feel overcrowded. In fact, there's an intimacy that makes this event unique. Guests can spread out a blanket, chow down on a picnic lunch, sip a cold drink, and chat with fellow concertgoers. Or they can spend a few extra dollars and do all of that while sitting comfortably (and closer to the stage) at a large table with wait service.
Thayer noted that surprises tend to pop up at this special event: "I do know that local chanteuse Jennifer Blomfield Booker will be singing her heart out."
Also, visitors should bring their dancin' shoes, because there will be plenty of room to move. Listeners can dance to the Symphony's renditions of the Macarena, rumba, conga (complete with a line), and the Can-Can.
"Pops is just a lot of fun it's right on the beach," said Kelli Reynolds, a French horn player who's been with the Symphony for more than two years. "We let loose and have a good time."
Reynolds, who's been playing the horn for almost 13 years, will be a part of the Pops "Shtick," which means she'll be teaching the audience how to do a few famous dances.

IMAGE COURTESY OF PATTY THAYER
GOOD TIMES : Don't forget about the raffle. Tickets go for a buck a piece or six for $5. The grand prize is a once-in-a-lifetime evening with the Symphony at Hearst Castle. Prizes are also listed on the website. Finally, don't forget your chairs, blankets, hats, and sunscreen.
# The host with the most
Keeping with its own brand of originality, Pops presents a host who checks in with the audience and is with the crowd every step of the way. To fill this role, the Symphony looks for a well-known community member it wants to honor.
Last year, the effervescent Wendy Thies took the stage as hostess a perfect pairing with Pops. This year, Carl Dudley vice president of Coast National Bank and "Man About Town" is tackling the challenge.
Each host always has a surprise in store for the audience: In 2000, Maggie Cox played a "Bond girl" and introduced conductor Nowak as only a Bond girl could: He made his entrance via a skydive.

Dudley (who will also be doing a dance number that he's been training for) can't wait for his big debut as master of ceremonies, but he keeps a sense of humor about it all.
"I am very flattered and honored," he said. "They've always had excellent hosts, and now they're resetting the bar so they can build it back up again."
INFOBOX: Pop goes the fun
Labor Day Weekend: Save the date. Pops by the Sea takes place on Sept. 2. The gates of the Avila Beach Golf Resort open at 2:30 p.m. and the toe tappin' music from Bach to the Bee Gees begins at 4 p.m. Tickets start at $15, and kids 14 and under get in for free. Table seating ranges from $25 to $100. Party tables closest to the stage, and shaded areas for you fair-haired honeys are also available. To get your tickets now or for more information, visit slosymphony.com or call 543-3533.
INFOBOX: Feel the music
Musical education is a large piece of the Symphony pie, which includes the SLO County Youth Symphony (sloyouthsymphony.org). The Pops Petting Zoo which puts instruments into the hands of little visitors takes place from 2:30 to 4 p.m. Kids and grown-ups alike can swing by the lagoon and try their hand at something musical. Local band The Mudskippers will be playing and demonstrating as well.
Christy Heron will be at Pops with her pink parasol. Carpool at cheron@newtimesslo.com.