It all started in 1999, one night over chardonnay in the theater in Cambria. One drink led to another and a few years later they were married on a gondola at the Venetian in Las Vegas.
Today Rebecca Buckley is a widow in her 70s, but she still has her husband Jim Buckley's legacy, the Pewter Plough Playhouse, at least for the time being. Amid money woes, Rebecca put the theater up for sale to the tune of $1.3 million in August.
"I figured that would be the best way out of it, so I could pay all the bills and have a stress-free life," Rebecca said.
She's not the only one who's had doubts about keeping a theater up and running. Considering the money and time commitment it takes for a group of people who all have day jobs and families to consider, every show that is put on by a community theater is kind of a small miracle.
In light of the former San Luis Obispo Little Theatre (now SLO Repertory Theatre) recently going professional, with paid casts and crews for main stage productions, the community theater world in SLO County is feeling a little more spread out these days, with most of these groups consolidating on the coast and in North County. New Times talked with several community theater groups, and we present to you a collection of stories about the highs and lows of putting on a show on the Central Coast.
Plot twist
On a sunny afternoon in Cambria at the end of August, Rebecca sipped tomato soup at the Harmony Café, located just outside her theater on Main Street, as she told me she had some big news: barring an over the top offer, she'd decided not to sell the Pewter Plough Playhouse after all.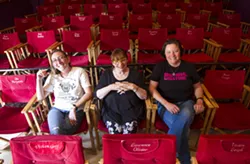 Photo By Jayson Mellom
RUNNING THE SHOW Pictured, left to right: Sarah Mosby (production manager), Rebecca Buckley (Owner and artistic director), and Sandy Valois (ticketing and marketing manager) of the Pewter Plough Playhouse in Cambria.
"My first inclination would be to sell it, but then part of me wants to carry it on," Rebecca said. "Everyone knew I was in that quandary, sell or stay. Everyone loves the theater, how can I just ignore all of that? I can't. Those things were gnawing on me."
Jim founded the theater in 1976 and threw himself and often his own personal funds into the productions. When Jim died at age 103 in 2015, Rebecca, who had helped him run the theater during their marriage, took over at the beginning of 2017 and shook things up a bit. Before his death, the couple had discussed parting ways with the Pewter Plough Players, the nonprofit group that put on shows at the theater, in order to gain more artistic control. So Rebecca let the Players' lease expire at the end of 2016 and added musical acts to the theater's offerings. She dropped $8,000 on a new curtain for the stage and another $18,000 on a new Steinway piano for the musicians to play. All told, from 2015 to present, the Buckleys spent $70,000 on improvements and refurbishments. She put the word out in local newspapers and printed out flyers and programs. The costs started to add up, currently Rebecca said the theater is in about $12,000 worth of debt between things like marketing related expenses and utilities (the electric bill can cost around $300 a month to power all the lights on stage and in the theater building.)
So Rebecca stepped back and simplified. The music acts weren't breaking even, so she canceled those and went back to what she knew best: putting on plays. She said the Playhouse is shooting to pay all of its bills off by October.
"I think it's a necessary art form," Rebecca said of community theater. "Not only for the older people to come and have entertainment, but for the youth to have a place to learn and experience theater as they're growing up. I think it rounds out a community."
Just a few days after talking with New Times, Rebecca sent an email and said she'd changed her mind again. She would keep the playhouse on the market at least until the end of the year and sell if someone offered the $1.3 million she asked for and agreed to keep the building going as an arts center. As of press time, no offers have come in. Stay tuned.
Currently on stage
The Golden Age is on stage at the Pewter Plough Playhouse in Cambria through Oct. 1. General admission is $20 and tickets for those 30 and under are $15. Visit pewterploughplayhouse.net for more information.
Act II
When the Pewter Plough Players were kicked out of the only theatrical home they'd ever known at the end of last year, they decided to take it as an opportunity to branch out beyond Cambria.
"She [Rebecca] wanted to go in a different direction so she decided not to renew our lease," said Anita Schwaber, president of the board for the players. "She wanted to do it herself, she wanted to establish it as more of a performing arts center."
Photo By Jayson Mellom
PRACTICE Anita Schwaber of By the Sea Productions (far left) and cast members read a script for their upcoming play, Member of the Wedding, at St. Peter's By The Sea Episcopal Church in Morro Bay.
But when one stage curtain drops, another opens.
"We were disappointed, but we decided to move on and relocate to Morro Bay, which is a city that to my knowledge hasn't had consistent live theater," Schwaber said. "We've decided to establish our own identity."
And while the group still retains the name they've had for the last 15 years, Pewter Plough Players, as their official 501C3 name, they're now publicly known as By the Sea Productions since they perform at the Erickson Parrish Hall at St. Peter's By the Sea Episcopal Church in Morro Bay. The group is nearing its one-year mark at the new venue.
While their old home is up for sale, Schwaber said not to expect a return to Cambria.
"It's been discussed, but it's not really a viable possibility. I certainly don't have the money," Schwaber said. "I could be torn, but I really love where we are right now and that we're filling a need in our community."
Coastal entertainment
By the Sea Productions presents The Member of the Wedding from Oct. 20 to Nov. 5. Tickets are $20 for regular shows and $25 for the show on Oct. 22 that includes a champagne reception. Visit bytheseaproductions.org for more information.
A brief intermission
The lights may be out, but things are definitely still under way over at Central Coast Theater Works in Nipomo.
With its home at the Monarch Club, the organization started in 2015 under the umbrella of the Nipomo Recreation Association. Mary Meserve-Miller, who formerly acted, fundraised, wrote, and produced for the SLO Little Theatre, took over the helm of Central Coast Theater Works in 2016, but resigned in July 2017, causing the group to cancel the rest of its planned season. Both Meserve-Miller and her direct supervisor, Jeff Long, executive director for the association, declined to comment on what led to the resignation. However, Long said the theater will go on, and he's looking to hire an artistic director/producer.
"Somebody who wants to take it off my plate, but has no problem answering to me," Long said.
Coming soon ...
Central Coast Theater Works hopes to have a production up on stage in time for the holidays. Check in at nipomorecreation.org/cctw for updates.
Make believe
Cynthia Anthony, founder of Wine Country Theatre in Paso Robles, knows better than most that sometimes you've got to make do with what you've got.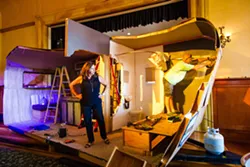 Photo By Jayson Mellom
DIY Cynthia Anthony (left) and Dana Shaheen (right), of Wine Country Theatre, get the set ready for the play, Annapurna, at the Park Street Ballroom in Paso.
The community theater group that she started in 2014 previously performed in wineries, a coffee shop, and an art studio, but now holds shows at the Park Street Ballroom.
"It works well for us, but it's not a real theater home," Anthony said.
The ballroom has a clutch downtown location, features table seating (perfect for keeping the wine flowing during shows), and has a short stage but not much of a backstage area and no dressing rooms or office. But where there's a will, there's a way. The theater company invested $10,000 in a portable light system for shows and brings tall dividers for makeshift dressing rooms in what is normally used as a commercial kitchen.
"One of the things that made it work is that we had to make it work," Anthony said.
And things picked up. After Wine Country Theatre moved in, the Park Street Ballroom started featuring more performing acts, and recently invested in its own lighting.
Still, while it's a little bit of a DIY approach to theater at times, Anthony said they have no plans right now to move or raise funds for a new theater building.
"We love being there, we're grateful to be there, and our audiences like it and it's a beautiful space," Anthony said.
Wine and a good time
Wine County Theatre is showing Annapurna at the Park Street Ballroom in Paso Robles Sept. 22 through Oct. 8. Tickets are $15 for students, $25 for general admission, and $20 per person for tables of eight or more. Visit winecountrytheatre.com for more information.
The comeback
Founded in 1959, the Santa Maria Civic Theatre was the first organization to offer live theater on the regular in the city. But longevity doesn't always translate to success.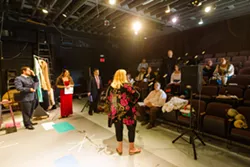 Photo By Jayson Mellom
BEHIND THE SCENES Sally Buchanan directs Young Frankenstein at the Santa Maria Civic Theatre.
John Shade first started out as a patron of the theatre in 2009 and then became a member of its board in 2012. At least as long has he's been on the board, Shade says ticket sales have been all over the place. The 100-seat theater isn't big, but some shows like musicals or more well-known plays would sell maybe 50 to 100 seats a night and others would only sell 15 to 20 seats each show. Shade said it didn't necessarily link to the quality of the acting or even the play itself. In 2013, the venue started selling tickets online and that helped. But the real turning point was in August, when the theater put on a production of the hit musical Hairspray. The show ran for three weeks, and all but one performance completely sold out, and that show was added last minute to accommodate people who couldn't get into the other shows.
What changed? Shade said they focused more of their efforts on building up the theater's email list and social media presence and also threw more of its adverting dollars at radio. But beyond the business savvy, Shade said that Hairspray just has a timeless message showing our nation's past struggles with racism. And with white supremacists rioting in Charlottesville during the run of the show, Shade said it might have felt especially poignant to audiences. He even heard a young theatergoer of color asking his parents why white characters in the play were treating black characters differently.
"Theater actually exposes people to things they might not be aware of," Shade said. "That was one of those times where current life and what's happening onstage really came together for an emotional event."
Marvelous monsters
Catch a showing of Young Frankenstein at the Santa Maria Civic Theatre from Oct. 20 to Nov. 5. Tickets range from $15 to $20. Visit smct.org for more details. Δ
Save the drama for your mama. Fine, Ryah Cooley wants to hear about it too at rcooley@newtimesslo.com.