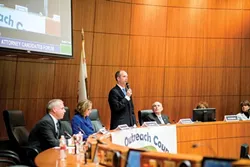 PHOTO BY HENRY BRUINGTON
THIS GOT AWKWARD: As colleagues and now political opponents, district attorney candidates Tim Covello (pictured bottom) and Dan Dow exchanged a few heated words at a recent debate hosted by the SLO Latino Outreach Council.
On March 26, Deputy District Attorney Dan Dow rose to his feet, looked out over a packed Board of Supervisors chambers, and spoke into the microphone.
"Buenas noches," he said, reading from a sheet of paper. "Soy Dan Dow."
As Dow introduced himself—first in Spanish and again in English—talked about his family, and described his candidacy for district attorney, much of the audience was likely more interested in his response to a curt comment candidate Tim Covello had made a few minutes earlier.
Kicking off a candidate forum hosted by the San Luis Obispo Latino Outreach Council, Assistant DA Covello used his opening statement to talk about his campaign, followed by the first jab at Dow. Covello said he received an email from Dow a few days before the event, in which Dow warned that Covello had accepted money from an individual whom Dow had convicted for a "simple DUI." Covello accused Dow of threatening to leak that fact to the press, and if he didn't return the money, Covello said, his "reputation could suffer."
"He finished by saying, 'I hope to have an answer from you by March 24; I'd rather not have this become an issue,'" Covello said before turning to Dow. "This should never become an issue … this is not the type of campaign that this community needs."
After his prepared opening statement, Dow snapped back at Covello, saying if the situation were reversed, he wouldn't accept money from anyone whom Covello prosecuted, stressing that Covello—not he—brought up the issue.
"I'll tell you what, integrity matters," Dow said, expressing a sentiment he reiterated throughout the night. "He chose to make this an issue tonight, not me."
In a follow-up phone interview, Dow told New Times he was surprised Covello brought up the issue without responding to his earlier private text and email about the donation.
"Personally I just think it looks bad if either one of us were to take a donation from someone that the other one had prosecuted," he said.
Covello told New Times, "I felt fine coming out of [the debate]; I think it's unfortunate that the other side started down the road of sending threatening emails."
While the debate maintained an overall pleasant tone, and both candidates aligned on most issues, each was able to toss in the occasional attack, which at times elicited awkward laughs from the forum panel consisting of radio talk show host Dave Congalton, Vision Unida President Eva Durham, Cuesta College President Gil Stork, and Coast National Bank President and CEO Anita Robinson.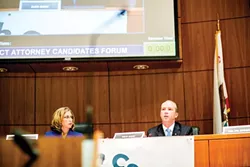 At this point in the campaign, purely by the numbers, Dow has out-campaigned Covello so far. Dow lists more than 400 endorsements on his website from individuals and organizations, compared to about 200 endorsements on Covello's list.
Dow's campaign has also outraised and outspent Covello's by about 2 to 1. So far this year (Jan. 1 through March 17), Dow has raised $69,811 and spent $50,876, compared to Covello's $34,923 in contributions and $20,020 in expenditures, according to campaign statements.
The forum centered on a variety of topics ranging from the death penalty to the definition of justice. Both candidates played nice when it came to such issues as the sensitivity needed in death penalty cases, highlighting their individual management experience, the rise of heroin and gangs, and the belief that the next district attorney should put a heavier emphasis on communicating with the public.
"What I'm hearing … is a lot of folks don't even have a clue what it is we do," Dow said.
"What's happening is we've been a silent partner … we've been there working and toiling, but that's not enough," Covello said.
But when it came to talk of alternative sentencing programs, Dow and Covello again butted heads. In response to a question posed by Durham about the benefits of treatment-court programs for low-level drug offenders and veterans, Covello said he's supported treatment-court programs since as early as 1997.
Asked the same question, Dow—who was one of the main advocates for the newly formed Veterans Treatment Court—responded that Covello had fought him from the beginning.
"I'm telling you, what you just heard was a huge flip-flop," Dow said of Covello's response about the importance of rehabilitation programs. "… He's telling you today that he's for [alternative sentencing] because he's suddenly a candidate for district attorney."
Visibly angered, Covello was forced to wait until the next question and use his response time to counter Dow's statement.
"I've been here 21 years; I've never had anyone call me a liar," Covello said. "I've never once had somebody challenge my integrity like this."
In his closing statement Dow championed his hefty list of endorsements, which includes 23 deputy district attorneys.
"I'll tell you, leadership matters, style matters," he said.
However, Covello characterized Dow as a political shark, who came into the department six years ago and immediately began "saying whatever it is he needs to say." In direct response to Dow's endorsements, Covello said the deputy district attorneys are all members of the San Luis Obispo County Government Attorneys' Union, which has long been embroiled in a battle with county officials over pensions. Covello said he, as a manager in the department, couldn't affect that case—nor could anyone, as it's an issue between the deputy district attorneys and county administrators. Any promises Dow may have made, Covello said, would be baseless, adding that managers often have to make unpopular decisions.
"That's not my job as a manager," he said. "I can't be everybody's buddy, and I can't make them espresso drinks in the afternoon."
Dow balked at the notion that he made promises to union members to woo endorsements from his colleagues.
"That's absurd," he told New Times. "It's unfortunately—I'll just say it's absurd."
Despite the tense tone of the debate, Dow and Covello said moods in the office remain cordial.
"I was surprised by the tone that began with that opening statement of the debate," Dow said. "But it's a campaign, and when this is over I'm certainly going to put it all behind me and move forward in a positive manner, no matter what the outcome."
"There's too much to focus on in terms of what our responsibilities are in the office to be thinking about the campaign while we're working," Covello told New Times.
The race will be decided in the June 3 primary.
Senior Staff Writer Colin Rigley can be reached at crigley@newtimesslo.com.