SOLD OUT!: Bill Frisell plays the Monday Club on May 15, but the concert is now sold out.
Jazz is in the air, and this week promises an unforgettable set of shows for fans of this most American of art forms. First the bad news. If you'd hoped to see Bill Frisell this Thursday, May 15, at the Monday Club and you don't yet have a ticket, you're too late. The show sold out on Monday. The good news, however, is that the inaugural SLO Jazz Festival kicks off this weekend and plenty of tickets are still available.
The long-in-the-making 2014 Mercedes-Benz SLO Jazz Festival will finally arrive in the SLO Mission Plaza this Saturday, May 17 (11 a.m. to 10 p.m.; $35 general admission; $20 for students; kids under 10 are free; vallitix.com). Presented by Alfano Motorcars, the event has an incredible lineup on two stages with music running all day.
From 11:30 a.m. to 1 p.m., hear Inga Swearingen & the Cuesta Faculty All-Stars on the Mission Stage. Inga has made multiple appearances on A Prairie Home Companion, and host Garrison Keillor says, "Inga has a gorgeous voice, very fresh and evocative and note-perfect, and that's the sort of person you want to sing harmony to."
Wander over to the Museum Stage and dig the gypsy jazz sounds of The Tipsy Gypsies from 12:30 to 2 p.m. Their vocalist Hilary Langdon has a bit of a Billie Holiday vibe, and guitarist Forrestt Williams channels the spirit of Django Reinhardt with aplomb.
Back on the Mission Stage from 2 to 3:30 p.m., check out Téka & NewBossa. Téka is an artist with roots firmly planted in the traditions of Brazilian music: the samba, bossa nova, and choro.
"We're thrilled to have Téka & NewBossa perform at the 2014 Mercedes-Benz SLO Jazz Festival," Festival Coordinator Kevin Costigliolo said. "She's bringing industry heavyweights to her act and we expect Brazilian Jazz lovers and more will be delighted."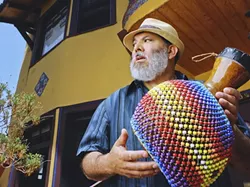 PHOTO BY DEVIN DEHAVEN
CONGUERO!: Poncho Sanchez and His Latin Jazz Band headlines the 2014 Mercedes-Benz SLO Jazz Festival on May 17 in the SLO Mission Plaza.
She'll be joined by Luis Conte (a percussionist voted No. 1 in the world from 2009 through 2012 by Drum World Magazine), Bill Brendle (former pianist for The Tonight Show band with Jay Leno), and Randy Tico (bassist for Jeff Bridges and the Abiders).
Local world music superstars Human Nation play the Museum Stage from 3 to 4:30 p.m. This dexterous quintet mixes Brazilian samba, urban funk, hints of Americana, and plenty of straight-up bebop. With guitarist and composer Adam Levine, saxophonist Danny Pelfrey, keyboardist Brett Mitchell, bassist Bill Wingfield, and percussionist Dean Giles, these guys will blow listeners away.
From 4 to 5:30 p.m. back on the Mission Stage, former Tower of Power horn man Mic Gillette and his band take the stage. This eight-piece band delivers a phat sound.
Local smooth jazz, funk, blues, and rock act Urban 805 brings their tight sounds to the Museum Stage from 5 to 6:30 p.m. The sextet will add a couple of special guests to their roster: guitarist Jon Stephen and saxophonist Scott Andrews.
The rest of the evening moves to the Mission Stage with Charlie Hunter & Scott Amendola from 6:30 to 7:50 p.m. This supremely funky and jazzy duo recently released their second album together, Pucker, but each has a long and varied career in the jazz scene. You'll witness some extremely inventive playing!
The festival closes with headlining superstar Poncho Sanchez and His Latin Jazz Band from 8:15 to 10 p.m. It's impossible to overstate the importance that Poncho Sanchez has had on the jazz scene. The Mexican-American conguero, salsa singer, and Grammy Award winner got his start in the mid-'70s when he was hired by vibraphonist Cal Tjader, and after Tjader's death and at his suggestion, Concord Records founder Carl Jefferson signed Sanchez to his label, where he recorded his first 19 albums. He's got about 35 albums in total, plus hundreds of guest appearances on others' recordings.
"To me, Latin jazz is the world's greatest music," Sanchez said in press materials. "It has the melodic and harmonic sophistication of jazz and American standards, and the flavor and energy of Latin American music. What I'm most proud of is that this music—while it may sound exotic at times—is from America."

Fab Four!
PHOTO COURTESY OF ABBEY ROAD
MEET THE BEATLES: Abbey Road—A Tribute to The Beatles plays May 18 at SLO Brew, bringing their three-costume-change and note-for-note show to town.
I was 8 years old when The Beatles broke up in 1970, so I never got to see them play live. Even though they've been gone for 44 years, they're a band that's constantly acquiring more fans as younger generations discover their incredible music. Maybe the closest any of us will ever get to understanding what a Beatles' shows was really like is through tribute acts like Abbey Road—A Tribute to The Beatles, playing Sunday, May 18, at SLO Brew (7 p.m.; all ages; $15 presale or $17 at the door). This nationally touring act presents a three-costume-change show and delivers the same tight harmonies and note-for-note renditions of the Fab Four's hits. We're talking custom-tailored costumes, vintage instruments, Liverpudlian accents, and attention to every detail. Maybe that's why the Los Angeles Times says, "The show delivers!" The Orange County Register agrees: "If you see one tribute show see this one—smart and loads of fun."
The Brew also hosts hip-hop, reggae, and soul act Radical Something on Thursday, May 15 (7:30 p.m.; all ages; $13 presale or $15 at the door), with supporting acts Solwave and M Shah.
The always-fun California Honeydrops return on Friday, May 16 (7:30 p.m.; 21-and-older; $15 presale or $18 at the door). The group is fronted by Polish immigrant Lech Wierzynski, who recalled his formative years in press materials: "When my dad was growing up in Communist Poland in the '40s and '50s, old American music was illegal and therefore very cool. He passed on the love of old stuff to me: everything from Louis Armstrong to Sam Cooke. [After moving to the U.S.], my brother and I had to assimilate to modern American society, so we loved all the popular stuff on the radio, too, especially hip-hop and R&B. Knowing music was our way of proving we were American." He eventually studied ethno-musicology at Oberlin College, then moved to Oakland to become a musician. "At first I played mostly on the street, and then as I got more established I started playing a lot of blues and soul music in clubs and touring. There is a rich heritage of that music here in the Bay, and I was lucky enough to play with a lot of older musicians who taught me what it was all about." This is a great show!
Then on Tuesday, May 20, see Spirit, Soul, & Songs featuring Kimie, Cas Haley, Mike Love, and Tubby Love (8 p.m.; all ages; $14 presale or $16 at the door). These Hawaiian performers will deliver an evening of upbeat, positive songs.

More music …
PHOTO COURTESY OF RENE COLLINS
SPIRITUAL HEALING: René Collins brings his uplifting songs to Linnaea's Cafe on May 17.
Matthew Szlachetka, formerly of the LA-based roots rock act The Northstar Session, has gone solo and has a series of local shows to promote his new album Waits For A Storm To Find. He and his band play Thursday, May 15, at Frog and Peach (10:30 p.m.); Friday, May 16, at the Barrelhouse Brewing Co. (5:30 p.m.); Saturday, May 17, at Creative Juices Lounge (7 p.m.; his official album release party); and Sunday, May 18, at The Cliffs (1 p.m.). "I was the lead singer of The Northstar Session for the past seven years," he said. "With my tenure in The Northstar Session, I've had a major TV appearance on the hit NBC show Parenthood and have opened up and/or shared the stage with artists such as Chris Isaak, Brandi Carlisle, John Waite, Chris Hillman, Cracker, Camper Van Beethoven, Matthew Sweet, David Ryan Harris, Greg Laswell, Johnette Napolitano, Hanson, Fishbone, and The English Beat."
René Collins wants to open your mind with his music that "effortlessly weaves together the subjects of politics, spiritual progress, nature, and love into uplifting songs," according to press materials. "I'm currently making my way up from Los Angeles to San Francisco and the lovely San Luis Obispo is my first stop," he said in an email. Often compared to Ani De Franco, Michael Franti, Ben Harper, and Jack Johnson, he'll appear at Linnaea's Cafe on Saturday, May 17, at 8 p.m..
This Saturday, May 17, the Steynberg Gallery welcomes back a touring favorite, The Shoestring Trio, playing at 8 p.m. for $10. Blending gypsy jazz, tango, samba, and chanson, the group met while playing in the band of the Los Angeles-based French-Chinese chanteuse Jessica Fichot. This is great music and they're great live!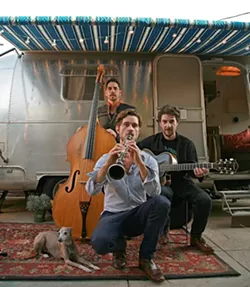 PHOTO COURTESY OF SHOESTRING TRIO
HIPSTERS: Gypsy jazz, tango, samba, and chanson act the Shoestring Trio is amazing, and they're playing at Steynberg Gallery on May 17.
Here's something different! The Cuesta Master Chorale will perform the "best of the best" in their 30 years with Tom Davies and finish with the SLO Wind Orchestra performing The Queen Symphony, 12 of the rock band Queen's most recognizable songs fused into a six-movement classical symphony! Yeah, you heard that right. Queen performed by a symphony! Add the Master Chorale and the Cal Poly choirs and there will be more than 200 musicians on stage at the same time. Check it out on Saturday, May 17, at 8 p.m. and Sunday, May 18, at 3 p.m. in the Performing Arts Center's Harman Hall. "Another One Bites the Dust," "We Will Rock You," "Bohemian Rhapsody," and more! "A significant portion of the net proceeds, matched two for one by the Bill & Melinda Gates Foundation and combined with contributions from local Rotarians, will benefit Rotary International's PolioPlus campaign to eradicate polio worldwide," according to organizers. "This extraordinary event of music and generosity has the potential to raise $45,000 and vaccinate 75,000 children." Call 756-4849 or visit pacslo.org for tickets.
Sacramento-based Adrian Bellue can kill it on fingerstyle guitar but also plays this wild harp-guitar hybrid, which looks weird but sounds crazy good. "What I do is not a usual touring act, and my performances are unique and inspiring," he said. You can see him when he plays two shows on Sunday, May 18, first a four-song set as part of the Songwriters at Play at Sculpterra (1 p.m.; all ages; free) around 3 p.m. and then at 6 p.m. at Otter Rock Café.
Grammy Award-winning pianist and vocalist John Proulx is the next attraction at the Famous Jazz Artist Series at the D'Anbino tasting room this Sunday, May 18 (4 p.m. and 7:15 p.m.; $15 each or both for $20). He'll be joined by series co-producers Charlie and Sandi Shoemake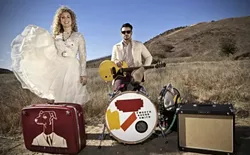 PHOTO COURTESY OF SMOOTH HOUND SMITH
NASHVILLE!: Smooth Hound Smith will deliver dirt floor folk and shotgun shack blues at Otter Rock Café on May 19.
Oakland-based singer-songwriter Geoff Baker plays a mash of Americana, folk, and indie. "At the age of 14, I borrowed a guitar and never really gave it back. I learned to play along with the post-punk records I loved in high school (The Pixies, Jesus & Mary Chain), but when I later immersed myself in acoustic and roots music by Mississippi John Hurt, Woody Guthrie, Lucinda Williams, Nick Drake, and Bob Dylan, I began struggling to blend those various musical loves: finger-picked urgency, post-punk energy, dreamy folksiness, and introspective honesty. I like my dreams impossible and my drinks neat, and I generally sings songs about things that go wrong." He'll headline the Songwriters at Play showcases on Sunday, May 18, at Sculpterra (1 p.m.; free; all ages) and Monday, May 19, at Bon Temps Creole Café (6:30 p.m.; all ages; free). Visit songwritersatplay.com for a complete list of this week's performers.
Who doesn't like what No Depression calls "a raucous clash of backwoods folk, raw blues, and underground rock?" That's what Nashville-based roots-blues duo Smooth Hound Smith will deliver when they play Otter Rock Café on Monday, May 19, at 7 p.m.
On Monday, May 19, at 8 p.m. in Linnaea's Café, check out The Littlest Birds, a nationally acclaimed duo featuring David Huebner on cello and Sharon Martinson on clawhammer banjo. They combine "bluegrass, folk, and old time influences with original lyrics, and beautiful harmonies."
Keep up with Glen Starkey via twitter at twitter.com/glenstarkey, friend him at facebook.com/glenstarkey or myspace.com/glenstarkey, or contact him at gstarkey@newtimesslo.com.