Genocide isn't something any parent ever wants to have to tell their child about.
But for Saul Rubinek, talking about one of the greatest human atrocities with his daughter was a question of when, not if. In 1948, Rubinek was born in a refugee camp in Germany to Polish Jewish parents, Israel and Frania. Prior to arriving at the camp, the couple had spent two years in hiding in a friend's one-room farmhouse during World War II while countless others were sent to the gas chambers.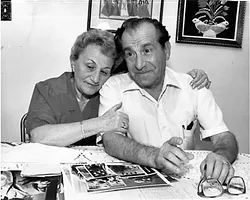 PHOTO COURTESEY OF THE JCC-FEDERATION OF SLO
THE LUCKY ONES: During the fall of 1942, in the Polish village of Pinczow, as the Germans deported Jews to the gas chambers, the Banya family offered to hide Israel and Frania Rubinek in their one-room farmhouse.
Inspired by his parents' story, Rubinek created a film, So Many Miracles, that interweaves docu-drama sequences with archival material and follows Israel and Frania on their emotional return journey to Poland where they reunite with Zofia Banya, the woman who saved their lives 40 years ago.
Rubinek will be the Lifetime Achievement Award recipient at the sixth annual San Luis Obispo Jewish Film Festival in January.
"Understanding what they went through and how they did it helped me understand myself," Rubinek said. "It's a big theme in my life as a writer, as a dad, as a producer."
Rubinek has acted in films like The Unforgiven, Nixon, and I Love Trouble. His career in television includes more than 120 credits to his name, including roles on Frazier and Star Trek: The Next Generation. He has also worked as a director, writer, and producer.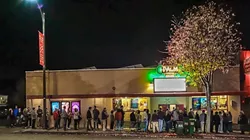 PHOTO COURTESEY OF THE JCC-FEDERATION OF SLO
MOVIE MADNESS: A crowd lines up at the Palm Theatre during the San Luis Obispo Jewish Film Festival last year.
So Many Miracles will be shown along with six other films that celebrate Jewish culture at the Palm Theatre on Jan. 9 and 10 as part of the festival.
Lauren Bandari, executive director of the Jewish Cultural Center-Federation of San Luis Obispo, helped start the festival in order to connect the local community to Jewish culture through the arts.
"The film festival is a real palatable way for people to come together and celebrate their cultural heritage or learn about another culture," Bandari said. "It's a really comfortable way to connect to the Jewish community here."
Rubinek and his wife eventually did talk to their daughter about her grandparents' journey when she was 13. It turned out that one of her close friends happened to be the great great granddaughter of a perpetrator of genocide during World War II. Rubinek said it ended up being a very healing experience.

FILM FEST AND CHILL : Break up with Netflix for the weekend on Jan. 9 and 10, and head to the San Luis Obispo Jewish Film Festival, which will include screenings at the Palm Theatre and an opening reception at Luna Red. For a list of screenings, events, and to purchase tickets, visit jccslo.com. Tickets start at $16.82 for individual screenings and go up to $185.62 for a festival pass.
"When your eyes are opened by the past, the choices you make can be done with more intelligence and love," Rubinek said.
Ryah Cooley needs to buff up her film intake at rcooley@newtimesslo.com.