Annette Pollock wields spades and shovels like some artists wield paintbrushes or chef knives.
Surrounded by nine raised beds springing with rainbow chard, kale, lettuce, micro greens, fennel, lemon verbena, and plenty of buzzing bees, she unsheathes a small pair of shears from a holster slung around her waist.
With a quick flick of the wrist, the slender, soft-spoken green thumb deadheads a once brilliant orange flower that has spent its last bloom in the dry Paso Robles heat.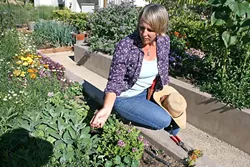 PHOTO BY HAYLEY THOMAS
THE ART OF GARDENING : The Avant-Gardener, Annette Pollock, brings 25 years of gardening experience to clients that span wineries to private estates.
A kaleidoscopic collection of edible flora—now thriving in the chef's garden Pollock crafted exclusively for JUSTIN Winery and Inn—add energetic color and unexpected zest to Executive Chef Will Torres' garden-fresh plates.
This is what Pollock does with her business, Avant-Gardner. She creates lush, creative edible landscapes for wineries, private estates, and people just like you and me.
Got a patch of balding lawn hogging water in your backyard? Pollock can recommend a few tasty herbs or a bunch of drought tolerant native grasses. Discouraged with your own bug-weary heirlooms or lackluster cukes? Pollock is happy to kneel down in the dirt with you, demonstrating just how to plant, water, mulch, and compost. In fact, the sprout whisperer loves this aspect—interacting with new friends under the sun.
"It's like garden coaching," Pollock said. "I've always gardened. At every place I've lived, I've carried plants with me. From Texas to Sacramento to SLO, I've taken potted plants, clippings, even dirt with me. I've been known to miss the dirt from one place or another."
Beyond the dusty green artichokes and swooping elephant garlic bulbs, rows of young tomato plants soak up the sun in a newly planted swath of soil at JUSTIN Winery. Precious water trickles in during the cool morning hours on a timer system.
Pollock said readers should always consider water before ever planting a single seed. The gardener recommends pulling out your lawn, yet keeping already established shrubs if possible (re-establishing plants—even drought tolerant plants—will require extra H20).
Nearby, undulating vineyards—cab franc, merlot, and cabernet sauvignon—enjoy the stress of the dry, limestone soil. The Restaurant at JUSTIN is just a stone's throw away, and diners love to watch Chef Torres forage for ripe morsels.
"The main focus has been to use all of the ingredients right when we need them," Torres said. "During lunch or dinner, we'll come out here and pick what we need. People are always watching and are excited to ask about what we're picking."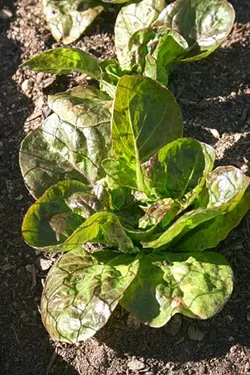 PHOTO BY HAYLEY THOMAS
GREENERY: Crisp red leaf lettuce is ready for picking at JUSTIN Vineyards & Winery in Paso Robles thanks to Annette Pollock's green thumb.
Wandering wine tasters are always welcome in the garden, too. You may even bump into the chef as he plucks chamomile and peppers straight from the earth.
"I've pulled off edible flowers for guests and encouraged them to try this or that," Torres said. "This is the best garden we've ever had. It's amazing what Annette has done here in one year."
This knack for growing has surged through Pollock's blood for more than 20 years. She grew up on a farm in the Bakersfield area. Her daily agricultural chores didn't really feel like chores at all.
"Dirt has always been my friend," Pollock said. "I loved chopping cotton. In the summertime, we would pick watermelons and pitch them up to a trailer, and we'd have to catch them. It was always fun for me."
With most of her four kids grown or in their teen years, Pollock said she struggled with the next phase of her life. She had worked in plant nurseries in the past, but considered her love of gardening to be more of a hobby. She eventually went back to school for early childhood education.
"I love kids. I love to take care of things; to take care of people," Pollock said, adding that she worked at Children's House Montessori in Atascadero for about a year.
A fated lunch break with a friend—where Pollock bumped into pal and organic farmer Bill Spencer of Windrose Farms—changed everything. At the time, Pollock was working at the school, continuing her schooling in the field of early childhood education, and catering to an estate garden on a local horse ranch.
"Bill said, 'Do you think you could do a chef's garden?' I thought, 'I'll give it my best shot,'" Pollock said. "I knew I was going down a different road with career and school, but I also knew I loved gardening, and I wanted to capitalize on what I had learned throughout the years."
After a frantic six months tending to both plants and school children, Pollock knew something had to give. She decided to get serious about her business, (she even sold her goats to make room for a larger at-home garden).
"Word of mouth spread after that, and it's been a really huge change in my life," Pollock said. "I feel like I get to play every day."
For the gardener "play" almost always means "dirt." Consultations routinely begin with the soil. What's in it? What's missing from it? Where are the beneficial insects and earthworms?
Composting is huge for Pollock, who swears by dropping a handful of Black Diamond Vermicompost (worm droppings) in every hole she digs. Additional compost comes from a Templeton Angus beef rancher.
"The cows eat byproducts from Firestone Walker Brewing Co. and anything leftover from the winemaking process; it's a web that works together," Pollock said. "When you grow biodynamically like I do, you have to constantly feed the soil."
When it comes to Pollock, "feeding the soil" is feeding so much more.
BACKYARD FEAST: Want to learn how to grow your own fruits, veggies, and herbs, or just want someone to do the dirty work for you? Contact Annette Pollock, "friend of dirt," at 975-7838.
She pointed to a bush of rosy "orange fizz" geranium, known for its fresh, citrusy aroma. I crushed a few leaves in my hand and sniffed hard, allowing the heady orange musk to rock all of my senses.
When the gardener tends to these beauties, she doesn't just see a plant. She sees color, texture, scent, and taste—all elements that bring depth to food as well as life.
"I see two tones of pink; the shape of the leaves. When I interact with plants, I see them as art," Pollock said. That's what keeps me going—the beauty of nature. That's what really feeds my soul."
Hayley Thomas is stoked for her own backyard harvest of artichokes, eggs, strawberries, and oranges at hthomas@newtimesslo.com.