Co-writer and director Susanna Fogel (Life Partners, Chasing Life TV series) helms this action-comedy spy spoof about 30-year-old besties Audrey (Mila Kunis) and Morgan (Kate McKinnon) who find themselves thrown into the world of international espionage after Audrey's ex-boyfriend Drew (Justin Theroux) shows up, revealing that he's a spy with assassins on his trail. The pair of women throw themselves headfirst into the adventure, which soon takes them to exotic European locales, where they encounter charismatic-but-suspicious British agent Sebastian Henshaw (Sam Heughan). (116 min.)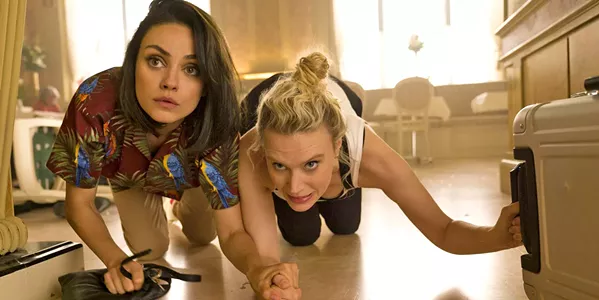 Photo Courtesy Of Lionsgate
BEGINNERS Besties Audrey (Mila Kunis) and Morgan (Kate McKinnon) are thrust into the spy world and discover they have an affinity for espionage.
Glen With a female director and two female leads in a usually male-centric genre, I had high hopes that The Spy Who Dumped Me might offer a sly, satirical take on the macho spy movie. Instead, the film focused more on slapstick and vagina jokes than poking fun at a film type that's usually an absurdist, infantile, misogynistic fantasy. That's not to say The Spy wasn't fun. McKinnon—who does most of the comedic heavy lifting—and Kunis seem to be having a lot of fun as two fish-out-of-water average gals who relish diving headfirst into adventure. As a summer popcorn comedy it fills the bill, but the premise seems somewhat wasted on this lowbrow joke fest. The film opens on Audrey's 30th birthday party, and her friend Morgan is trying to cheer her up amid coworkers asking about Audrey's now-ex boyfriend. "Where's your adorable boyfriend, Drew? I want to hug him." Audrey is clearly the less flamboyant of the two, and McKinnon as Morgan is focusing all her considerable manic energy into the character. The next day at work, Audrey meets a handsome stranger, Sebastian, but the meet-cute quickly turns perilous, and Audrey learns her ex Drew is a CIA spy. Soon Drew returns, and Audrey and Morgan's adventure begins when they travel to Europe to meet a contact named Verne, so they can hand off a mysterious flash drive that competing interests are after. While The Spy is pretty forgettable overall, it's also an amusing way to fritter away a couple of hours watching two engaging leads stumble through some international intrigue.
Anna I'm a fan of both Kunis and McKinnon. Both have some serious comedy chops, but McKinnon is especially off-the-wall entertaining. I tried to go into this movie with little expectation storyline-wise and higher hopes for well-pulled-off silliness. Smart move on my part—this is a story you should let yourself have a little fun in, whether it makes for a "good movie" or not. I like that the team actually created some pretty cool action sequences. In an interview with Kunis, I heard she gave big props to director Fogel for bringing in the big guns as far as stunt coordinators and actors. I'm not surprised with the fairly dismal critics' score on Rotten Tomatoes, or the high 70s rating by audiences. It's boisterous and slapstick centered, an over-the-top gal-pal adventure with little meat on the bones, but tasty nonetheless. This one is way too silly for the critics to give it a second glance. The audience we were in seemed to have a lot of fun with the flick, and I'll be the first to admit to laughing at a lot of those lowbrow, slapstick moments. McKinnon definitely carries the film; Morgan may be "a little much" for most of the world, but her best friend, Audrey, and her overly involved parents love her for her zany self. I wouldn't recommend this film for everyone, but I would certainly settle on the couch with my bestie and a drink and laugh as these women fly by the seat of their pants through Europe.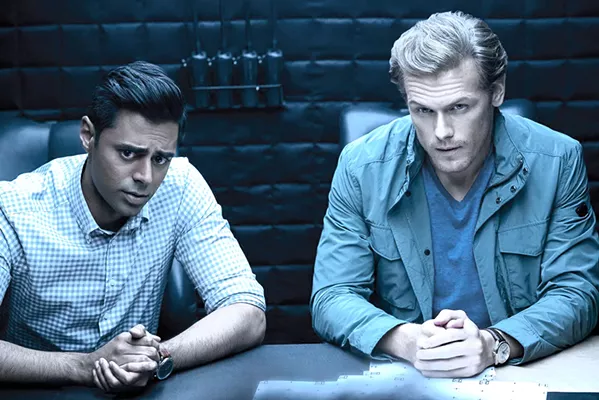 Photo Courtesy Of Lionsgate
GOOD GUY, BAD GUY? CIA agent Duffer (Hasan Minhaj) and MI6 agent Sebastian (Sam Heughan) are supposed to be collaborating, but are they?
Glen The film definitely makes good use of its supporting cast. Jane Curtin and Paul Reiser are pretty hilarious as Morgan's all-too-supportive parents, with whom Morgan commiserates and asks for advice via inopportune phone calls. They're deadpan as hell—Curtin especially showing her Saturday Night Live flair of comedic genius. Ivanna Sakhno as the beautiful Russian gymnast-turned-assassin is also well cast as Nadedja, and her Cirque du Soleil aerial trapeze battle with Morgan is a highlight of the film. Theroux plays Drew just right, alternating between charming and conniving, and the film's other two spies—Heughan as MI6 agent Sebastian and Hasan Minhaj as his CIA counterpart Duffer—both play their characters ambiguously. The audience is never sure who's on the right side and who might be a double agent. Definitely stay through the closing credits. There's some fun stuff with Morgan and Audrey's pseudo friend, Tess (comedian Lolly Adefope), as well as gags with Ruby Kammer and Genevieve McCarthy, who play two Australian travelers Audrey and Morgan interact with earlier. If what we've described really appeals to you, hit a matinee. For me, I would have been perfectly happy to have rented this one and watched it at home.
Anna I agree that this isn't a must-see in theaters, but it's a fun film to see with a friend, whether on the big screen or at home. The trapeze scene is some pretty solid physical comedy, and the fact that an audience watches on with no clue of the actual peril overhead makes it even more fun. The good-looking good (Wait, I mean bad. Maybe? Hard to say.) guys are typical spy material, jutting chins and cheekbones and sleek suits with hidden weapons aplenty. It's nothing new for the genre, but for someone who has to sit through a lot of action films that just aren't my thing, a film that plays at comedy along with the thrills is a welcome treat, and a female-centric one doubly so. If you're a big fan of McKinnon, you'll most likely get a kick out of her larger-than-life portrayal of Morgan, and while that alone can't carry a whole movie, there's enough good stuff put out by Kunis and the supporting cast to keep the fun rolling. This is one safely viewed at home once it gets released, or perhaps a cheap two-for-one Sunset Drive-In date flick if it ends up there. Δ
Split Screen is written by Senior Staff Writer Glen Starkey and his wife, Anna. Comment at gstarkey@newtimesslo.com.